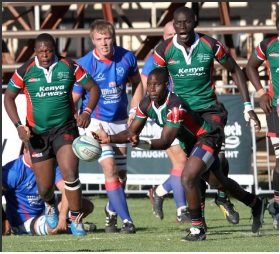 Kenya ended their 2013 campaign on a disappointing note , giving up a halftime lead to loose by 20 points to Namibia. This after they had lost 14-29 to Zimbabwe two days earlier. Kenya had been riding cloud nine after convincingly beating Uganda and Zimbabwe on their way to winning the 2013 Africa cup. The two losses in the Tri-Nations brought Kenya down to reality with a thud and disabused them of any notions that they were close to qualifying for the 2015 World cup.
Vast Improvement

However the fact that Kenya was able to score 35 points and loose by 20 points to Namibia in Windhoek is itself a positive. Whereas Namibia's record away from home has been sub par mostly due to unavailability of players, there record in Windhoek has been nothing short of overwhelming. Past encounter pitting Kenya and Namibia in Windhoek resulted in heavy losses for Kenya. In May 2006, Kenya lost 84-12. In 2004, the score was 65-7. Thus a 20 point loss is a vast improvement for Kenya. It shows that Kenya is gradually closing the gap on Namibia.
Match reports suggested that Kenya's 25-22 lead at halftime was built largely on the strength of superb ball handling and quick movement in the back-line.
Against Zimbabwe, Kenya came from 26 points down to finish at 14-29 with a furious second half comeback. However a poor start that saw them concede a try within the first 60 seconds doomed Kenya. However Kenya played well in the second half which leaves plenty of hope for future games.
Still a long way to go
However the ruthlessness with which Namibia beat Kenya in the second half shows that Kenya is still streets behind Namibia in forward play. The Namibian forwards simply overwhelmed Kenya and forced them into mistakes. The size difference between Namibian and Kenyan forwards was a significant factor.
Namibia's success is built from the grassroots at youth level. The Namibian Union actively runs U13, U16 and U19 teams. The latter participates in South Africa's  Craven cup each year and earns valuable experience. Last year, Namibia U19 team beat their Kenyan counterparts 39-11. Until Kenya is competitive with Namibia at youth level, the gap between the two teams will not close.