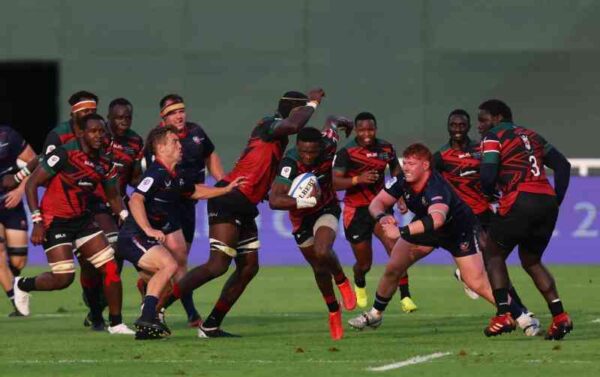 A demoralized Kenya Simbas side lost 68-14 to the USA; Kenya were a demoralized side because they had not been paid their salaries for several months. The match was played on November 6 2022
Report from Reuters
The USA opened the World Cup Repechage tournament with a 68-14 win over Kenya on Sunday. Sticky conditions in Dubai contributed to some sloppy play from the Eagles in the first half, but they were always in control with their dominant scrum wearing down the Simbas pack.
It was a scrappy start to the game from both sides, and Siaosi Mahoni was then sent to the bin for a reckless clearout at a ruck. The USA regained possession and Paul Lasike crashed through the defense, with Jamason Fa'anana-Schultz powering over but his grounding was deemed a second-movement and the try was waved off.
A cross-kick from Luke Carty resulted in a yellow to Geoffrey Okwach for dangerous play, the Kenyan winger leaping feet-first into the air. At last a score came for the Eagles through hooker Dylan Fawsitt, who peeled around the back of a lineout and charged through the line.
Darwin Mukidza attempted a long-range penalty goal for Kenya that was off-target. At the other end Fawsitt got a double on a straight-forward lineout drive. Before halftime Fa'anana-Schultz muscled over to redeem his earlier miss and make it 19-nil to the Eagles after 40 minutes.
Fawsitt got his hat trick not long into the second half from another lineout drive, and then Christian Dyer's inside line caught the defense wrong-footed for another USA try. Kenya found a burst of inspiration and broke down the field, with Brian Juma on the end to get the Simbas on the board.
The Eagles fired back with three tries in quick succession. Nate Augspurger touched down after a Mitch Wilson break, then Dyer grabbed a brace at the end of a long attacking sequence that started at the USA's 22-meter line. Dyer would match Fawsitt's triple on a miss-out pass from AJ MacGinty.
Mike Sosene-Feagai was next to find the line from a driving maul, and then Wilson himself slipped through to make it an even 10 tries for the Eagles. A late consolation score went to Kenya as the loose forwards combined to free Joshua Weru for a breakaway try on debut.
Hong Kong will take on Portugal next to wrap up the first round in Dubai. Next week will see the Eagles playing the Dragons, while Os Lobos will square off against the Simbas.
KENYA 14
Tries – B. Juma (55′), J. Weru (78′)
Cons – D. Mukidza 2/2 (56′, 79′)
Pens – D. Mukidza 0/1
YC – G. Okwach (16′)
USA 68
Tries – D. Fawsitt 3 (20′, 31′, 47′), J. Fa'anana-Schultz (38′), C. Dyer 3 (51′, 61′, 65′), N. Augspurger (58′), M. Sosene-Feagai (69′), M. Wilson (76′)
Cons – L. Carty 4/5 (32′, 39′, 48′, 52′), A. MacGinty 5/5 (59′, 62′, 66′, 70′, 77′)
YC – S. Mahoni (7′)
TEAMS
KENYA
1 Patrick Ouko (17 Andrew Siminyu 50′), 2 Eugene Sifuna (16 Teddy Akala 56′), 3 Ephraim Oduor (18 Joseph Odero 56′), 4 Malcolm Onsando, 5 Thomas Okeyo (19 Brian Juma 50′), 6 George Nyambua, 7 Daniel Sikuta (capt.) (20 Martin Owilah 56′), 8 Bethuel Anami (23 Joshua Weru 47′), 9 Samuel Asati, 10 Geoffrey Ominde (21 Brian Tanga 47′), 11 Jacob Ojee, 12 John Okoth, 13 Bryceson Adaka, 14 Geoffrey Okwach (22 Timothy Omela 50′), 15 Darwin Mukidza
USA
1 Jack Iscaro (17 David Ainu'u 52′), 2 Dylan Fawsitt (16 Mikey Sosene-Feagai 52′), 3 Paul Mullen (18 Nathan Sylvia 56′), 4 Siaosi Mahoni, 5 Cam Dolan (19 Greg Peterson 53′), 6 Vili Helu, 7 Cory Daniel, 8 Jamason Fa'anana-Schultz (20 Moni Tonga'uiha 62′), 9 Ryan Rees (21 Ruben de Haas 58′), 10 Luke Carty (23 AJ MacGinty 58′), 11 Nate Augspurger, 12 Paul Lasike (22 Bryce Campbell 52′), 13 Marcel Brache (capt.), 14 Christian Dyer, 15 Mitch Wilson