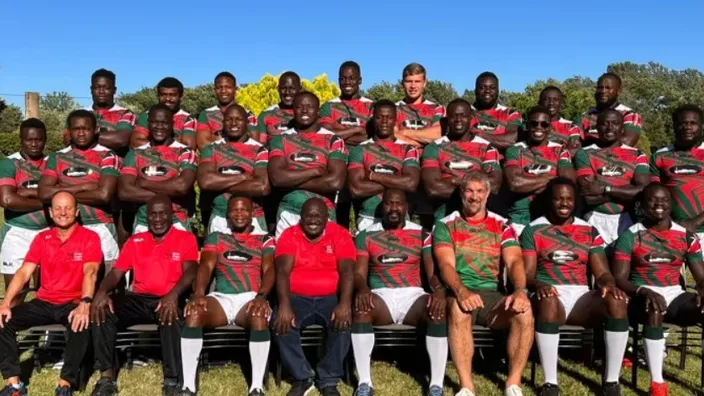 Match Report
Algeria narrowly lost on Wednesday in Marseille to Kenya (36-33). His dream of participating in the next Rugby World Cup ends with this defeat in the semi-finals. Kenya will play in the final against the winner of the Namibia-Zimbabwe match.
Algeria managed to shake up Kenya, the favorite of this meeting, and it was close to defeating them. After a good start to the match and a fine try scored by Marvyn Youcef in the 12th minute, they seemed capable of competing against an athletic team, capable of using the slightest ball on the counter to bring danger.
From a lineout  and a ruck, scrum-half Samuel Asati passed to Okeyo who crushed through for a try. Mukidza converted to level at 7-7.
Relying on a powerful pack and a good territorial kicking, the Algerian XV continued to race in the lead until the 15th minute, hooker Issam Hamel then scoring a second try which maintained a gap of 7 points in the score (14-7). But the Kenyans were able to react immediately each time they were behind,. Okeyo sprinted to gather a Bethwell Anami grabber kick to level the score at 14. Asati found Mukidza in Algeria's five metres to score before converting his own try lead for the first time 21-14 lead at halftime.
The Algerians resumed the meeting by exposing themselves as little as possible and relying on their strong point: their pack of forwards. They dominated territory and made the choice of the key each time a penalty was whistled in their favor. Their strategy paid off in the 45th minute, with another try from Issam Hamel which brought the teams tied (21-21).
Kubu then scored from a penalty to give Kenya a 24-21 lead. Sifuna then scored a try after completing a brilliant backline move to make the score 31-21. Megdoud scored for Algeria after a long period of camping in Kenya's 22 metre line to make the score 31-26. Okeyo completed his double after good work from Anami. The score was now 36-26. A penalty try for Algeria brought the score to 36-33
Kenya were relentless in defence, stifling Algerian assaults for long periods. And they took all their scoring chances. They however had to fight until the end to keep their victory, with the Algerians moving to only 3 points ten minutes from the end thanks to a penalty try (36-33).
Algeria fought tooth and nail in the last 10 minutes but Kenya's defence was solid.
Kenya Simbas
1. Patrick Ouko, 2. Eugene Sifuna, 3. Ephraim Oduor, 4. Malcolm Onsando, 5. Thomas Okeyo, 6. George Nyambua, 7. Daniel Sikuta – Captain, 8. Bethwel Anami, 9. Samuel Asati, 10. Dominic Coulson, 11. Derrick Ashihundu , 12. John Okoth, 13. Bryceson Adaka, 14. Jacob Ojee, 15. Darwin Mukidza.