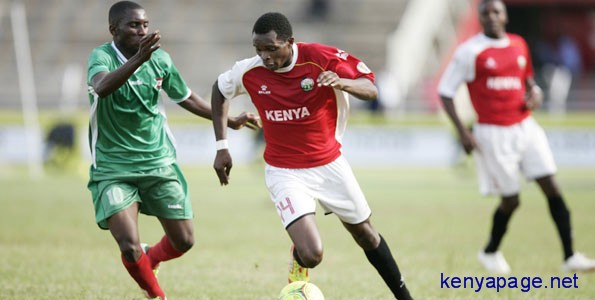 Kenya's elimination by Burundi came as no surprise to fans who in recent times have become used to being eliminated from every major tournament by minnows such as Eritrea and constantly loosing to arch rivals Uganda and Tanzania.
When FKF Chairman Sam Nyamweya announced the hiring of Henri Michel as Harambee stars coach, most Kenyan football fans had significant doubts about whether this would work. Top amongst the concerns of Kenya was where the money to pay such a coach would come from. Michel and his assistants were due a salary of sh 80 million over a two year period.
When challenged on this issue, Nyamweya dismissed such concerns by saying the government would chip in. Never mind the fact that he had not discussed the issue of paying Michel with anyone at the ministry of sports.
Its thus came as no surprise when Michel left Kenya in a huff after going two months with no pay. Nyamweya in typical fashion started posturing by saying it was Michel who breached the contract by refusing to take Kenya to the CECAFA cup. This despite the fact that Nyamweya had agreed to this arrangement.
With Kenya in shambles, they were unable to score any goals in 180 plus minutes against Burundi, they were eliminated in unceremonious fashion by unfancied Burundi. The blame for this lies squarely with Sam Nyamweya who is 100% responsible for the fact that Kenya had to make do with a temporary coach hired 2 weeks before the first match against Burundi.
Common sense suggests that Nyamweya and FKF should have hired a reasonably priced foreign coach as soon as they got into office. Had they done this, Kenya would already have an entire year of stability under a good coach. With that its likely that Kenya would have beaten Togo to qualify for CAN 2013 and would have won their home match against Malawi. Burundi would have been dispatched as well. Because of Nyamweya's shambolic leadership, Kenyans are now subject to the ignominy of being beaten by Burundi.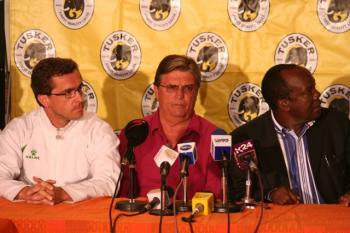 Hire a reasonably priced foreign coach
That Kenya needs a foreign coach is rather obvious. Local coaches are way out of their depth. Teams like Gor Mahia, AFC Leopards and the Kenya national sevens rugby team have seen their performances improve dramatically after hiring foreign coaches.
But Kenya does not need a top level coach like Michel. We will do just fine if we get a young determined coach with good credentials. And he must be able to speak English. Uganda is doing far better with a decently prized coach.
Lack of stability
Neighbours Uganda have had far more success than Kenya because aside from having a foreign coach, they have more stability in the national team setup. they have had the same coach for 4 years. During the same period, Kenya has had no less than 6 coaches. Constantly changing coaches and hiring a new coach 2 weeks before key games is one of the main reasons for Kenya's constant humiliation.
Nigeria are coming
With less than two months left before Kenya plays Nigeria, there is still no permanent coach. Meanwhile Nigeria have been playing a series of friendly matches against top tier teams. Kenya fans may have already resigned themselves to loosing 0-3 against Nigeria as they usually do. And once again it will not be because Nigeria players are that much more talented than Kenyans. It will be once again due to shambolic leadership.
Address the root of Kenya's mediocrity
Rather than spend sh 80 million over two years on coaches like Michel, that money is better spent on youth development. Hiring an expensive coach when Kenya has low calibre players will not make a difference. Even Jose Mourinho will not get this crop of Kenya players to win consistently.
The best way forward is to start identifying young players from the grassroots who have potential and ensure that these youngstars are in proper youth development schemes.
Nyamweya has shown no inclination towards addressing youth development. In fact he is the man responsible for the cancellation of the Sakata ball tournament which was useful tournament in identifying talented youth at the grassroots. He did this by demanding that Safaricom who sponsored Sakata ball give his federation 15% of the sponsorship money. Safaricom being a responsible corporate entity balked because Nyamweya and other sports officials typically do not account for any money. That money would likely have ended up lining the pockets of officials.
With no youth development structures, it is a given that Kenya football fans are doomed to more humiliations for many years to come.
Selfish and corrupt officials
A second reason for Kenya's mediocrity is the selfishness and greed of Kenya sports officials. Kenyan officials increasingly see sports administration as a way to enrich themselves on the backs of the sportsmen most of whom are left broke and destitute. The recent expose of corruption that was rife when Kenya went to the 2007 All Africa games is a prime example. The government spent hundreds of millions of shillings on the games and much of it ended up in the pockets of unscrupulous officials. With such corruption, it is no wonder that ideas such as youth development are a non starter in Kenya.
Before Nyamweya was elected chairman of KFF, his previous record of self centered behavior was there for all to see. However stakeholders ensured 4 more years of pain and humiliation for Kenya by electing Nyamweya again. The Kenya Premier league clubs selfishly decided to front a candidate of their own thus handing victory to Nyamweya because the pro-reform votes were split. KPL clubs should have thrown their support behind Hussein Mohammed, the leading pro-reform candidate. Instead they fronted Ambrose Rachier as their candidate and the pro-reform votes were split between the two thus handing victory to Nyamweya,
Those who voted for Nyamweya did so in the hopes that he would share any ill gotten spoils with them. In other words , they voted for their stomachs instead of voting in the best interests of the country. With such selfish officials, would anyone still wonder why Kenya football has been moribund for almost two decades now ?
As long as Kenya has officials more interested in lining their pockets than developing the sport, the country will continue to suffer such shame and embrassment.
No government action
Only strong action from government officials will help stem the rot. But the government has turned a blind eye to the rotten manner in which sports is run in Kenya so disillusioned Kenyans are not expecting much help from them either. Most government officials have absolitely no interest in sports. And even those who are interested do nothing aside from making convenient appearances at national team games. But they are doing nothing to raise the standards of sports in Kenya. Kenyan
Kenya sports fans should demand more from elected officials. Read the article below
End