In an attempt to explain the poor performance of the national team in recent years, FKF chairman Sam Nyamweya blamed lack of funds. He said there was little the federation can do in implementing their plans without finances. In an interview with Kenyan media, Nyamweya was quoted as saying :  "Over the last one year we have been in office, we have set structures in place, among them the Kenyan Premier League, Division One and the Women Leagues which are very vibrant."
Even with all this in place, we are handicapped by lack of enough funding," Nyamweya said in the statement.
Nyamweya believes an increase in the Ministry of Sports Budget can help boost Stars dwindling fortunes.
"Football in the country cannot develop without government support. We would also like top corporate to join us as our development partners. Currently we have EABL sponsoring Harambee Stars to the tune of Ksh.110 million, but this is like a drop in the ocean because 40 percent of this goes to marketing and we are only left with 60 percent to manage the affairs of the team which is insufficient," said Nyamweya.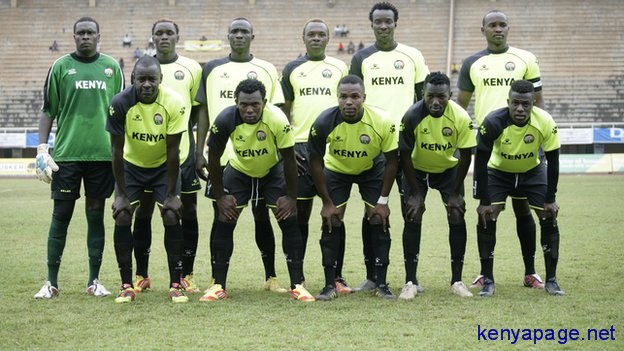 Unreasonable demands on sponsors
A closer look however reveals that the culture of corruption and a lack of transparency and accountability is the reason why FKF struggles to gain sponsorship despite football being extremely popular.
As we all know, Mr. Nyamweya insists that any corporate entity that wants to sponsor football in Kenya must deposit 20% of the sponsorship amount with FKF. This is the demand that resulted in the demise of the extremely popular Sakata ball tournament which gave hundreds of youth in Kenya, both boys and girls an opportunity to showcase their talents to bigger clubs, to earn extra cash and to give them a chance to engage in positive activity. Safaricom tried to negotiate but Nyamweya refused to budge and the tournament was cancelled. He essentially crashed the hopes of hundreds of Kenyan youth and their fans who wanted to go to various sports grounds around Nairobi to cheer their neighbourhood team. It was especially a crashing blow to young girls in Kenya because they rarely get opportunities to play. With this lack of opportunity, it is no wonder that the Ethiopia women's team recently beat Kenya 5-0 ?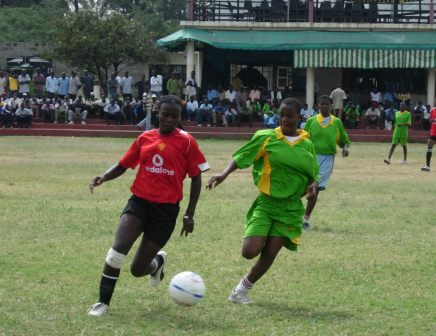 Safaricom being a responsible corporate entity did not want to give money to Nyamweya if he was not willing to be transparent and account for how the money is used. As we all know, Kenyan sports federations are a cesspool of corruption where money disappears into the pockets of unscrupulous officials. Safaricom being a responsible corporate entity did not want to be seen as abetting corruption.
When challenged Nyamweya insisted that the 20% cut he demanded was to be used to streamline the tournament and to pay referees. This is laughable because Sakata ball was already the most streamlined and efficiently run tournament in Kenya. Far better organized than even the Kenya premier league. It certainly did not need anymore "streamlining" from FKF. Furthermore paying referees and streamlining a tournament cannot amount to sh 15 million each year. Clearly Nyamweya was not being straightforward with what he planned to do with the sh 15 million. It is this lack of transparency that hinders more sponsors from supporting FKF activities.
Indeed if Nyamweya was transparent or if he let corporate entities inject money into the sport without demanding a cut, football in Kenya would be awash in sponsorship. Rugby is far less popular than football yet rugby teams with a paltry fan base like Mwamba and Harlequins have corporate sponsors. Even Kenya Prisons volleyball team is now sponsored by Equity Bank. Even rugby teams at the school level such as St Mary's school have sponsors. In athletics, various road races all over Kenya attract corporate money. Standard Chartered pours well over sh 40 million into the Nairobi marathon every year.

Nyamweya, Elly Mukolwe and those who voted for him should ask themselves why less popular sports are raking in sponsorship yet FKF is unable to muster any sponsorships. The answer is simple. Corporate entities want transparency. They are answerable to shareholders and therefore cannot be seen being part of a corrupt system.
If indeed FKF is not corrupt then Nyamweya should prove it by allowing FKF coffers to be publicly audited by a reputable accounting firm. This level of transparency will send sponsors stampeding towards football eager to sponsor any FKF organized activity. As things stand now, sponsors are not interested in any FKF organized tournament be it the FKF cup or the division one league.
And if Nyamweya really cares about the future of Kenyan youth, he will remove the stipulation that Safaricom or any other  corporate entities must deposit 20% of the sponsorship money with FKF.
Taking undue credit
Nyamweya takes credit for the Kenya premier league and the women's league. But he neglects to mention that FKF had nothing to do with establishing these leagues. The Tusker premier league is not run by FKF. In fact when the league was run by FKF or its predecessor KFF, it was rife with corruption and had no hope of garnering any sponsorship or a TV deal.
Now that KPL is no longer run by FKF, it has become possible for teams like Sofapaka,  AFC Leopards and Gor Mahia to gain lucrative sponsorships from corporations.
The women's league was established and is largely run by the Ministry of sports with support from UNICEF and not by FKF . Nyamweya also takes credit for the nationwide division one league. But that has existed for several years before he took helm. So basically Nyamweya claims that FKF has placed several structures in place. But where are these structures ? There aren't any youth tournaments. An inter-provincial youth tournament for players under 19 similar to the one played in the rugby Safari sevens would attract significant sponsorship if transparently run.
There are no youth development structures. Again well run youth structures are capable of garnering sponsorship as MYSA did during its heyday many years ago. The slogan "Investing in the future of Kenyan youth" is one that many corporate entities would like to attach themselves to.
Purging true reformers from FKF
When the new FKF office holders were elected, fans saw Dan Shikanda and Sammy Sholei as the two new members who could bring a semblance of respectability to football and to sponsors. Being former footballers who have suffered under the incompetence of previous officials, fans were certain that they would bring a modicum of transparency and were elated to have them as officials. However Nyamweya, Mukolwe and the rest of the FKF team found a convenient excuse to get rid of them along with Omondi Aduda. This sent the message to fans and potential sponsors that Nyamweya was trying to purge FKF of anyone who might stand in the way of the officials engaging in acts of corruption.
During the elections, Sammy Sholei had shown true selflessness by dropping his pursuit of the chairmanship in order to throw his support behind another pro-reform candidate in Hussein Mohammed. This kind of selflessness is rarely seen amongst the self serving Kenyan officials. In fact even KPL could not show this kind of selfless and instead decided to front their own candidate in Ambrose Rachier, a factor which helped Nyamweya win by dividing the pro-reform votes. Sholei was thus seen by many as one who was only interested in developing Kenya football and not in self aggrandizement. The departure of Sholei and Shikanda dented the credibility of FKF amongst sponsors.
It is not rocket science

FKF led by Nyamweya now appear baffled as to why the national team is doing poorly. They claim they have no answers and are crying out for help. This is not rocket science. In order to attract sponsors, FKF must cease their unreasonable demands. They must emphasize transparency in the way FKF accounts are managed. They must show good governance and create structures and tournaments that will draw sponsors. Sponsors have already proven that they are willing to pour money into sports and to support the development of Kenyan youth. They are just waiting for credible structures and tournaments to be created.
We urge Nyamweya and the rest of the stakeholders to put their vested interests aside and finally do the right things to propel Kenya football forward and stop crashing the hopes and aspirations of Kenyan youth. To end the pain and humiliation that Kenya football fans have been suffering for the last 30 years.
Football is by far the most popular sport in Kenya. If properly and transparently run it is capable of garnering significant sponsorships. But it will only happen if football stakeholders all over the country put their vested interests aside and focus on doing what is good for the country.
And in Nyamweya's case, it is especially critical that he shows goodwill and transparency. Even before he was elected he had a reputation as a charlatan. Many former players have attested to this.  It will take a lot of work for him to convince potential sponsors that FKF with him in charge indeed has the interests of Kenya football. He is already off to a bad start.
The article below chronicles Kenya's long history of futility and mediocrity in attempting to qualify for the Africa Nations Cup: