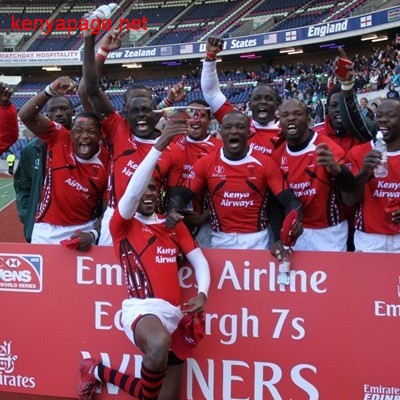 There was a time in the not too distant past when Kenya rugby players were all drawn from a few select schools mostly Lenana and Nairobi school and to a lesser extent schools like St Marys and Strathmore.
Contrast this with the situation today when the national sevens players are drawn from schools all over the country. Below is a list of the 2012 Kenya sevens rugby squad that travelled to Gold Coast Australia with their schools attended in parenthesis:
1.Andrew Amonde (Captain, Kisumu Boys)
2.Oscar Ouma (Kijabe High)
3.Davis Chenge (Bungoma High)
4.Horace Otieno (Nyabondo High)
5.David Ambunya (St. Mary's, Nairobi)
6.Eden Agero (St. Mary's, Yala)
7.Michael Wanjala (Bungoma High)
8.Biko Adema (St. Mary's, Nairobi)
9.Collins Injera (Vihiga High)
10.William Ambaka (Dr. Aggrey)
11.Dennis Ombachi (Kiambu High)
12.Cyprian Kuto (Sunshine)
Reserves
1.Patrice Agunda (St. Mary's, Yala)
2.Phillip Wamae (Nairobi School)
3.Dennis Muhanji (Koilel High)
4.Fabian Olando (Kakamega High)
Its worth noting that now there is no player from Lenana, a situation which would have been unthinkable even as recently as 10 years ago as Lenana still produced a significant proportion of national team players.
Rugby has always been an elitist sport all over the world and Kenya was no exception. From a global perspective, before the 1990s, IRB concentrated its efforts amongst elite countries specifically those that originally made up the 5 Nations and the Tri Nations competitions. IRB made no effort to get rugby back into the Olympics as they were content to be exclusive.
Even in the UK at the time, rugby was not considered a game for commoners and the powers that be worked diligently to keep the game away from the "serfs". The situation was similar in Ireland, Scotland, Wales and France. The only major rugby playing country where rugby has always been the people's game is New Zealand where there were no class distinctions. Going as far back as the 1920s, everyone played rugby in New Zealand.
Roots of elitism in Kenya
In Kenya rugby was introduced by the British settlers in the early part of the 20th century. It was a white only sport. These settlers were always typically upper class people in their home nations. Whereas the British introduced sports like football and boxing in schools for indigenous Kenyans, rugby was played exclusively in White only schools specifically Lenana and Nairobi school (then known as Duke of York and Prince of Wales). St Marys school and Strathmore school were the other schools that offered rugby.
By the 1970s the schools were increasingly populated by indigenous Kenyans who then proceeded to found clubs like Mwamba and Mean Machine in the mid 1970s while others joined existing clubs like Impala and Nondies.
By the late 1970s and early 1980s, the only schools that played rugby in Kenya were Lenana, Nairobi School, Rift Valley Academy, Hillcrest, St Marys and Strathmore. These were the original Prescott cup schools.
When Kenya fielded a Kenya XV of Kenya citizens for the first time in 1980, all the players were drawn from Lenana and Nairobi school with no exceptions. Most St Marys players were from very wealthy backgrounds and more often than not they left the country for further studies after completing their A-Levels. Strathmore school had far fewer students than Lenana and Nairobi school, whereas Rift Valley Academy and Hillcrest players were mostly children of expatriates who were in the country temporarily.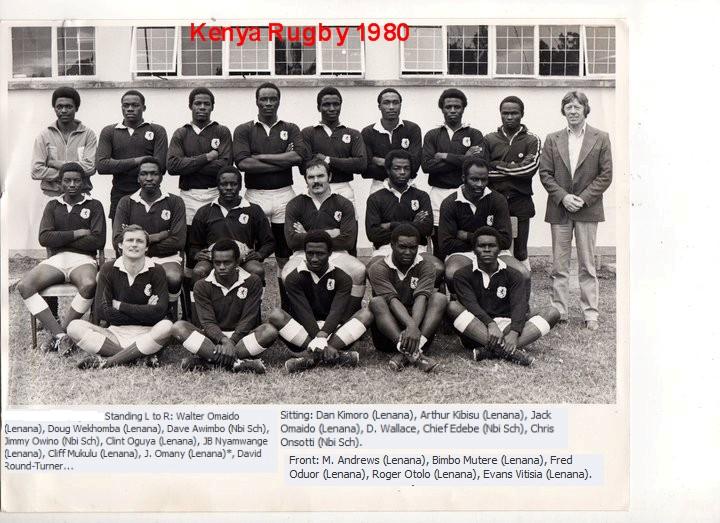 Even by the late 1980s virtually all the top rugby players were from either Lenana or Nairobi school. The legendary Mean Machine side of the 1980s comprised mostly of players from these schools such as Edward Rombo, Musalia Kihamba, Ken Kanyi (Nairobi school), Martin Ndeda, JC Wakhu (Lenana)
Rugby starts to spread
Rugby in Kenya started to spread outside the traditional rugby playing schools in the early 1980s with schools like Upper Hill and later Jamhuri joining the rugby bandwagon. By the early 1990s, schools outside Nairobi had not only started to take up the sport but were challenging Nairobi based schools. In 1991 St Marys were the Prescott cup champions and came up against Njoro high school at the RFUEA grounds. Not many Njoro much of a chance and most expected Saints to win by a huge margin. Njoro gave a good account of themselves and came very close to winning the game. But even then the number of upcountry schools that played rugby was limited. When the national schools rugby championships were introduced , most of the winners were Nairobi based schools. Between 1990 and 2000, Nairobi based schools won 8 out of 10 of the national schools championships. And when they did not, it was usually due to logistical problems. For example, in 1992 St Marys who represented Nairobi traveled to the games with only 16 players. When two were injured, they played the final with only 14 players and lost. By the late 1990s, the cream of Kenya rugby were still from the original Prescott cup schools. Players like Paul Murunga (Lenana), Andrew Ondiek (Saints), Mitchell Ocholla (Lenana), Felix Ochieng (Nairobi sch), Allan Wamanga (Lenana), Ian Simiyu (Nairobi school) Paul Odera (Saints) , Charles Cardovilis (Saints) Kennedy Aswani (Nairobi sch) etc. There were a few exceptions like Benjamin Ayimba from Maseno school.
By the beginning of the new millenium however, rugby had started to spread like wildfire. Between 2000 and 2010, schools from Nairobi won the national championships only twice. Kakamega high in particular became masters of the sevens game and produced a significant number of national teams players like Dennis Mwanja, Allan Makaka and Humphrey Kayange. St Marys Yala had a brief period of success and even won the national championships in 2003. Lesley Mango and Ted Omondi who would later star for the national sevens team.
The situation in the teen years
Kenya rugby has now come far enough to where obscure schools such as Kiambu high (Dennis Ombachi), Kijabe high (Oscar Ouma) and Vihiga high (Collins Injera) are producing top tier players. Meanwhile the original prescott schools like Lenana are nowhere to be seen.
Whereas in the past, the best players at Nairobi school and Lenana would waltz into any of the top Kenyan clubs soon after finishing secondary school, today they will find themselves competing with players from all over the country for spots at any club.
National team players and most club teams now comunicate with each other in Kiswahili or Sheng. And as we all know, this was not the Lingua Franca that was used say in the 1970s to the 1990s when the majority of players were from the elite schools.
Now Kenya needs specialist schools
It is admirable that KRFU and other stakeholders including individuals have taken the initiative to spread the game. However it is worth noting that the level of coaching at most of these schools is sub par. As such players are not learning critical rugby skills during their teen years when it is critical.
What is needed now is a system where players who have the potential to play club rugby in the future are recruited from schools like Kijabe high and offered scholarships to attend schools where they can receive a good rugby education. KRFU should work closely with such schools to ensure that they are properly staffed with rugby coaches who have youth coaching certificates and that there is proper equipment at these schools. When a player shows potential to be a good player in club rugby , he should be offered a scholarship to attend a school where the oval ball thrives and there is a coaching staff that can mould him into a decent club player. This is how Kenya can raise the calibre of its players. By instilling proper rugby skills and re-enforcing good tendencies at an early age.
It will be possible for schools that excel at rugby to get sponsorship from the private sector. There is precedent for this with schools such as St Marys gaining shirt sponsorship. Such money can be injected back into the school to buy training equipment or send teams to overseas tournaments to gain experience.
One will recall in 2011 when Kenya XV visited Zimbabwe and coach "Tank" Otieno marvelled at the level of facilities and coaching standards available at Zimbabwean schools such as Prince Edward.These schools recruit the best players from all over Zimbabwe and offer them the opportunity to learn rugby and sharpen their skills throughout their teen years while receiving a top tier education.
Unless Kenya Kenya starts to take concrete steps towards proper youth scouting and development, the dream of playing in the world cup will always remain just that a dream.