For the 2015 Africa Cup of nations, Kenya has been handed what seems like a very manageable qualification draw. They will play minnows Comoros in the preliminary round. Should they beat Comoros, they will then play the winner of the contest between Lesotho and Liberia. The winner will proceed to the group stages, specifically  group C which as Burkina Faso, Gabon and Angola. The top two teams from each group will qualify along with the best 3rd placed team.

Losing to Comoros will be a calamity of biblical proportions as far as Kenyans are concerned. Kenya would have to completely collapse, or suffer very poor preparations or simply under-rate the Comorians.

Liberia are ranked in position 119 which is far behind Kenya which is at position 106. Lesotho is even further back at position 139. Though these teams are not pushovers, Kenya should be favoured to beat either one of them if there are proper preparations. It is certainly a much better draw then the qualifiers for the 2013 Africa nations cup where Kenya was pitted against Togo and lost on away goals rule.

In the group stage, Burkina Faso are certainly favoured given their sterling performance at the 2013 Africa cup of nations where they eliminated Ghana in the semis and almost beat Nigeria in the finals. They are a solid team where virtually the entire squad plays in Europe. Talisman Jonathan Pitroiopa plays for Rennes in France. Kenya will be hard pressed to beat them. This Burkinabe squad is a far cry from the one Kenya beat 3-0 at the 2004 Africa nations cup and beat both home and away (4-2 and 4-3) in 1997.
 But even if Kenya cedes first position to Burkina Faso which they should not, that still leaves them with a chance to fight for second place. During the qualifiers for the 2012 Africa cup of nations, Kenya beat Angola at home and were very unlucky to lose away in Luanda. And this was a Harambee stars team in turmoil that had changed coaches three times within one year.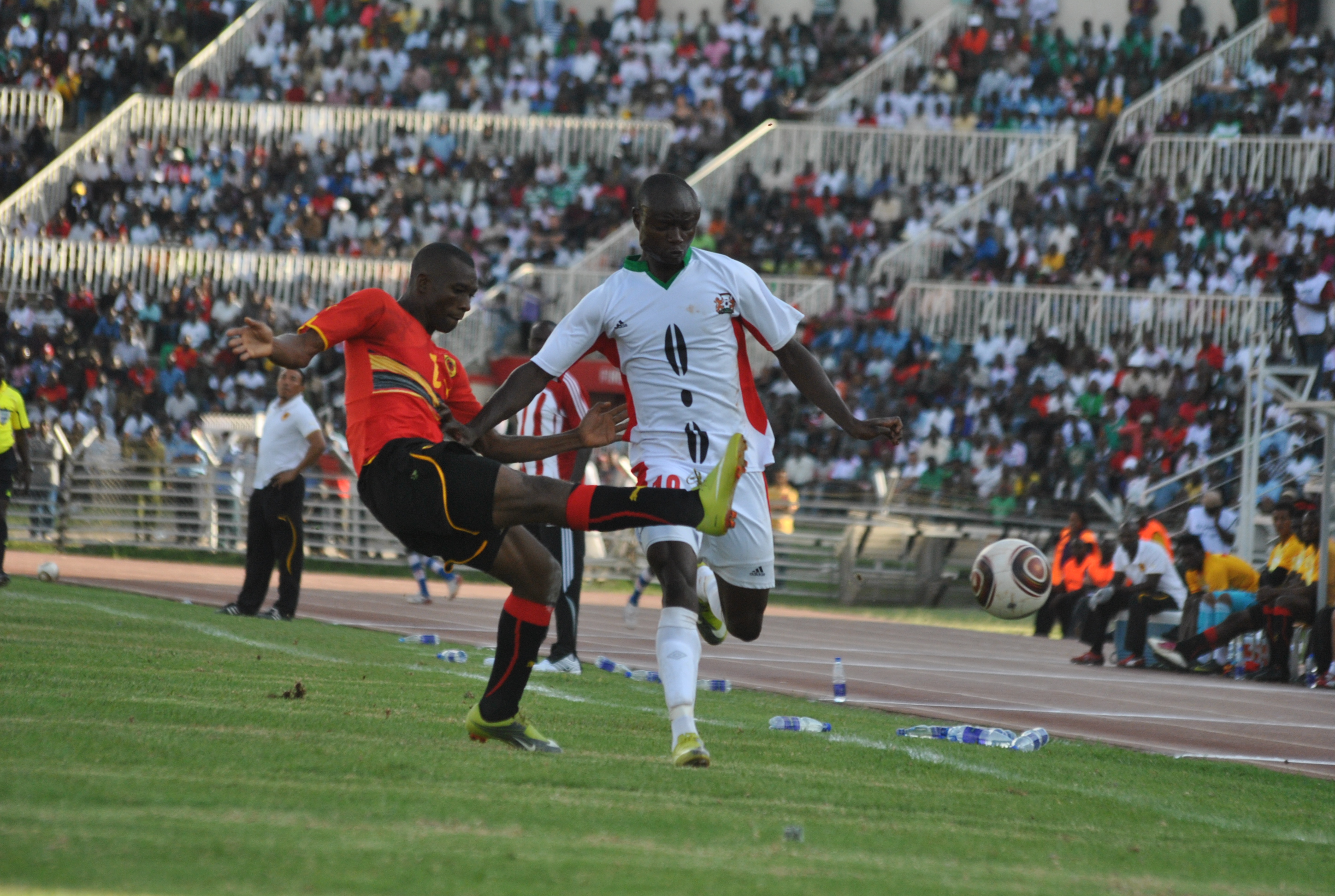 This time however there is some stability with coach Adel Amrouche having been coach for over a year and having a long term contract. Gabon at FIFA position 87 is also ranked way ahead of Kenya. However it is fair to say that with proper preparations, these two teams are at par. Matches between Kenya and Gabon have always been keenly contested affairs. In 2001, Kenya beat Gabon 3-2 on aggregate and in 1997, the same contest ended tied 1-1 on aggregate with each team winning the home leg 1-0.

When compared with our neighbours, Kenya's draw looks reasonable. T Uganda will play Madagascar first then potentially Mauritania. If they make the group stage, they will be in group E with Ghana, Togo and Guinea. If they go through, they will be in group F with Zambia, Cape Verde and Niger. Ethiopia are in group B with Mali and Algeria.
Kenya football on upward track
After a few years of mediocrity, Kenya's football appears to be on an upward trajectory. In 2009, Kenya hosted the CECAFA cup. But a shoddy display saw them loose at home to Zambia and Uganda. Fast forward to 2013. Once again Kenya hosted the same tournament but this time put on a better display to win the cup. In the 2012 edition a second tier Kenyan team reached the final and almost beat hosts Uganda.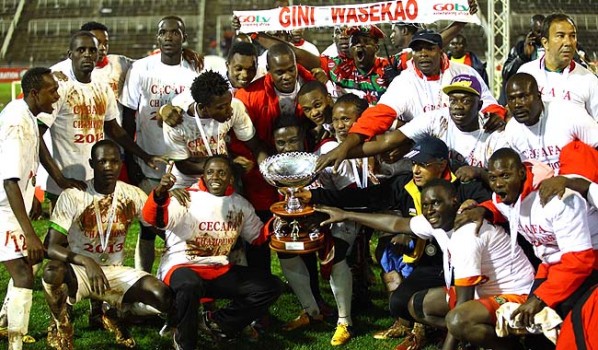 Also unlike in recent  years, there is some stability in the Kenya technical bench. Adel Amrouche has been coach for only two years but he is considered a long serving coach. Kenya is a team that changes coaches up to 3 times in a year. This stability should bode well for Kenya. Amrouche has shown that he can get good results away from home. In 2013, Kenya almost beat Nigeria in Calabar and held Malawi 2-2 in Blantyre.
  Kenya's golden generation has not fulfilled its potential
The trio of Dennis Oliech, MacDonald Mariga and Victor Wanyama are the most accomplished players Kenya has produced and arguably the best the country has produced. Each has excelled in a top tier European league and each has played in the European champions league which is the toughest and most competitive tournament in the world. This is where all the world class players play year in year out.

Yet the golden trio has never had a chance to showcase their skills together in Africa's premier competition. This has been largely due to poor organization at the federation. Thus Kenyans have been denied a chance to watch them play together in the top African competition. In fact Mariga and Wanyama have never played in the Africa nations cup. Only Oliech has in 2004.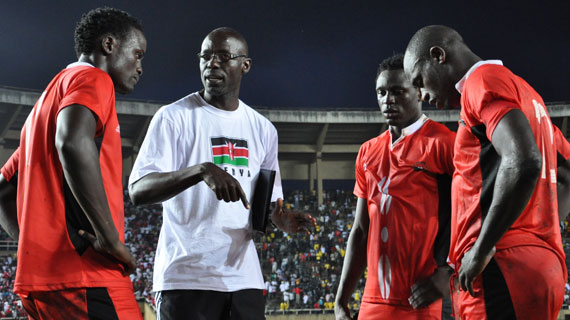 Then there is Arnold Origi. When in form, one can make the case that he is one of the best goalkeepers in Africa. Just ask the Ugandans whose hopes of qualifying for the ANC after a 34 year absence were foiled by Origi. Origi may be the best keeper Kenya has ever produced though many reading this will immediately dismiss such a notion and call out the name of Mahmoud Abbas. If Origi were to get a chance to showcase his skills at the cup of nations he could end up shining enough to earn a move to a larger club. In 1990, goalkeeper Washington Muhanji was so brilliant between the sticks for Kenya that a Belgian team offered him a contract.
This could be the last chance for this quartet to play together in the greatest African showcase and tamp their names into the history pages of Kenya Football.

Amrouche has myriad options
Other Kenyan players too should be motivated by a chance to showcase their skills. There are a number of Kenyans abroad who are playing and getting regular first team action: David "Cheche" Ochieng, Edwin Lavatsa, Francis Kahata, Paul Osiako, David Gateri, Bryan Mandela Onyango Peter Opiyo, Jamal Mohamed and others. Before you look down on the Albanian league, the Finnish or the Algerian league, keep in mind that the standard of these leagues are higher than the Tusker premier league, the quality of players is higher and the facilities and coaching and tactical approach are of a higher calibre than what pertains in Kenya. Add to this the Belgium based duo of Johana Omollo and Ayub Masika and you see that Amrouche has some good options.

Blunt strike force
One issue that has plagued Kenya of late is the blunt strike force. Not since Emmanuel Ake played has any striker developed a good understanding with Dennis Oliech. When Ake and Oliech played together, Kenya looked very sharp upfront because Ake was so good at anticipating Oliech's runs and placing the ball in the exact spot needed by the onrushing Oliech. Kenya has not had such synergy or cohesion since then. It does not help that Oliech has been injured of late. The only way this will happen is if Amrouche identifies striking partners and plays them together in friendly matches. Amrouche needs to identify a lead striker and a support striker. Oliech has been playing as a winger in France. He could play the same role now. Others who can play these roles depending on current form are Ayub Masika, Edwin Lavatsa, Allan Wanga, Jacob Keli etc. Amrouche needs to find a working combination long before the qualifiers start. And this can only be done if proper friendlies are organized.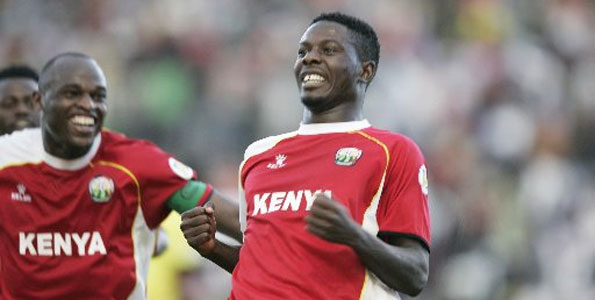 Teamwork is paramount
  Aside from striking cohesion, Kenya has in the past suffered from lack cohesion between midfield and the attack.  A few years back, then KFF secretary general Hussein Swaleh said there was tension between Oliech and Mariga. Oliech wanted the ball delivered quicker but Mariga was holding onto the ball too long said Swaleh. And back then there was indeed some tension between the two. In fact when Mariga quit the national team , it was said that it was because then coach Francis Kimanzi had sided with Oliech saying he was the most critical player on the team. There was some -ego-tripping that was made worse by various blogs encouraging discussions along the lines of "Who is better ? Oliech or Mariga and encouraging readers to post inflammatory statements about either player.  Those two however did patch things up later. It will be of paramount importance Amrouche to get players to buy into the team concept. All players and fans will need to be on the same page with a focus on winning and not who is better than whom.

Friendlies Friendlies and more friendlies
The lack of quality friendlies is one of the factors that has derailed Harambee stars in the past. In fact FKF never schedules any friendlies. As things stand now, Kenya has not played any matches since they played Namibia in September of 2013.  The only time Kenya ever plays in any friendly is when they are invited by other teams. And in some cases the friendlies are haphazardly organized. The fiasco in Sudan where Harambee stars arrived in Khartoum but did not play is a case in point. Then there was that disaster in 2012 when Harambee stars were supposed to travel to New York to play Jamaica. Suffice to say, the people at FKF pocketed a lot of money from the organizer even though the game did not take place.
Government and corporate support
It was interesting to hear sports minister Hassan Wario take credit for Kenya's victory at the 2013 CECAFA cup. This despite the fact that the government did literally nothing to support the national team. This time however, the government to step in immediately to ensure smooth preparations and to hold the FKF accountable. They should not give Nyamweya and FKF any room to dampen the hopes of the Kenyan fans.
Kenya qualified for the 1992 Africa cup of Nations held in Senegal largely due to financial support from Nation Newspapers which was the primary sponsor of Harambee stars during the campaign to qualify. The slogan "Road to Senegal" was created by Nation newspapers. It worked. The players were highly motivated, preparations were smooth and Stars went on to qualify for their third successive cup of nations. Kenyans will be hoping that corporates will step in with sponsorship this time around. Kenyan fans have been miserable for too long as they have been forced to endure one debacle after the next. The government, corporate sector and the FKF can finally give them something to cheer.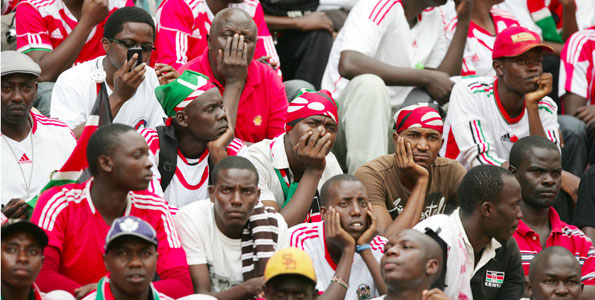 This article chronicles Kenya's sorry history of futility and the reasons behind it