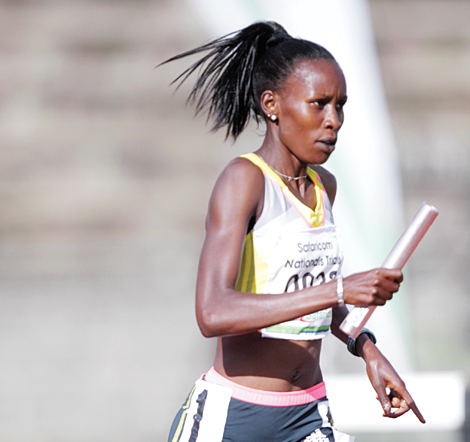 Kenya has named its team for the inaugural world relay championships to be held in Nassau Bahamas starting on May 24. Kenya will be represented by strong teams in the 4 X 800m and 4 X 1500m for both men and women. Unfortunately Kenya will not be represented in the sprint events which Athletics Kenya had vowed to participate.
Kenya Mens 4 X 1500m
World champion Asbel Kiprop will team up with Silas Kiplagat, Collins Cheboi and Joseph Magut to form what looks on paper to be the best team in the world. Olympics and Worlds finalist, Nixon Chepseba and Hillary Maiyo who finished outside the qualification bracket were included as wild cards.
Kenya Mens 4 X 800m
Alfred Kipketer, who crushed the field in the men 800m trials, will lead the charge to Bahamas. Job Kinyor, a son of former Boston Marathon titleholder, Salina Kosgei and retired 400m Hurdler and 1994 Commonwealth Games bronze winner, Barnabas Kinyor, came home in 1:44.6 as third placed Ferguson Rotich, a Moscow Worlds competitor (1:44.9) and Sammy Kirongo (1:45.3) sealed the automatic tickets.
Unfortunately for Kenya, world record holder and Olympic champion David Rudisha is still unavailable due to injury. Meanwhile 2012 Olympic bronze medalist Timothy Kitum has inexplicable lost form.
In years past, Kenya had incredible depth at this event and would have been the hands down favourite. This time however, Kenya will be hard pressed to win. Keep in mind that no Kenyan reached the 2013 world championship final in the 800 However a podium finish is likely.
Kenya womens 4 X 800m
Eunice Sum will team up with 2007 world champion Janeth Jepkosgei to form a formidable team.
"What makes this special is that I shall be in the same team with my mother in athletics as we try our best to bring glory to our country. We train together and now we shall do something great for our nation," said Sum who won in 2:03.2 ahead of Jepkosgei who finished second in  2:03.9.
Jepkosgei is an excellent relay runner. Fans will remember the devastating anchor leg she ran at the 2013 African championships to enable Kenya to win the 4 X 400m
"It is a wonderful feeling to run with my daughter. Last year, I knew she could win the world title and now we will be going for another world title together. I'm grateful for having a long career and after the disappointing London 2012 Olympics and missing out on Moscow, this is a huge relief," the equally glowing 2008 Olympics silver winner Jepkosgei said.
Sylvia Chesebe was 3rd in 2:04.8 and former World Youth winner, Cherono Koech (2:05.2) sealed the remaining slots.   Agatha Jeruto and Miriam Chepkemoi were selected as alternates. The top four teamed up to bag the honours in the 4X800m relay in 8:23.13.
Pamela Jelimo is still completely missing in action.
Kenya women's 4 X 1500m
Moscow silver medallist in the 500m, Mercy Cherono ran a scorching final lap to beat, Irene Jelagat at the homestretch to carry the day in 4:11.49 against 4:12.27.
"After my silver in Moscow, winning gold in Bahamas will be the best way to get my year going since nothing makes me happier than running for Kenya," the former World Junior titleholder enthused.
Ann Karindi was 3rd in 4:15.35. Perrine Nenkampi 4th in 4:15.67. The leading pair prevailed in the women 4X1500m event in 17:05.72 to round off a fulfilling day.
Two-time World Cross junior champion and national women 1,500m record holder, Faith Chepng'etich who set the Kenya 1500m record in 2013 was given a wildcard for Bahamas without competing. Sheila Chepng'etich also earned a wildcards in the World Relays squad.
The team will report to camp on May 1 ahead of their departure for the May 24 and 25 relay showpiece on May 18.
Interestingly missing is Hellen Obiri who won the bronze medal in the same event at the world championships in 2013.
KENYA BAHAMAS TEAM
4X800m MEN: Alfred Kipketer, Job Kinyor, Ferguson Rotich, Sammy Kirongo, Nicholas Kiplagat
4X800m WOMEN: Eunice Sum, Janeth Jepkosgei, Sylvia Chesebe, Cherono Koech, Agatha Jeruto, Miriam Chepkemoi
4X1500m MEN: Asbel Kiprop, Silas Kiplagat, Collins Cheboi, Joseph Magut, Hillary Maiyo, Nixon Chepseba
4X1500m WOMEN: Mercy Cherono, Irene Jelagat, Anne Karindi, Peris Nenkampi, Sheila Chepng'etich, Faith Chepng'etich (wildcard)
Kenya did not name teams for the sprint relays with Athletics Kenya saying that the relay teams did not meet the qualification mark.