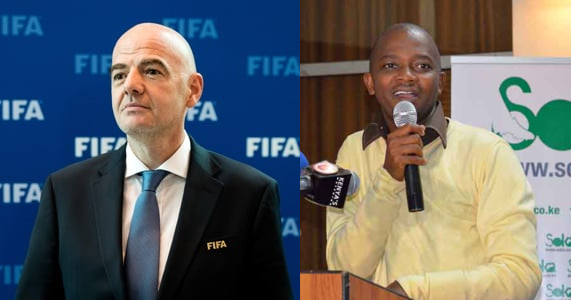 For the past 20 years, Kenya football fans have been subjected to mediocre, self-centred and corrupt leadership at FKF.  The national team has been subjected to one humiliating defeat after another. There have been corruption scandals galore. No football official has shown the kind of leadership or vision required to improve the fortunes of Kenya football.
Yet there has been no remedy because FIFA forbids any kind of government intervention. To put it plainly, FIFA supports corruption in return for votes. Since FIFA protects incompetent and corrupt officials, every  single FKF officials has engaged in corruption on a grand scale, showed incredible ineptness and done very little to develop the sport in Kenya. Every person who vies for the FKF chairmanship is doing vying for the financial rewards that come with being FKF chairman. There is never any intent to develop the sport.
FIFA does not even require federation chairman to account for the various financial grants that they end to every federation for development. In essence, a federation chairman can pocket all the money or better yet, use it to bribe delegates so they can vote for him at the next national election.
The FIFA Forward Development Programme provides each member association with US$ 6 million every four years. This means FKF is receiving Ksh 150 million from FIFA each year. Where does this money go ?
This is in addition to other financial assistance. In 2020 for example, FIFA doled out  $500,000 to each Federation as part of Covid 19 relief. Yet FIFA does not require accountability. Money that is meant for development programs or infrastructure development is not accounted for and ends up in the pockets of football officials.
And the net result is that the Kenyan football fan has suffered endless humiliations for over 20 years. A scenario aptly described by a certain Tanzanian football fan as HUJUMA ! or malice.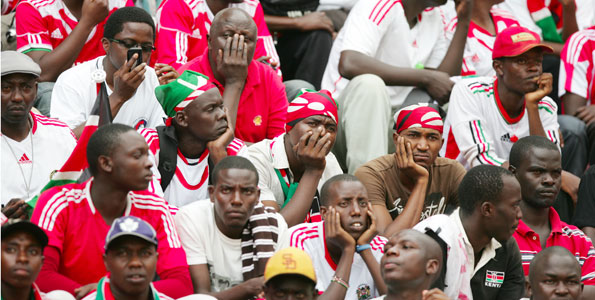 Nick Mwendwa
Nick Mwendwa was elected to much fanfair in 2016, to replace the much maligned Sam Nyamweya. Much was expected from him. But all those hopes came crashing down when it became apparent that Mwendwa was going to treat Kenya Football like his own personal property. His first act was to appoint Stanley Okumbi as national team coach. Okumbi had absolutely no qualifications that warranted his appointment. Critics saw this as an attempt by Mwendwa to hire a person who would field players favourable to Mwendwa. Basically players who were contracted to Kariobangi Sharks, the team Mwendwa owns.
On Thursday 7-October-2021 Kenya's Harambee Stars suffered one of the most humiliating defeats in the history of Kenya football when they were hammered 5-0 by Mali in a 2022 World Cup qualifier.
A lack of quality in the playing unit cannot explain this debacle since neighbours Uganda held Mali to a scoreless draw just a month earlier.  Home advantage cannot explain it since the match was played at a neutral venue.
FKF Chairman Nick Mwendwa was 100% responsible for Kenya's shocking 5-0 defeat. Among other things, Mwendwa has treated the national team like personal toy. Thanks to Mwendwa, Kenya has had 3 coaches in the space of a year. First he inexplicably fired Francis Kimanzi in October 2020. He replaced him with Jacob "Ghost" Mulee who had not had a coaching job for a decade. Mulee only lasted 2 games and was replaced by Moldovan Engin Firat who was engaged on a two month contract. Worse still, certain deserving players were left out of the team under questionable circumstances, players like the Turkey based Johana Omollo who has been one of the best Kenya players in recent years. To make matters worse, FKF has not seen it fit to schedule build-up friendlies for Harambee stars.
In addition, betting company Odibets recently withdrew their sponsorship worth Ksh 127 million because Mwendwa was not being accountable.
Sam Nyamweya
Kenyans were elated when elections were called. Sam Nyamweya had formed a parallel federation (KFF). Because FIFA mandated that KFF and FKF must merge, Nyamweya had a huge advantage since he had all the KFF delegates in his pocket.   Therefore, much to their chagrin of fans, Sam Nyamweya won the 2011 election. The same Nyamweya who had been embroiled in numerous corruption scandals during his reign as KFF secretary general in the late 1990s. One of Nyamweya's first actions was to demand that all corporations sponsoring football must deposit 15% of their sponsorship with the FKF. At the time Safaricom were sponsoring the Sakata ball tournament which gave youth all over the country a chance to showcase their skills. When Safaricom refused to deposit any money with FKF, Nyamweya banned the tournaments thus ending the aspirations of hundreds of boys and girls.
His next action was to jettison the duly elected KFF chairman Sammy Sholei and Nairobi branch representative Dan Shikanda. Both were former players who were seen as people who could monitor corruption within the federation. He used a FIFA technicality that forbids officials from going to court to ban the duo. Nyamweya replaced Shollei with his sidekick Robert Asembo who had been ejected from AFC Leopards due to incompetence.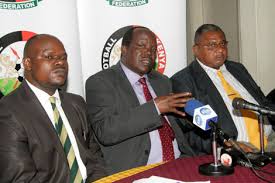 It must be stated however that the Nyamweya era was much much better than the Hatimy era. At least during the Nyamweya era, Kenya did participate in U-17, U21 and U23 tournaments. And the womens team also played in Olympics and All Africa games qualifiers with some success.
However due to the lack of structured youth systems, Kenyan teams made very little impact. Asembo was dismissive of youth development stating that he did not think it would benefit Kenya. He said this during a TV interview. Such is the breathtaking incompetence that has plagued Kenya football.
The Nyamweya era will also be remembered for the disorganization and poor preparation of national teams. A classic case was the U23 match between Kenya and Botswana when the team arrived in Botswana only hours before the match. The fatigue and jet lag took its toll as Kenya lost 0-3. A similar fate would befall the senior national team when they arrived for their world cup qualifier against Cape Verde only hours before kickoff and were duly eliminated. Aside from poor travel arrangements, Kenyan teams were often ill-prepared. The players led by senior players Dennis Oliech and Victor Wanyama would plead for friendly matches and their pleas would fall on deaf ears
Perhaps the episode that takes the cake was the 2013 CECAFA senior challenge cup. The fact that Kenya won the tournament can be considered as Nyamweya's one major success. But the tournament will also be remembered for the shambolic organization by FKF that saw teams locked in their hotel room due to lack of payment. Sudan whom Kenya beat in the final, had been detained in their hotel for 2 hours before the match. Some players such as the Zanzibari players vowed never to play in any tournament hosted by Kenya again.
Mohamed Hatimy, Titus Kasuve and Erastus Okul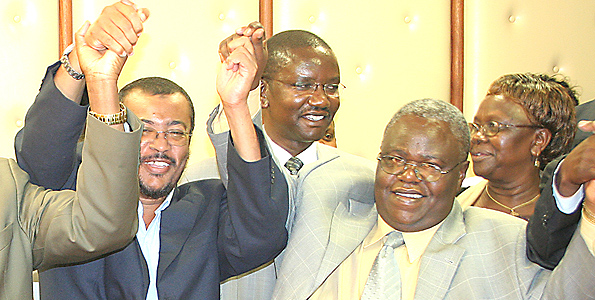 The Sambu regime was replaced by Mohamed Hatimy who had been treasurer under Kariuki. Hatimy was never elected by anyone.When Minister Kamanda dissolved the KFF, he appointed a group led by Dr. Mtana Lewa to run FKF. Hatimy somehow cozied up to FIFA who named him as the legitimate KFF chairman. Hatimy and co then went to court and won an injunction making him KFF chairman. FIFA threw their weight behind the Hatimy group. The interim KFF group led by Dr. Lewa refused to budge and FIFA suspended Kenya. FIFA finally re-instated Kenya when Kamanda agreed to let the Hatimy group take over.
Hatimy, flanked by Titus Kasuve and Erastus Okul then went to court and won an injunction making him KFF chairman. FIFA threw their weight behind the Hatimy group. The interim KFF group led by Dr. Lewa refused to budge and FIFA suspended Kenya. FIFA finally re-instated Kenya when Kamanda agreed to let the Hatimy group take over.
Just as Hatimy was about to take over, a seperate group led by Peter Ochiel and Sam Nyamweya attempted to take over KFF. Hatimy prevailed over the Ochiel group thanks to direct support from FIFA.Titus Kasuve and Erastus Okul were also part of Hatimy's group.
Hatimy also came in promising to clean up football.
"The truth is I am trying to clean the KFF. As you know, there are people in football because of what is in football. "We are trying to clean those people who are in football because of what is in football. "It is not that easy to succeed, and we have to fight very hard. "We will succeed and everything will go back to normal." Hatimy told BBC Sport.
But Hatimy did no such thing. It was during his reign that Kenya football plumbed to its lowest depths. Harambee stars suffered some of the most humiliating defeats to teams like Guinea Bissau.. Kenya failed to participate in any women's football tournaments. Hatimy could not even raise teams for any U-17 or U-21 or U-23 tournaments. In the one rare occasion when Kenya fielded a u23 team, they lost 5-1 to Uganda and 4-0 to Eritrea. They lost due to poor preparations. In most cases a coach was assigned one week before the match and the team was assembled 3 days before the match. Yet these teams had decent players like Musa Mohamed, Mungai Kiongera, Anthony Akumu and Moses Arita
Though he was never elected, Hatimy clung to power for four years (2007-2011). He was able to cling to power for four years. Whenever he was challenged and asked to hold elections, he used technicalities in FIFA rules to justify his stay.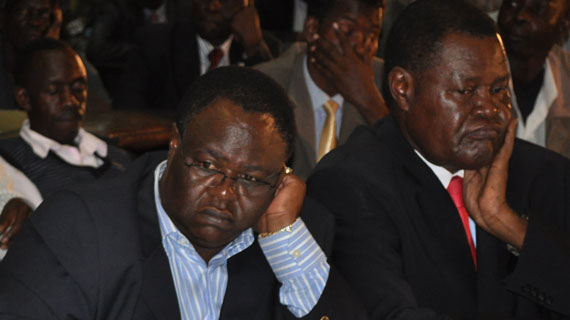 Alfred Sambu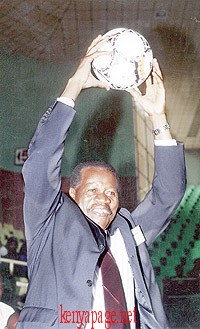 The next elected chair was Alfred Sambu who had been the Chairman of AFC Leopards during a highly successful period for that club. Many expected his success as club chair to translate into success as KFF chair. But it was not to be. Sambu barely lifted a finger to run KFF. It was said that his poor health prevented him from being an effective chair. This left many wondering why he even bothered to remain Chairman.
In 2005, upon FIFA's suggestion, an Independent company was assigned the task of vetting candidates for the Post of KFF Secretary General. After interviewing several candidates they settled on Moni Wekesa. But the KFF top brass led by Titus Kasuve demanded that an insider (Dan Omino) be given the post instead. Kasuve repeatedly told FIFA to stop interfering in local affairs. FIFA eventually caved in to pressure. Omino turned to be one of the most incompetent officials ever.
His incompetence is highlighted by the words of the then Harambee stars coach Bernard Lama, a Frenchman who marveled at the KFF cincompetence by saying "This KFF cannot even get basic things done". Lama resigned his post in frustration Thus when Minister Maina Kamanda dissolved KFF in 2007, Sambu and his then secretary general Dan Omino did not fight it.
Maina Kariuki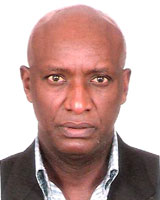 The man who replaced Kenneth was Maina Kariuki. A marketing executive at Coca Cola, he came in promising private sector professionalism to the federation. It was not to be. First off he did absolutely nothing to lift the Standards of the sport. His era is mostly remembered for gross corruption. For example, during the Africa Nations cup qualifier against Swaziland, Ksh 1 million in gate collections disappeared.
Kariuki pretended to launch an investigation. This era will also be remembered due to the dogged manner in which Kariuki clung to his position. Even when the then sports minister Francis Nyenze dissolved KFF much to the elation of fans, Kariuki was able to promptly get a court order from judge Richard Kuloba to reverse the dissolution. When
KFF officials also pocketed FIFA funds and gate collections from local matches as detailed in a report by Mathare United Chair Bob Munro. In the report known as Plundering football, Munro noted that while KFF officials were looting coffers, referees went unpaid, unregistered agents sold players abroad and excluded clubs and players from the proceeds.
Due to the incompetence and corruption, 11 teams from the top league quit the KFF league to form the Kenyan Premier Football Group Limited (KPFG) which was the beginnings of today's KPL. Kariuki showed his vindictiveness by banning referees who had officiated matches in the non-KFF leagues. One notable example was referee Pamela Achieng who had been selected as a referee for the 2003 All Africa games. She was all set to travel to Abuja for her assignment when she was barred by Kariuki. Mercifully, Kariuki's reign mercifully ended in 2004
What can the government do?
The sports act should be amended to require sports officials to account for all the money that enters federation coffers whether through sponsorship, FIFA grants or gate collections. Secondly, the sports act should require that  administrative salaries not exceed 5% of the annual revenue of any sports body. Failure to comply with the sports act should result in jail terms for sports officials. This way the government is not seen as interfering in federation matters but only enforcing national laws. In fact Cameroon Federation chairman Iya Mohammed was sent to prison at one point. But he remained FA chairman so his jail sentence was not deemed as interference by FIFA.