Former Harambee stars skipper Musa Otieno teamed up with Tusker to make a passionate appeal to Kenyan football fans to support their local clubs. Popularly known as "Otero", Musa who is the current Harambee stars assistant coach, made the valid point that the national team will not thrive unless Kenyans support their local clubs which are the backbone on which the national team is built.
European leagues, especially the English premier league have literally taken over the attention of Kenyan football fans to a much larger extent than when "Otero" was in his heyday in the mid to late 1990s. As he said in that video, when Kenya played Nigeria in 1997, the stadium at Kasarani was filled with 60,000 roaring fans. Contrast this with the situation when Kenya played Nigeria at Nyayo stadium in 2013. Even though Kenya had come very close to beating Nigeria in Calabar a few weeks earlier, they could only muster about 20,000 fans.
However all is not lost. Tusker who typically get paltry crowds as low as 100 when they play in Nairobi, were received enthusiastically when they played home games at Kinoru stadium in Meru. This shows that there is a pent up demand for local football in some pockets.
Its worth examining what can be done to further boost interest in local football.
Government should Support community clubs
Successive Kenya governments have done very little to boost community clubs. The current government has not only been unhelpful but in some cases has been outright hostile towards clubs. Such was the case the government slapped Gor Mahia with a ridiculous bill of Ksh 118 million. It is likely true that Gor Mahia owes taxes but the figure of Ksh 118 million and the threat to confiscate all the gate collections and sponsorship money coming to the club smacks of malice and a personal vendetta. Rather than harass club's like this, the government ought to work with clubs. With this kind of harassment, it comes as no surprise when Kenyan clubs perform poorly against foreign opposition.
As part of helping top Kenyan sides, the government should help top sides recover land they own which is now occupied by squatters. This will help the clubs start to build an asset base.
Come through on Election promises
One of the promises made by this government before they were elected was that they would incentivize individuals to encourage them to invest in sports. One of the proposals floated was to provide land to individuals who wish to invest in football teams. The land could be used to build a training ground, a club house and perhaps even a stadium.
This is especially important since community teams are much better at drawing crowds and gaining the attention of the public than institution based teams.
Upgrade stadia and enhance security
When the stadium in Machakos was renovated, the crowds came enthusiastically. Better facilities including seating, restrooms, concessions stands and most importantly better security will attract fans to stadia. Ultimately, fans want to be seated comfortably, have good sight-lines to the football field and be assured of their security. With this in mind, the national and county governments should do their part by upgrading stadia like the Mombasa Municipal stadium, Nairobi city stadium and Afraha stadium.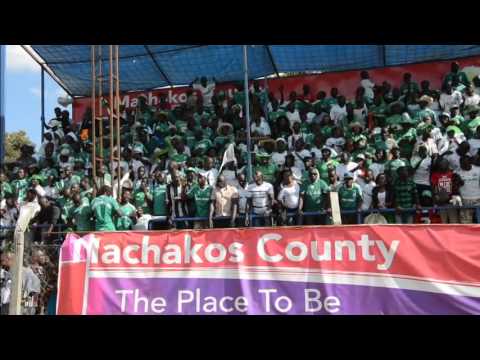 Clubs must market themselves
Clubs can take basic steps to promote themselves among Kenya sports fans. For clubs that struggle to fill the stadia, they should allow children who are accompanied by adults to enter the stadia free of charge. Remember that these children are the future paying fans so by letting them in free, you are creating memories and building a future fan base.
This should matter to the government
Promoting local clubs can create more employment opportunities, not just for the players, but also for the coaches, journalists, physios and others. And every government has a vested interested in reducing unemployment.
Promoting local clubs also makes the economy stronger. As things stand now, Kenyan football fans are making the British economy stronger. The English premier league earns revenues of over 3 Billion British pounds mostly from hefty television contracts. By promoting local leagues, a slice of that money could remain locally.
County governments also have a vested interest in helping promote local clubs. Meru governor recently cited Gor Mahia as one of the reasons he is spending Ksh 200m to upgrade Kinoru stadium in Meru and millions more to set up a sports academy in his county.
Munya said his government considers sports as a major business for locals due to high number of people attend matches at the stadium, hence the heavy investment.
"People spend in our hotels when teams come to Kinoru stadium. Food suppliers will also get business. When Gor Mahia came to play Tusker, all hotel rooms were full. We want to sustain this." said Munya.
Summary
Changing the culture of Kenya football from one that adores the English premier league to one that supports will take a long term vision and active participation by all stakeholders including the county governments