Dennis Kimetto made history when he became the first person ever to break the 2:03:00 barrier in the marathon. He stopped the clock at 2:02:57 to win the 2014 Berlin Marathon. Second placed Emmanuel Mutai who clocked 2:03:13 also beat the previous record set last year by Wilson Kipsang.
There was a lead group of six men and the rabbits who ran  the first half of the race in 1:01:45 (2:03:30 pace). Kimetto ran the second half of the race in a lightning fast 1:01:12. That would have put him among the world leaders in the half marathon this season. This was the fifth men's world record set in Berlin in the last eight years. It started with Paul Tergat in 2003, followed by Haile Gebreselassie, then Patrick Makau, Wilson Kipsang and now Dennis Kimetto.
Abera Kuma of Ethiopia finished a distant third in 02:05:56. Geoffrey Kamworor, the 2011 world junior cross country champion, finished fourth in 02:06:39. At age 22, he has a brilliant future ahead of him.
Kimetto, a man out of nowhere
The 30 year old Kimetto is a man whose meteoric rise to fame is the stuff movies are made of. He only started running three years ago at age 27. Prior to that he had been a subsistence farmer. That was until he was discovered by a member of Geoffrey Mutai's running group.
His first major win came in Nairobi's Half Marathon in 2011. In  2012 he ran the fastest ever marathon debut (2:04.16) when he finished second to Geoffrey Mutai. He also set the world record in the 25km road race with a time of 71:18 which was over 30 seconds faster than the previous record.
In 2013 he won the Tokyo Marathon, setting a course record of 2:06.50, and then the 2013 Chicago Marathon in a course record of 2:03.45 — where he also beat Emmanuel Mutai into second place.
An interesting fact about Kimetto is that he has never run in a track meet.
Kimetto's Prize Money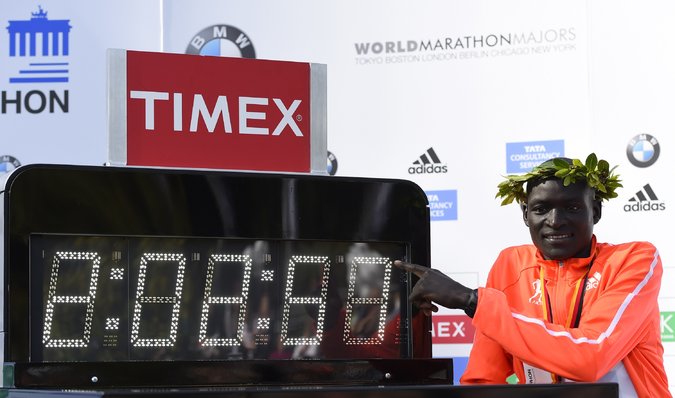 Kimetto will get 50,000 euros for the win, 30,000 euros for breaking 2:04 and 50,000 euros for the WR. So 120k euros total , that's roughly $154k.
In addition, he will likely pick up a hefty bonus from his shoe sponsors. His appearance fees will skyrocket and he may win an extra $500,000 if he wins the world marathon majors title.