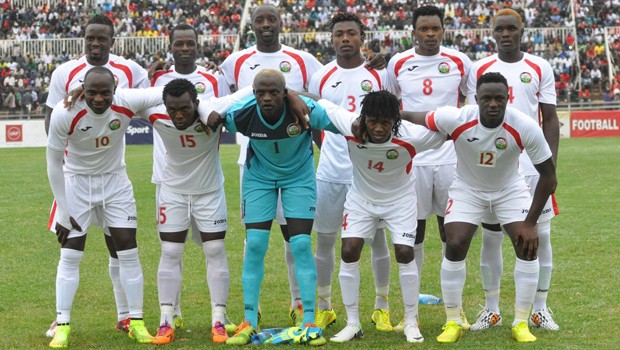 Kenya's Harambee stars suffered what is probably the worst defeat when they lost 1-0 on aggregate to Lesotho, a team that was ranked at #131 in the FIFA ranking, 36 places below Kenya at #95. What makes the loss even worse is that qualification for the 2015 Africa Nations cup seemed within Kenya's reach. Lesotho is a team Kenya should have easily beaten. And if they did qualify for the group stage, they would have played against Gabon, Burkina Faso and Angola all teams Kenya could have beaten.
In the aftermath, FKF chairman sought to deflect blame by firing the entire technical bench. It is indeed true that the technical bench deserved to be fired For one thing, their fielding was highly suspect. However a new technical bench will not resolve the deeply embedded problems that bedevil Kenya football.
Lack of Friendlies
Having been gifted with a manageable qualification schedule, Kenya should have embarked on serious preparations. There should have been training camps and several friendly matches against good teams. In fact several players including Ayub Timbe, Dennis Oliech and Victor Wanyama called for more friendly matches to enable the team to gain a modicum of cohesion. But their were no friendlies forthcoming. Even after Kenya almost lost to lowly Comoros in the preliminary round , the warnings were not heeded. Kenya played only one friendly match against Burundi, 3 days before the return leg against Lesotho.
Poor Preparations
The 1987 4th All Africa games remains Kenya's best ever performance in a continental event. The performance was no accident. Prior to the tournament, Kenya had gone to Germany on a month-long training camp in which they played 10 friendly matches. Aside from sharpening the playing unit, the camp served to unite the players bohttp://kenyapage.net/commentary/wp-admin/post-new.phpost their morale  and build cohesion. In 2014 however, Kenya went to camp only a few days before each match. The biggest missed opportunity was the month of June and July when Kenya players went on holiday to watch the world cup in Brazil while other teams were busying themselves with preparations.
The lack of finances.
Nyamweya has stated that Kenya's biggest problem is the lack of finances. And why is Harambee stars broke you may ask ? As Roy Gachuhi of the Daily Natiion stated, "Sponsors regarded Harambee Stars as a quarantined area and kept away the way you keep away from somebody with a contagious disease. Or how travellers stay clear of areas of conflict."  To put it plainly, sponsors do not feel comfortable being associated with a poorly run outfit that is run by people who have a reputation for corruption. And Nyamweya has a record of corruption going back to the late 1990s when he was KFF secretary general. Rugby which is less popular than football draws five times more sponsorship than football because the people who run it are seen as transparent and accountable.
Lack of Youth development
Kenya has no youth development scheme. It comes as no surprise therefore that most Kenya players fail to make the cut when they attend trials in Europe. The players are of a low calibre and lack basic fundamentals.
Kenya is a permanent no show ate youth tournament. In fact in June, Kenya was scheduled to play Botswana in an Africa under 17 qualifier. Kenya ended up pulling out due to lack of finances.
Unless this malaise is addressed, Kenya is doomed to more humiliations in the future.