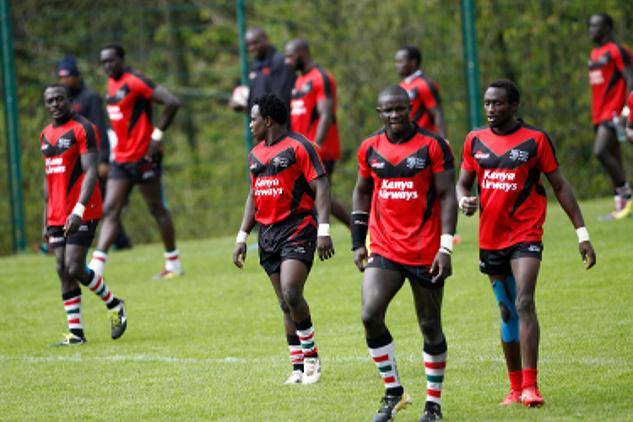 Back in 1987, coach German coach Reinhard Fabisch steered the Kenya national football team to the finals of the All African games. It was an impressive performance considering that in those days, national teams sent their full strength squads to the All African games. He would then steer Kenya to qualification of the 1988 Africa nations cup after a 16 year hiatus. Soon after this he was fired by the KFF. He was fired because he demanded that the KFF treat players better and pay their allowances on time. When he was fired, Harambee stars fans were livid. A KFF official at the time was reported to have remarked "Coaches come in dozens".
This appears to be the same attitude that KRFU officials adopted when they hired Mike Friday in 2013 to coach the Kenya sevens team. Friday took over from former Kenya sevens player Mitch Ocholla who in turn had replaced Benjamin Ayimba.
Ayimba, though he registered some impressive results including a semi-final place at the 2009 world cup. But he was unable to get consistent results. Under Ocholla, the team regressed badly.
Friday was able to steer Kenya to 5th place in the 2012-2013 IRB standings after they had finished 12th in the previous year. But in a comical turn of events, Friday was fired by the KRFU board apparently even without the consent of chairman Mwangi Muthee. The ring leader of this coup was one Philip Jalango. It seemed that Kenya was shooting itself in the foot only weeks before the world cup. Luckily Muthee intervened and Friday returned to take Kenya to the world cup where they once again reached the semis. But by then Friday had had enough of KRFU intereference. He resigned.
Kenya then hired former South Africa coach Paul Treu. Under him Kenya recorded some excellent results but was once again plagued by inconsistency. Kenya finished 7th in the 2013-2014 IRB standings and Treu finally resigned citing problems at KRFU.
"I wanted to put in place structures to monitor how players responded in the first year then give it a crack in the second year but things have not worked well because of the challenges at the KRU board.
"It's a shame, really, and I am very sad not to see my vision for the team reach the 2016 Olympic Games but I am grateful for the opportunity and will always be there for Kenya Sevens if need be," explained Treu.
Then for the 2014-2015 series, it was once again a former player Felix Ochieng who took charge. Kenya recorded some good results in single games but was once again plagued by inconsistency. But this time the inconsistency was so bad that Kenya would play very well in one match then put on a listless performance in the next match within the same tournament. So listless was Kenya at times that they almost lost to Brazil at the London sevens.
Kenya ended up finishing the 2014-2015 season in 13th place, two places above the relegation zone. In fact Kenya were battling relegation throughout the season. Not once did Kenya contest for the plate final nor did they reach any cup semi-finals.
Mike Friday proves KRFU brass wrong
While Kenya struggled, former coach Mike Friday was steering USA to their best ever performance. USA finished 6th overall, but more importantly, won the London sevens in surprising fashion. Kenya has never won a leg of the IRB sevens.
Whereas USA welcomed Friday,  provided him with the support and flexibility he needed, Kenya did the exact opposite. One of the complaints from the KRFU brass was that Friday never lived in Kenya and refused to participate in training local coaches.
Such expectations are bogus. First off Friday has a family that lives in London so expecting him to live in Kenya  does not make sense. Secondly if KRFU wants to raise the standards of local coaches, they should hire someone to conduct regular seminars. Friday should be have been asked to have a laser like focus on the national team and not be distracted by other issues. But most importantly, USA rugby did not interfere with Friday's work.
As with KFF in 1988, KRFU assumed Mike Friday was easily replaceable and they were proven wrong.
Disorganization and Infighting
Aside from that, all the infighting and agendas at KRFU has also hindered the top brass from being able to focus on the national teams. They have literally turned what was once a successful system into mediocrity. In fact sports minister Hassan Wario was appalled by KRFU. He remarked that KRFU was once the best run association in Kenya but is now at the same level of mediocrity as FKF and other associations.
Due to the disorganization, infighting and vendettas that caused both Friday and Treu to resign, KRFU is directly responsible for Kenya's shoddy performance at the 2014-2015 series.
George Omwela, the new KRFU chair has his work cut out. There are two more important events left in 2015, One is the All Africa games in Congo which for the first time ever will feature rugby sevens. But even more importantly there are the Olympic qualifiers.
Kenya needs to get its act in order for them to succeed. Start by taking a keen look at the technical bench. It is indeed true that the current technical bench cannot be blamed for the poor results. KRFU shoulder most of the blame for that.
However a review is warranted. It is not clear if the current tenchnical bench can deliver consistent results. Kenya needs a technical bench that can deliver consistent results. Without this, Kenya Airways may withdraw their sponsorship as Safaricom already have.
Omwela must ensure that henceforth, the team is given support and is able to deliver without interference.