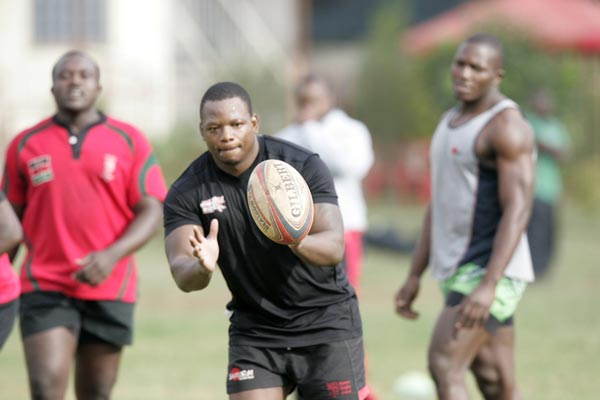 For the first time ever, the Kenya rugby fifteen a side team has a realistic chance of qualifying for the rugby world cup for fifteen a side teams. The qualifiers will kick off in Madagascar on June 28
Whereas Kenya has qualified for the seven a side world cup four times in a row and has reached the semi-finals twice, they country has never had a realistic chance of qualifying for the fifteen a side world cup which brings with it far more recognition.
In addition, a number of African countries have been to the rugby world cup. Zimbabwe were there in 1987 and again in 1991. In 1987, Zimbabwe boasting the legendary Tsimba brothers came within a hair of beating Romania, succumbing to a late try and losing 20-21. Cote'd Ivoire were Africa's representatives in 1995 when they shocked Namibia in last qualifier. On that occasion, Namibia had badly underated the Ivorians and sent a weakened team to Abidjan only for them to lose and miss out on a chance to qualify for the 1995 RWC that was held in neighbouring South Africa. However since then, Namibia has dominated the qualifiers, going to the world cup three times in a row (2003, 2007 and 2011).
Kenya are better prepared to take on the Namibians, Zimbabweans and Madagascans than they have ever been. To begin with, Kenya are the reigning African champions, having won the tournament in dominating fashion in 2013, including a massive 52-11 win over Uganda.
Secondly, Kenya played in the 2014 Vodacom cup and managed one win and six losses. The experience they gained in that tournament was invaluable. They played against test calibre opposition and acquited themselves well. In 2014, Kenyan teams thoroughly and utterly dominated the Bamburi super series leaving Ugandan teams as a non-factor. And in their final build-up match, Kenya narrowly lost to Western province of South Africa, a team that reached the quarter final of the Vodacom cup.
Sevens Players
Kenya have beefed up their squad by including members of the succesful sevens team who will add pace and guile. Three siblings Humphrey Kayange, Collins Injera and Michael Agevi headline the squad that also includes Michael Wanjala and Patrice Agunda. Skipper Andrew Amonde, Tony Awuor and Billy Odhiambo will start from the bench with Wilson Kopondo retaining the arm band.
Namibia and Zimbabwe stand in the way
"Namibia is Kenya's biggest roadblock to the World Cup," Mwangi Muthee, Chairman Kenya Rugby Union said on Thursday. The vastly experienced Namibians played their final build up match against Blue Bulls on June 21 loosing 34-13. Blue Bulls which once featured Daniel Adongo were semi-finalists in the 2014 Vodacom cup. Earlier Namibia had played Western Province and won 30-28 thanks to a last gasp try. Namibia will also be able to call upon half a dozen players who play professional rugby in places like South Africa.
Zimbabwe for their part have also been in intense training. But their build-up has been hampered after a trip to South Africa for build matches was aborted at the last moment due to lack of funds. Coach Cyprian Madenge has expressed confidence in his charges. That we narrowly lost to Namibia last year, with just a week of training, has given a reason to believe to the boys that we can go and conquer because some of the guys had (other) commitments," said Mandenge.
Namibia will go into this tournament with a dose of confidence since they beat both Kenya and Zimbabwe 55-35 and 35-26 respectively at the 2014 Tri Nations cup.
Hosts Madagascar cannot be forgotten. The "Makis"  as they are called, beat Namibia the last time those two teams met in Madagascar. The partisan crowd in Antananarivo always turns out in large numbers to support the Makis.
Qualification format
The three teams (Kenya, Namibia, Madagascar, Zimbabwe) will play each other once in a league format. Points will be awarded as follows:
Win – 4 points
Draw – 2 points
4 or more tries – 1 point
Loss within 7 points – 1 point
Loss greater than 7 points – 0 points
The winner earns a direct ticket to the world cup while the runner up will play in the repecharge (playoff) against a European team.
Qualification would be a massive boost
Aside from creating exceitement about the sport of rugby in Kenya, qualifying for the rugby world cup could be the financial shot in the arm that could take Kenya to the next level in rugby "We need to develop structures to ensure we go to the World Cup to compete. Building such structures is costly, and funding from IRB will come in handy. Should we qualify, we stand to get a minimum of Sh87 million from the IRB to prepare for the World Cup. Afterwards, we could get the same amount annually for development," said Muthee.
Kenya squad
Moses Amusala, Sammy Warui, James Kangethe, Oliver Mange'ni, Wilson Kopondo, Michael Okombe, Davis Chenge, Martin Owila, Michael Wanjala, Lavin Asego, Patrice Agunda, Humphrey Kayange, Collins Injera and Michael Agevi, Duncan Mwangi, Curtis Lilako, Isaiah Nyariki, Emmanuel Mavala, Ronnie Mwenesi, Brian Nyikuli, Andrew Amonde, Tony Owour, Llye Asiligwa, Kenny Andola, Billy Odhiambo, Nick Barasa, Fabian Olando, Tony Onyango, Cyprian Kuto and Leonard Mugaisi, Joshua Chesanga, Maxwell Adaka, Isaac Adimu and Joseph Kang'ethe.