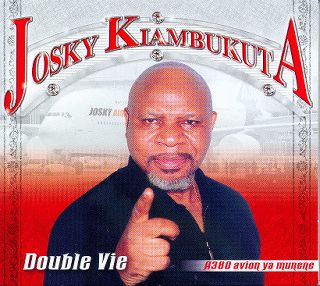 Josky Kiambukuta is one of the most famous Congolese singers/ composers. He is best known for his role as one of the lead singers in TP OK Jazz, perhaps the greatest band to emrge from the continent of Africa. He is one of the best composers and vocalists in the history of African music. He has an incredible vocal range that spans the musical scale all the way from soprano to bass. His compositions typically have what can best be described as a manic excitement with memorable hooks.
Josky Kiambukuta Londa was born on February 14 1949. He started his singing career  in 1969 with the band Africa Fiesta Sukisa which at the time was led by legendary Congolese guitarist "Docteur" Nico Kasanda and his brother Dechaud Mwamba.
In 1971, he along with several members of Fiesta Sukisa left the band and struck out on their own. Among those who left were Josky, Bopol Mansiamina, Serpent Kabamba, Blaise Pasco Mayanda and Sita Malukisa. They formed the band known as Orchestre Continental. They were later joined by Wuta Mayi. While there Josky released one of the most popular hits at the time, Tchebo.
In 1973, Franco was amassing an arsenal of musical talent for his band TP OK Jazz which was slowly becoming the most popular band in Zaire. It was against this backdrop that he recruited Josky who then joined an OK Jazz frontline that already had Sam Mangwana, Youlou Mabiala, Boyibanda and Lola Checain.  Josky left continental along with Wuta Mayi. It was said that back then, Franco often recruited musicians from emerging bands that he thought would be a threat to TP OK Jazz. He soon released his first composition, a song known as Monzo.
Throughout the late 1970s, Josky was always amongst the lead vocalists of TP OK Jazz. But his defining moment came in 1980. That was when he composed the song "Propetaire". It is one of the most memorable songs ever produced. The song which was popularly referred to as "Sambwa Sambwa" by fans was and still is a huge hit. At parties everywhere the song would send fans storming to the dance floor not to ,mention singing along. It was catchy and had a very danceable beat. The song is about a woman whose love has been scorned by a love interest. The oft repeated phrase "Nasambwe Oh ngai mwasi kitoko boye" translates to "I am shocked at jis rejection because I am so beautiful".
But Josky was not done yet. The following year he composed yet another hit, Bimansha. When TP OK Jazz toured Cote' D Ivoire that year, the song took the Ivorian public by storm. The song is about a person whose love has left him and he cannot understand why. Then came the hit Tokabola Sentiment popularly known to fans as Kizungu Zungu in which Josky describes being dizzy because of the problems of love. Indeed many of Josky's songs during that period dealt with the problems of love. Ironic for someone whose birthday happened to be Valentines day.
1983 was a memorable year for TP OK Jazz but also for Josky. That year TP OK Jazz released an album exclusively featuring songs by Josky. The album was labelled "Franco Presente Josky Kiambukuta". It contained the hit songs : Alita, Massini, Mehida and Limbisa Ngai.
That same year, Josky was key performer in the Choc Choc Choc sessions in Paris that brought together musicians from rival bands Africa and TP OK Jazz including the band leaders Tabu Ley and Franco. Along with Afrisa members Tabu Ley and Kuleta PonPon, he performed lead vocals in the song Omona Wapi. It was then that he composed one of his most memorable hits, Missile, where he showcased his superb vocal range, holding a note at soprano and also providing bass vocals.
He also recorded an album outside the TP OK Jazz system. In collaboration with a youthful up and coming musician, Koffi Olomide, he recorded the album "Ngounda" which also featured Papa Wemba.
The following year 1984, contributed the song KSK to the hit album "L'Ancienne Belgique".  The following year he composed the song "Likambo na Moto te" which was part of the highly succesful Mario album.
In 1986, Josky decided to strike out on his own yet again. This time he teamed up with another TP OK Jazz member Ntesa Dalienst and Serge Kiambukuta. Some of his memorable songs came during this period. There was the memorable ballad "Ayez Pitie" and the up tempo song "Le Monde et es problems" . Another memorable song from that period was Likingo Li Mboka which was sung in a language very similar to lingala (possibly the Bobangi language) . Other songs from Josky's rebel period were Medecin de Nuit.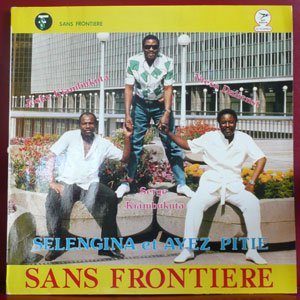 When Franco and TP OK Jazz toured Kenya in 1986, he quickly realized how important Josky was to the band as fans repeatedly demanded songs by Josky.
Franco finally managed to convince the prodigal son Josky to return In 1987. So when Franco came back to Kenya to perform at the 4th All Africa games concert, Josky was back on the TP OK Jazz frontline much to the relief of Kenyan fans. Josky celebrated his return with yet another album labelled "Franco Presente Josky Kiambukuta", featuring 3 songs by Josky. The three were Mata Kita Bloque, Minzata and a remake of his early 80s hit (Tokabola Sentiment ) now know as Osilisi Ngai Mayele" which also featured sublime vocals from Malage De Lugendo.
When Franco passed away in 1989, Josky, Simaro, Ndombe, Madilu and other stalwarts continued to sing as TP OK Jazz. In 1990, he released yet another one of his most memorable hits. The song "Chandra was yet another one produced in the typical "Kiambukuta style" that created a manic excitement in dance halls all over Africa. He soon followed with other hits like Maby, Baby and Serre Serre.
Following the fallout with Franco's family, the key figures in TP OK Jazz minus Madilu struck out to form their own band which they called Bana OK. His greatest hit with Bana OK was Dernier Avertisssement (Last warning) which was released in 1999.
By the new millenium, Bana OK members had started to pursue solo projects. Josky left for France from where he released two albums, Oui Ca Va in 2001 and Double vie in 2005. He continued to perform at live concerts with Bana OK Members and other bands even occasionally appearing with Zaiko Langa Langa.
Josky returned to Kinshasa in 2011. By this time his singing career was finished largely due to medicalc issues. This included a foot problem that left him wheelchair bound during the latter years of his life. He was often seen on Television discussing his prolific music career. Soon
Josky passed away at Ngaliema clinic after protracted illness on March 7 2021. He leaves a rich legacy as one of the most prolific composers in the history of African music. Very few musicians have composed so many excellent songs.