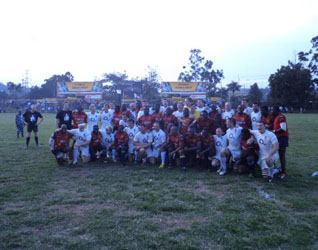 The Elgon warriors area team comprised of players from the Kenya and Uganda national rugby teams. It is a remake of the East Africa Tuskers who existed from the 1950s and continued to play until the 1980s against touring British sides. 2012 marked the first time the Elgon warriors played when they came up against England counties.
The Warriors team had little preparation and time to gel therefore not much was expected from them. They duly lost 39-5 to the visitors and were duly outplayed in all facets. Even the presence of Daniel Adongo who plays for Blue Bulls in South Africa's Currie cup did not help.
What is disturbing though is reports that Kenya has shelved the Under 19 and womens teams because there is no funding for these teams. Reports suggest that KRFU received funding from IRB and CAR for youth development. That money was instead spent on hosting the English Counties side. This is case of misplaced priorities.
The Elgon Warriors concept will not contribute anything to the development of rugby in Kenya. Further to that, given that Kenya and Uganda are amateaurs, they will never be able to spend enough time to build enough cohesion to match a team like English Counties It will always be a case of hurriedly assembling a team to play a much stronger side, thus creating disastrous results.
Also the main reason why joint teams like British Lions exist is because they have plenty of cachet and history and thus are a huge draw financially with plenty of sponsors lining up to pay big money to be associated with the Lions. Fans are also willing to shell out huge amounts of money to travel and watch the Lions. The British Lions concept is thus highly profitable and not only does it pay for itself but also pours plenty of money into the coffers of the four home Unions.
Contrast this with the Elgon Warriors which not only does not generate money but actually takes money away from worthy causes like youth development and womens rugby.
Rather than spend money on unworthy causes that like the Elgon warriors why not spend money building rugby from the ground up. Take rugby to primary schools all over the country. Conduct youth development, womens rugby and other initiatives that help build a fan base and prepare Kenyan youth to be come high calibre players.