There was a time not too long ago when the Mathare Youth Sports association was the backbone on which Kenya football was built. During the period of the late 1990s to the early 2000s, a disproportionate number of national team players.
Many of these MYSA products went on to have succesful careers in Europe. Among the first was Evans Nyabaro. After passing through the MYSA age group set ups, Nyabaro went on to have a 11 year career in Europe. First he played for IK Start in Norway before playing for Sleipner in Sweden.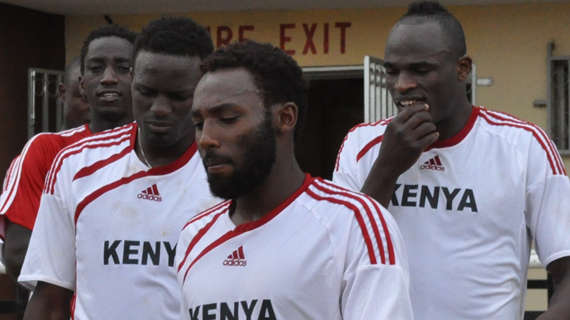 In fact the last time Kenya qualified for the Africa nations cup (2004), the squad was built largely of players from Mathare United and MYSA or players who had passed through the MYSA system. The Mathare players in that squad included the likes of Titus Mulama, Walter Odede, Adam Shaban, Duncan Ochieng. Overseas based players like Dennis Oliech, Andrew Oyombe and Willis Ochieng were among the players who at some point had been trained at MYSA. Simon Mulama, twin brother to Titus had also been a stalwart of Harambee stars, making his national team debut while still in his teens and going on to play for top Egyptian side Ismaily. Both Mulama brothers were at MYSA by age 10 and thus started honing their skills in a structured environment very early.
During the period of the 1990s and early millenium, MYSA was the only semblance of a youth system in Kenya. Which explains why they provided the bulk of national team players.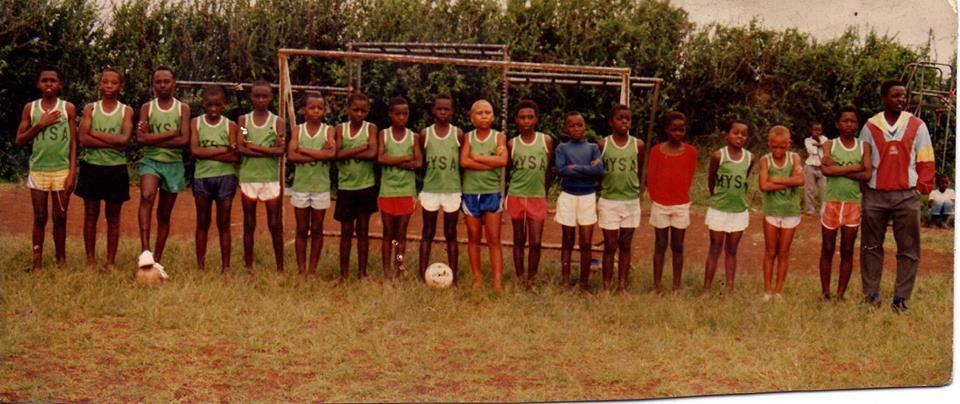 And Mathare went on to build on this: They came very close to winning the Kenya Premier league in 2007. They would eventually win it in 2008 before finishing second again in 2009. Francis Ouma, another MYSA product was the league's top scorer in 2008.
During this period, Mathare Youth FC, the Under 20 team for MYSA was also in the Kenya Premier League. It marked the first and only  time that a senior team and its youth team were in Kenya's top tier at the same time.
And after the 2004 Africa nations cup, Mathare continued to produce top tier players like Arnold Origi who is the most accomplished goalkeeper Kenya has ever produced. Origi has been playing in the Norwegian top tier for almost a decade. Edgar Ochieng another MYSA product starred for the national team for many years, helped Sofapaka win their only league title in 2009 and went on to play in Oman. George Midenyo, another MYSA product, went on to play in Scandinavia as well. Another MYSA product who thrived in Europe for many years was Jamal Mohamed whose career took him to Sweden, Romania, Kuwait and Oman.
Women's football.
MYSA was the first organization to give girls a chance to play structured football. That was long before girls football was offered at secondary schools or primary schools as it is today. One MYSA product, Doreen Nabwire Omondi, became the first Kenyan woman to play in a top tier European league when she joined Werder Bremen in 2009 and later FC Cologne in 2013. It is a significant accomplishment considering that European sides typically do not sign players who come from countries with no football pedigree. And she accomplished this during a period when women's football was basically moribund in the country. There was no league or national team. To this day she remains the only Kenyan woman to have played in Europe.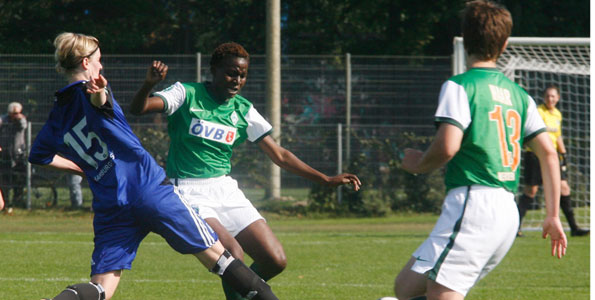 Nabwire scored on her debut and went on to have a succesful career in Germany.
"Dodo is a really ambitious player," said Werder Bremen coach Birte Bruggemann, who is understandably full of praise for her new charge. "She knows that this year in Germany will bring her on. She can use both feet, she has great skills and is very mobile," said Bruggemann after Nabwire's first match for the green and whites.
Nabwire was pivotal in the creation of the first MYSA girls team (U12) during the 1990s. She coached the team. MYSA. The MYSA girls continued to go from strength to strength and by the early 2000s, they had multiple succesful age group teams for girls. One such team toured the USA in 2009 and earned rave reviews for their play on the field and their achievements off the field. CNN even performed a video feature of the team during their USA tour. See the video below
On the strength of their youth system, MYSA ladies won the first ever Kenya women's league in 2010. They finished a whopping 14 points ahead of second placed Kisii United.
Today (2017)
That Pipeline of talent has gone dry. Mathare hardly produces any national team players anymore. Few if any MYSA products are making their way to Europe.
The Kenya women's football recently captured the imagination of fans across the country when they eliminated Algeria to qualify for the womens AFCON for the first time ever. There were no Mathare United players in that squad. Instead the bulk of players came from Coast based Spedag and other sides like Nyamira united.
In fact the MYSA ladies team that won the league by a whopping 14 points in 2010 has all but disappeared. When the list of league teams was announced in 2016, there was no MYSA ladies.
Mathare Youth FC had played in the KPL until 2008 when they were relegated, was disbanded in 2012 and has not played in any league since then.
It appears Mathare United has stopped investing in youth development like they did in the 1990s and early 2000s.
This is surprising considering that Mathare now has a massive sponsorship from Britam to the tune of Ksh 25 million, something they did not have in the 1990s. They have seemingly also stopped investing in girls football. What used to be a pipeline gushing with talent has slowed to a trickle. And in the case of women's football, the pipeline has gone completely dry.