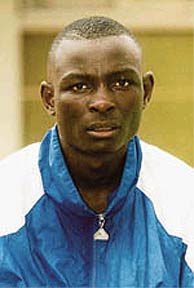 The 2004 Olympic games were held in Athens Greece. Only one Kenyan qualified for the 2004 Olympics: David Munyasia
2004 Olympic Qualification
The 2004 African championships doubled up as the Olympic qualifying tournament for African nations and was held in Casablanca, Morocco from January-15 to January 22 of 2004. The finalists in each weight category was assured of a place at the Olympics. Only Munyasia, a bantamweight, made it to the final.
His results were as follows:
Quarter-Finals: Beat Isaaka Aboubacar of Nigeria (referee stopped the contest)
Semi-Finals: Beat Attanus Mugerwa of Uganda 25-23
Finals: Lost to Mohamed Abdelsayed of Egypt 21-6
The other  Kenyans in the qualifiers were Middleweight Daniel Shisia and Heavyweight George Odindo who lost in the semi-finals as well as welterweight Absolom Okoth and Featherweight Collins Oduor both of whom lost in the quarter-finals.
Thus Munyasia was the only Kenyan qualifier. This is a far cry from a decade or so earlier when Kenya were routinely African Champions.
Suleiman Bilali was at the time Kenya's best boxer having won a gold medal at the 2003 All Africa games. He was due to participate in the Olympic qualifiers but was involved in a road accident that left him on crutches for 2 months, thus causing him to miss the qualifiers.
Olympic Ban due to Miraa (Khat)
Upon arrival in Athens, a confident Munyasia told reporters: "I am travelling as an underdog but you are all going to be surprised."
He was then subjected to standard dope testing. He failed a drug test after testing positive for a banned substance cathine. It is a substance that is commonly found in khat, a brownish, leafy chew used in East Africa as chewing tobacco is used in the United States. In Kenya Khat is known as Miraa. It is legal in Kenya and is commonly chewed by youth and is even exported.
Both Munyasia and the two Kenyan boxing officials professed ignorance, suggesting that they did not know that khat contained a banned substance. They were immediately ordered to leave the games. Thus Munyasia left the Olympic village before he even had a chance to unpack his bags.