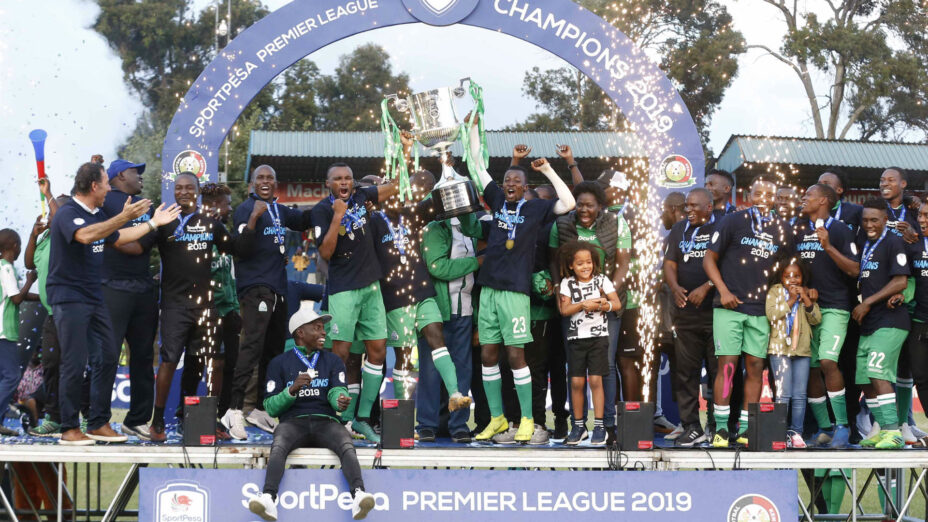 The 2019 Africa Cup of Nations preparations
Kenya made an appearance at the Africa Nations cup after a 15 year hiatus. The tournament was held in Egypt. Kenya was placed in what turned out to be the most difficult group. The other teams in the group were Senegal, Algeria and Tanzania. Senegal and Algeria would meet in the final and were clearly the top two teams in the tournament.
Prior to the tournament, Kenya embarked on an expensive training camp in France. The camp was fiercely criticized by Kenyan pundits.  One of the complaints was that the weather in France would not prepare Harambee stars for the heat and humidity of Egypt. But coach Sebastian Migne was unmoved
"And the weather was very important to me. During this preparation, we will have many sessions, sometimes three times a day and you can't do that in a hot country," he added.
During the camp, Kenya played friendly matches against Madagascar and DR Congo. Kenya beat Madagascar 1-0 with Victor Wanyama scoring from the penalty spot. A week later, Kenya drew 1-1 with DR Congo with Olunga giving Kenya a 27th minute lead that was canceled with three minutes left.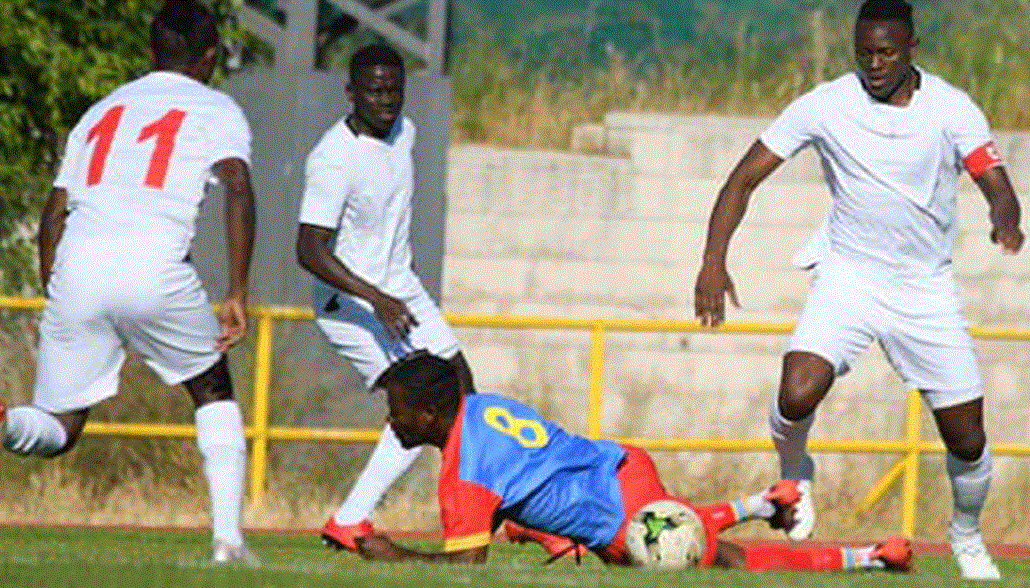 The matches however did not prepare Kenya adequately for the intensity of playing against Algeria and Senegal, Africa's two best teams. In fact Kenya had turned down opportunities to play against Tunisia and Egypt. The heat and humidity of North Africa plus the hostile crowds would have given Kenya better preparation.
Corruption during the France Camp
It would later turn out that FKF paid OneGoal Pro agency Sh106 million to prepare the Harambee Stars camp in France. OneGoalPro is owned by one Joe Kamga, who doubles up as then Stars coach Sebastien Migne's agent. This was clearly a conflict of interest.
Numerous Joyriders traveled with the team to Cairo, each being paid hefty daily allaowances. Chairman Nick Mwendwa and his deputy Doris Petra paid themselves Ksh 50,000 and 45,000 daily. Eight members of the executive committee were given Ksh 40,000 in Daily allowances. As reported by the Nation, these were Michael Ouma, Mwendwa's personal assistant (PA) Sylvia Mumbua, Muthomi's PA Juliet Nyambura, Frank Ogolla, ,Christine Ojode, Chris Amimo, Joseph Andere, Muriithi Nabea and Tony Kweya.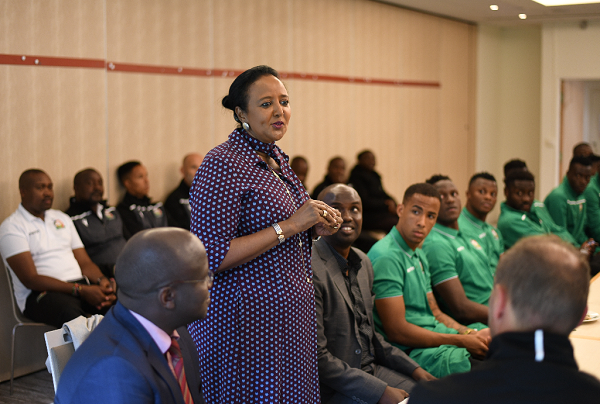 The Nation report further indicated that among other things, FKF claimed to have spent Ksh 63 million for a friendly against Togo that never took place. In the end, PS Kirimi Kaberia stated that FKF was unable to account for the Ksh 244 million that was given to them.
The 2019 Africa Cup of Nations
Kenya had a nervous start against Algeria. The players were clearly jittery in the first half, perhaps the big stage overawed them. In the first half, Harambee Stars could hardly string together more than two passes and were committing unnecessary fouls. Algeria took advantage by running directly at the Kenyan defence and tumbling at the slightest touch. It came as no surprise when Algeria were finally awarded a penalty which  Riyad Mahrez converted.  Mahrez would then score the second goal as he was left wide open.
In the second half, Harambee Stars coach introduced Eric Ouma "Marcelo", a move which shored up the left flank which had been leaking significantly. He also introduced Johana Omollo. This stabilized the Stars midfield and with Omollo's poise and ability to maintain possession, Kenya's performance in the second half improved significantly. They were however unable to find the net and the match ended 2-0 in Algeria's favour.
In the second match, Kenya played neighbours Tanzania in a match that was for East African bragging rights. Twice Tanzania took the lead because dangerman Mbwana Samatta was left wide open. For the first goal, his shot was parried by goalkeeper Patrick Matasi but the ball fell to Simon Msuva who finished with an easy tap in. Samatta would yet again escape the Kenya defence on the right flank to score Tanzania's second goal.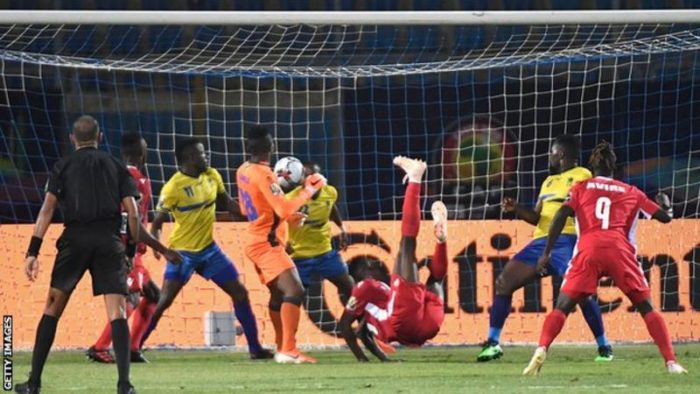 Kenya fought back each time with Olunga equalizing the first goal with an overhead scissors kick in the first half. In the second half, Johanna Omollo scored Kenya's second goal with a glancing header of Ayub Timbe's cross. Olunga would then score the winner after a superb run by Eric Johana. Kenya won the thrilling match 3-2 and with it, East African bragging rights.
In the last match, Kenya played Senegal. Kenya looked good in the first half with solid defending that saw them hold off the Senegalese. At halftime the score was 0-0. Early in the second half, Dennis Odhiambo almost scored but his powerful shot was saved by the Senegalese keeper. It was downhill from that point on as Kenya conceded 3 goals, two of which were scored by Liverpool striker Sadio Mane. The match ended 3-0 in favour of the Senegalese.
Gor Mahia in the 2018-2019 CAF Confederations cup
Gor Mahia under coach Hassan Oktay  became the first Kenyan side to qualify for the group stage of any continental competition. They did this by beating New Star de Douala of Cameroun in the CAF Confederations cup playoff round, winning 2-1 at home and drawing 0-0 away.
In the group stage, Gor Mahia finished second in group B with 9 points. A 4-2 win over Egyptian giants Zamalek as well as wins of NA Hussein Dey and Petro De Luanda saw them through. In the quarter-finals, things fell apart as they lost to RS Berkane 7-1 on aggregate.
2019 CECAFA Senior Challenge Cup
The 2019 edition of the CECAFA senior challenge cup was held in Uganda. Harambee stars emerged from group B with a 100% record, beating Tanzania 1-0, Zanzibar 1-0 and Sudan 2-1. But things fell apart in the semi-finals as Kenya were beaten 4-1 by Eritrea in what was one of the most embarrassing defeats in the history of Kenya football. Kenya then recovered to beat Tanzania 2-1 for 3rd place.
2019 Sportpesa Supercup
One of the most memorable tournaments of 2019 was the Sportpesa Supercup which pitted four Kenyan teams : Gor Mahia, AFC Leopards, Bandari and Kariobangi Sharks, against four Tanzanian teams: Simba, Young Africans, Singida United and Mbao FC.
The biggest shock came when Mbao FC eliminated Gor Mahia on penalties in the opening round after the match had ended 1-1 in regulation. AFC Leopards were also eliminated in the opening round, losing 2-1 to Simba FC. Another opening round shock came when Kariobangi Sharks beat Yanga 2-1. Bandari went on to upset formbook, beating Simba 2-1 in the semi-finals with William Wadri and Wycliff Ochomo canceling Meddie Kagere's opener. It was an all Kenyan final that ended with Sharks beating Bandari 1-0.
Sportpesa withdraws from Sponsorship
In August of 2019, the betting company Sportpesa pulled out of all Sponsorships in sports. It was a huge blow for local football as at the time, they were sponsoring the national team, the Kenya Premier League and a number of local clubs including traditional giants AFC leopards and Gor Mahia.
Soon after this, the Kenya Premier League fell on hard times. The loss of sponsorship came a year after Supersport had pulled out of televising KPL matches, leaving teams with a significant financial hole. Now with Supersport out,  several players reporting having gone a number of months without pay. Two Sugarbelt clubs SoNy Sugar and Chemelil Sugar fell on hard times. SoNy Sugar, who had won the KPL title in 2006 were relegated after they failed to honour three matches. Chemelil Sugar were not doing much better. At the end of 2019, they had played 13 matches, lost 12 and draw one.
Continental Club competitions
Gor Mahia earned the right to represent Kenya in the 2019-2020 edition of the CAF Champions league. They started out well, beating Aigle Noir in the preliminary round by an aggregate score of 5-1. Things came a cropper for Kogalo in the first roiund when they fell to USM Alger of Algeria 6-1 on aggregate. Two years earlier they had played the same Algerian side and lost 3-2 on aggregate. The heavy loss was attributed to the difficult financial hardships the club was facing. Kogalo were thus relegated to the CAF Confederations cup where they faced DC Motema Pembe in the playoff.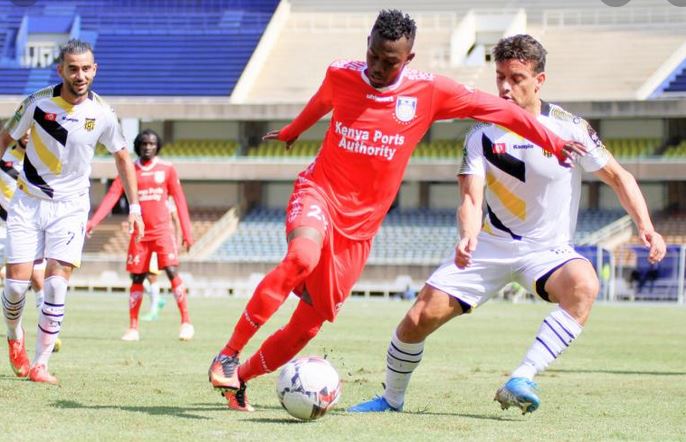 Hassan Abdallah of Bandari in action against US Ben Guerdane
Bandari FC qualified to represent Kenya in the CAF Confederations where they gave a good account of themselves. In the preliminary round, they eliminated Al Ahli Shendy of Libya on goal aggregate, drawing 0-0 at home and 1-1 away. In the first round, they eliminated US Ben Guerdane of Tunisia, winning 2-0 at home and losing 1-2 away. In the playoff round, they faced off with moneybags, Horoya of Guinea. They lost 2-4 away and 0-1 at home. A good performance for a side that rarely plays in continental football.
Final League Standings
Gor Mahia under coach Dylan Kerr, retained the league title.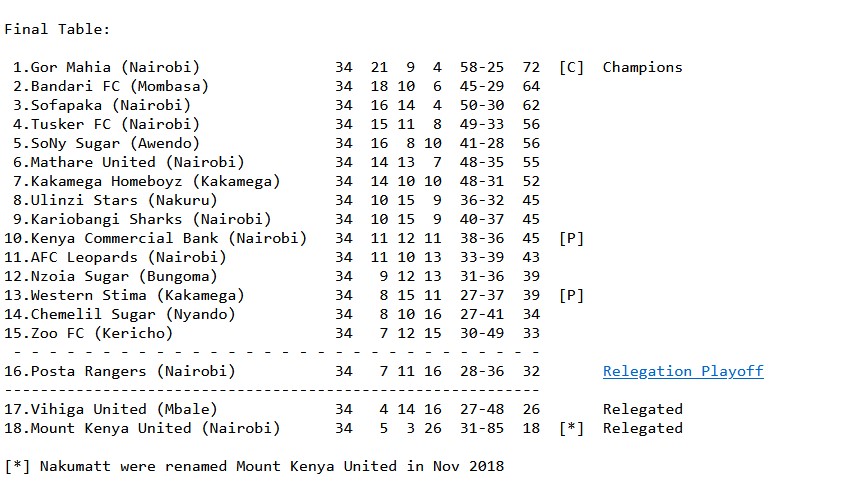 Sportpesa Shield
Bandari had an excellent season. They won the Sportpesa Shield, beating Kariobangi Sharks 3-1 in the final.