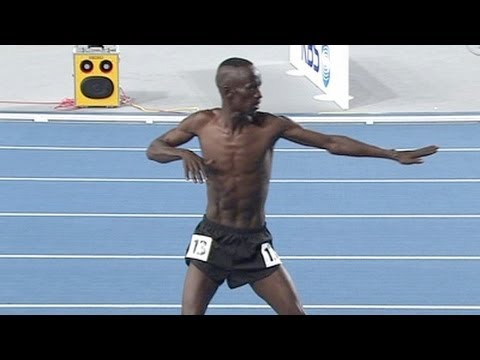 Background
The 2009 World Athletics championships were held at the Olympiastadion in Berlin, Germany from 15–23 August 2009. With a medal haul of four gold, six silver and one bronze, Kenya finished 3rd overall in the medal table behind USA and Jamaica. The championships will be remembered as the moment Vivian Cheruiyot finally came of age. They will also be remembered as the first time that two members of the same family won medals for Kenya: Linet Masai and Moses Masai won gold and bronze medals respectively.
Women's 5000m: Gold for Cheruiyot, Silver for Jebiwott
Since 2003, Kenyan women had been playing second fiddle to the Ethiopians in this event, especially Tirunesh Dibaba and Meseret Defar. In 2009, Vivian Cheruiyot and Sylvia Jebiwott finally broke the stranglehold that the Ethiopians had on this event by going 1-2.
Cheruiyot started to push the pace with two laps to go. At the Bell, the pace heightened. With 300m to go, the race was reduced to Cheruiyot, Defar and Jebiwott. Defar passed Cheruiyot with 150 metres to go and appeared on pace to record another Ethiopia victory. But Cheruiyot still had plenty of petrol left in the tank which she used to chase down Defar and pass her in the last 50 metres. In the process she caused Defar to break her stride which enabled Jebiwott to overtake Defar for silver.
Race Video
Men's Marathon: Gold for Kirui, Silver for Mutai
Abel Kirui, an employee of Kenya's Administration Police, clocked 2:06:54 to set a new championship record. It marked the second succesive time that a Kenyan had won this event. Emmanuel Mutai completed the 1-2 when he clocked 2:07:48to take silver ahead of Tsegay Kebede of Ethiopia. It marked the second time that a country had gone 1-2 in this event after Spain in 1997
Race Video
Men's Steeplechase: Gold for Kemboi, silver for Mateelong
Ezekiel Kemboi had won a gold medal at the 2004 Olympics. But at the World championships, he had taken 3 succesive silver medals in 2003, 2005 and, always losing to other Kenyans. So before these championships, Kemboi announced that he was tired of always taking "silver, silver, silver" and that he was going for nothing but gold this time. He ran like a man on a mission, stopping the clock at 8:00.43, a new championship record. Richard Mateelong took silver. Paul Kipsiele Koech ended fourth while defending champion Brimin Kipruto faded to 7th place.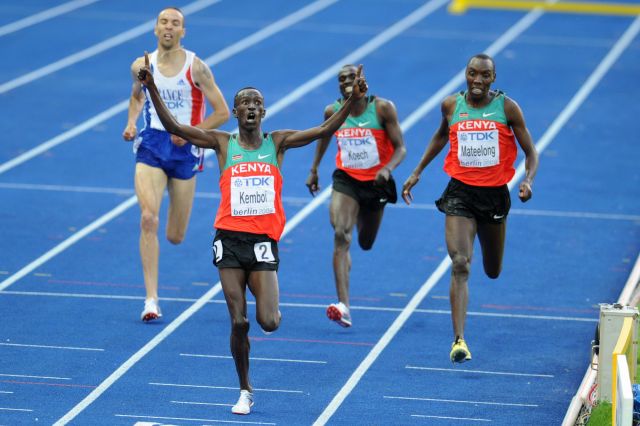 Women's 10,000m: Linet Masai from with shock gold medal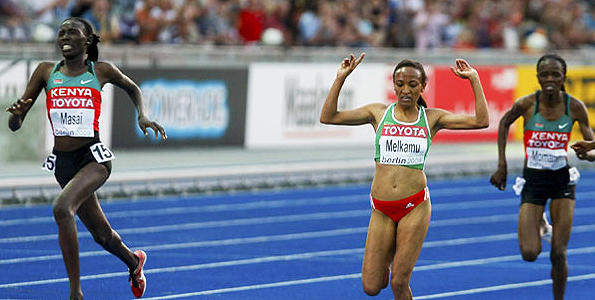 Here again Meseret Defar was the firm favourite. At the 9KM mark, defar set a torrid pace to try and break the rest of the field. The 2 other Ethiopians Wude Ayalew and Meselech Melkamu followed in tow. Meanwhile Linet Masai and Grace Momanyi of Kenya led the second group. Defar appeared to br running away with the race with 100 metres to go. But she was soon passed by Melkamu. With 50 metres to go, the long strides of Masai ate up the track and she passed Defar before passsing Melkamu at the finish line for a famous gold medal.
Race Video
Other Medals.
Moses Masai, brother to Linet Masai, won a creditable bronze medal in the 10,000m behind Kenenisa Bekele and Zersenay Tadesse. Defending champion Alfred Kirwa Yego took silver in the 800m. Milcah Chemos toook silver in the women's 3000m Steeplechase. Defending champion Janeth Jepkosgei tool silver in the women's 800m.