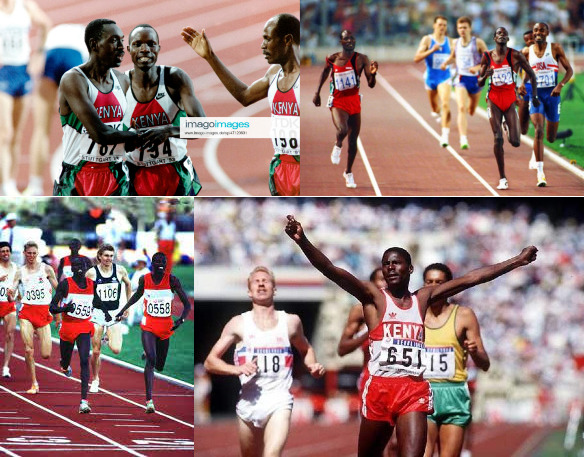 During the period between the late 1980s to the early 1990s, Kenya boasted a glittering array of 800m runners. During this period, Kenya took depth in this distance to ridiculous levels. One race in particular exemplified the ridiculous depth that Kenya had at this event. It was the 800m race at the 1992 Olympic trials. The participants included:
1. William Tanui: Olympic gold medalist in 1992, 1990 Africa champion and 1991 All Africa games champion
2. Nixon Kiprotich: 1992 Olympic silver medalist, 1990 Commonwealth games silver medalist, 1989 Africa champion
3. Paul Ereng: 1988 Olympic champion, 1989 and 1991 world indoor champion, Indoor world record holder
4. Billy Konchellah: 1987 and 1991 world champion
5. Sammy Tirop: 1990 Commonwealth games champion
6. Robert Kibet: 1990 Africa championships silver medalist and 1991 All Africa games silver medalist
William Tanui, won with a time of 1:45.10; Nixon Kiprotich finished second (1:45:60) and Robert Kibet third (1:46.00).
"You had the Olympic champion, Ereng; the world champion, Konchellah, and the Commonwealth champion, Sammy Tirop, and none of them made the team," said O'Connell. "That's what running in Kenya is like." quipped legendary coach Brother Colm O'Connell,
Other Kenyan world class 800 metre runners during this period included:
7. Paul Ruto: 1993 World champion and 1993 Africa championships silver medalist
8. Patrick Konchellah: 1994 Commonwealth games champion
9. Sammy Langat: 1993 African champion
10. Stephen Marai: 1987 All Africa games silver medalist
11. Sammy Koskei: Held the Africa record from 1984 to 2009
If there were 4 X 800m races during this period, Kenya could have swept the podium with three different Kenya teams winnning gold silver and bronze.