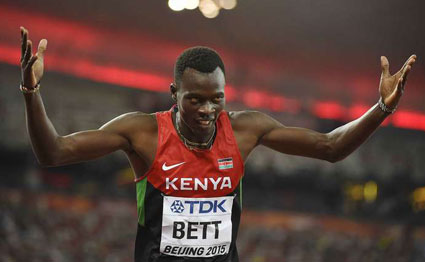 Another first for Kenya !
Nicholas Bett became the first Kenyan ever to win the 400m hurdles in a major global event. In fact Bett became the first Kenyan ever to win gold at a major global event. The last time a Kenyan sprinter won gold at a global event was Seraphino Antao who won gold in the 100m at the Commonwealth games half a decade a ago. However the Commonwealth games are not considered a major global event.
Bett did this by clocking 47.79 which is the fastest time in the world this year and a new Kenyan record. And he did all this while having the disadvantage of running from lane 9 which is the worst lane to run from in any one lap event due to the incredible stagger.
Despite running from lane 9, Bett held on and did not allow any racer to make up the stagger. Not even the pressure of having two time world champion Kerron Clement of the USA could shake Bett. Throughout the race, the commentators only spoke of Michael Tinsley who was the favourite while not realizing that Bett was leading throughout.
The time makes Bett the 4th fastest African ever behind Matete of Zambia, Dia Ba of Senegal and Van Zyl of South Africa.  Both the second and third placed finisher set new national records. Boniface Mucheru, the other Kenyan in the race was 5th. There mere fact that Kenya had two runners in the final is in itself a phenomenal achievement.
Race Results
POS
BIB
ATHLETE
COUNTRY
MARK
Reaction Time
1
679
Nicholas

Bett

KEN
47.79
WL
0.162
2
870
Denis

Kudryavtsev

RUS
48.05
NR
0.146
3
202
Jeffery

Gibson

BAH
48.17
NR
0.184
4
1005
Kerron

Clement

USA
48.18
SB
0.174
5
705
Boniface Mucheru

Tumuti

KEN
48.33
0.164
6
956
Yasmani

Copello

TUR
48.96
0.204
7
794
Patryk

Dobek

POL
49.14
0.176
8
1063
Michael

Tinsley

USA
50.02
0.134
Race Video

Kenya has a rich heritage in this event
This win may surprise many including yours truly. But Kenya does indeed have a decent history in this event. Just like the 800m, it is an event that combines both endurance and speed. Since Kenya has been excelling in the 800m, it makes sense that Kenya would excel in the 400m hurdles once they understood the technical aspects of this race.
Eric Keter was a star in this race winning both the African championships and All Africa games during the early 1990s. Daniel Kimaiyo won the 400m hurdles at the 1978 All Africa games beating the legendary Ugandan John Akii Bua who had been an Olympic gold medalist and had dominated the event all over the world. Kimaiyo went on to win a gold medal at the 1978 Commonwealth games. Kimaiyo would also win gold at the 1979 African championships.