Kenya finished second in the medal table at the 2017 world athletics championships with 5 gold, 2 silver and 4 bronze medals. What are their prospects in 2019 in the heat of Doha? The 2019 season has been highly abbreviated with fewer races. Kenyans have not been as dominant as they previously were on the track or on the roads.
Men's 800m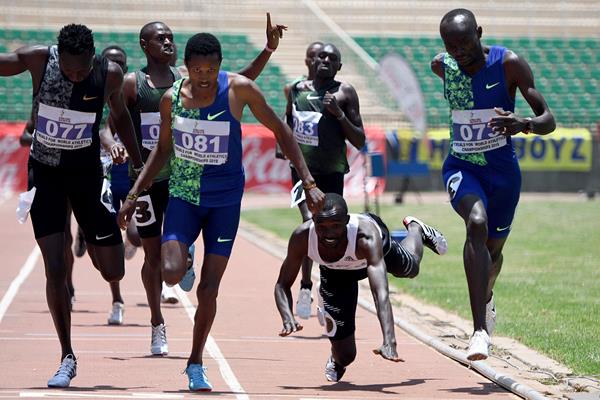 Nijel Amos of Botswana has been inconsistent. But when in form, he has been sensational. He ran a blistering 1:41.89, the fastest time in the world since 2012. He will be the favourite for gold. Ferguson Rotich has also been solid and is having a career year. He ran a personal best of 1:42.54 in Monaco. Emmanuel Korir who looked invincible in 2018, has been far from convincing in 2019.
Prediction: Silver Medal for Ferguson Rotich
Men's 1500m
Timothy Cheruiyot has been unbeatable in the metric mile. He was the overall Diamond League winner in this event, winning virtually every race convincingly. Whereas speed in the last lap used to be his achilles heel, he has vastly improved in this area. To prove it, he clocked 1:43.11 in the 800m at Nyayo stadium in August.
Prediction: Gold Medal for Timothy Cheruiyot
3000m steeplechase
The last time a Kenyan did not win this event at the world championships was in 1987. However 2019 will likely mark the first time in 32 years that a Kenya will not win this event. Defending world champion Conseslus Kipruto has been plagued by injuries since 2018 and is unlikely to regain his form. Kenya's best hope for a medal rests with Benjamin Kigen. At his most recent Diamond League race, he was beaten into 4th place by Getnet Wale and Souffiane el Bakkali of Morocco.
Prediction: Bronze medal for Benjamin Kigen
Men's 5000m
The 5000m is rarely run on the Diamond League circuit and as such is very difficult to predict. But one things is clear, Kenya is very weak in this event in 2019. Kenya's best prospect is Nicholas Kimeli. But his is unlikely to finish on the podium. The Ethiopians have been dominant in this event and may sweep the medals.
Prediction: No Medals for Kenya
Men's 10,000m
This is a race that is run very rarely nowadays and as such is difficult to predict. The three fastest times of 2019 are held by Ethiopians led by Hagos Gebrehiwet who clocked 26:48.95 at Hengelo, the fastest time of 2019. However Rhonex Kipruto soundly beat all the Ethiopians including Gebrehiwet. And it was a dominant display by Kipruto. Another wildcard is the Ugandan Joshua Cheptegei who won the world cross country championships in convincing fashion.
Prediction: Gold Medal for Rhonex Kipruto
Men's marathon
Geoffrey Kirui is the defending champion and will be Kenya's best prospect. He does really well in tactical races which are not paced. This puts him in good position to beat the field in the heat and humidity of Doha.
Prediction: Gold Medal for Geoffrey Kirui
Women's 800m
With Caster Semenya and Francine Niyonsaba disqualified, the clear race favourite is Ajee Wilson of the USA who has a season's best of 1:57.72 , that is second only to Caster Semenya. Other strong contenders including Raevyn Rogers of the USA , Natoya Goule of Jamaica and Winnie Nanyondo of Uganda.
Until a month ago, Kenya appeared hopeless in this event. However the recent emergence of Jackline Wambui and the return to form of 2013 world champion Eunice Sum, has raised Kenya hopes. Both athletes dipped under 1:59 at the Kenya trials.
Prediction: Bronze Medal for Jackline Wambui
Women's 1500m
After missing all of 2018 due to maternity leave, world champion Faith Kipyegon is back. She signaled her intentions by winning a Diamond League race in Zurich in a time of 3:59.04 . She continued her good form by winning the Kenyan trials.
She will have to contend with Dutch runner Sifan Hassan who is the clear favourite this time around. She has been in imperious form, setting a record in the mile and also recording an impressive time of 3:55.30 in the 1500m, a season's best time. Laura Muir and Genzebe Dibaba have also run well this year. Kipyegon's experience will carry her to a medal.
Prediction: Bronze Medal for Faith Kipyegon.
Women's 3000m steeplechase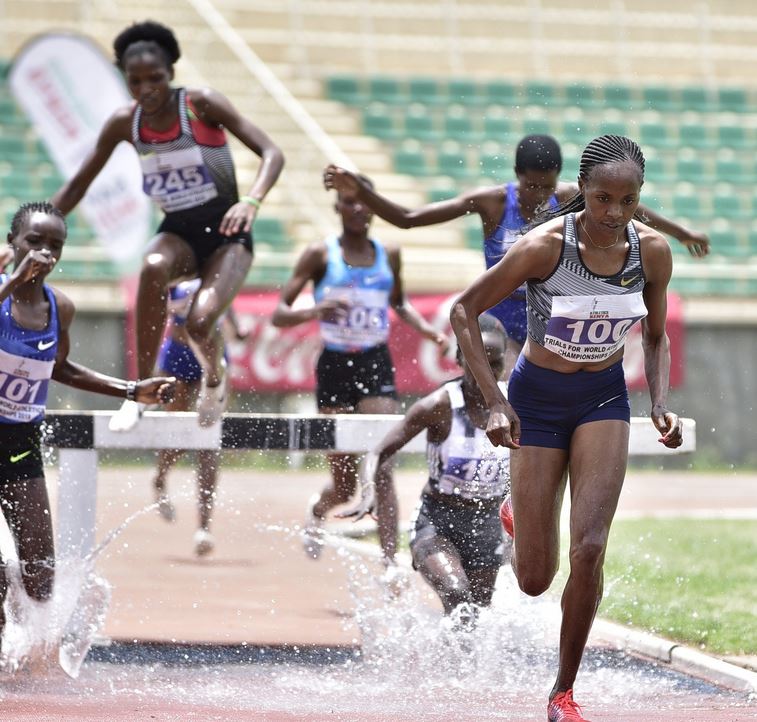 Beatrice Chepkoech at the trials
Whereas Kenyan men are struggling in this event, the women have been rather dominant. In particular, Beatrice Chepkoech has been in imperious form. She set the world record in 2018, beating the previous record by nearly 8 seconds. She has won virtually every race in dominant fashion.
Prediction: Gold medal for Beatrice Chepkoech, silver medal for Hyvin Kiyeng
Women's 5000m
Hellen Obiri is the defending champion. She is also set a new Kenya record in 2018. She has the fastest time in the world for 2019 at 14:20.36  which she ran in July. However her form in the past month has dipped. At the most recent Diamond League race, she finished in 4th place, 7 seconds behind Sifan Hassan who is peaking at the right time. Agnes Tirop who is the second fastest in the world this season, did not qualify. Kenya's best prospect is Lilian Kasait who won the trials convincingly. She will have a torrid time dealing with Sifan and the Ethiopian squad.
Prediction: No Medal for Kenya
Women's 10,000m
Agnes Jebet Tirop won the Kenya national championships in August with a time of 31:25.38. This is the fastest ever 10,000m clocking at altitude. She also has the second fastest time in the world in the 5000m. But none of this will have any bearing given the heat and humidity of Doha. Also the top four times of 2019 are held by Ethiopians
Prediction: Silver Medal for Agnes Tirop
Women's Marathon
Former world champion Edna Kiplagat is back at 39. She will team up with Visiline Jepkesho and Ruth Chepngetich, none of whom have shown any championship pedigree. Don't let her age fool you. Kiplagat is still going strong. She won the Boston marathon in 2017 and was the silver medalist at the last world championships.
Prediction: Edna Kiplagat to win bronze.
Other events
Javelin thrower Julius Yego has been in poor form in the last three years. However his dominant performance at the 2019 All Africa games in Rabat, Morocco, raised hopes that he is returning to the form that saw him win the world championships in 2015 and the Olympic silver medal in 2016. In Rabat, he tossed the javelin to a distance of 87.73m. This is the 7th best in the world in 2019. He has an outside chance of a podium finish.
In the mixed 4 X 400m relay, Kenya won the bronze medal at the Bahamas world relay championships. They are fielding a weaker team this time around and will be hard pressed to repeat the feat.
Overall Prediction for Team Kenya
4 gold medals, 3 silver, 4 bronze
Kenya Team List
400m: – Alphas Kishoyian, Emmanuel Korir (men). Hellen Syombua, Mary Moraa (women)
800m: – Ngéno Kipng'etich, Emmanuel Korir, Ferguson Rotich (Men). Eunice Sum, Jackline Wambui (women)
1,500m: – Elijah Manang'oi, Timothy Cheruiyot, Ronald Kwemoi, George Manang'oi. Faith Chepng'etich, Winnie Chebet
3,000m steeplechase: – Conseslus Kipruto, Leonard Bett, Benjamin Kigen, Abraham Kibiwott (men). Beatrice Chepkoech, Hyvin Kiyeng, Celliphine Chespol, Fancy Cherono (women)
5,000m: – Nicholas Kipkorir Kimeli (men). Hellen Obiri, Lilian Kasait, Margaret Chelimo (women)
10,000m: – Rhonex Kipruto, Rodgers Kwemoi, Alex Oloitiptip (men). Agnes Jebet Tirop, Hellen Obiri, Rosemary Wanjiru (women)
20km race walk: – Samuel Gathimba (men). Grace Wanjiru (women)
Marathon: – Geoffrey Kirui, Amos Kipruto, Paul Lonyangata, Laban Korir (men). Ruth Chepngétich, Edna Kiplagat, Visiline Jepkesho (women)
Mixed Relay: – Alphas Kishoyian, Alex Sampao, Joseph Poghisio, Mary Moraa, Gladys Musyoki
Javelin: – Julius Yego (men)
High Jump: – Matthew Sawe (men)