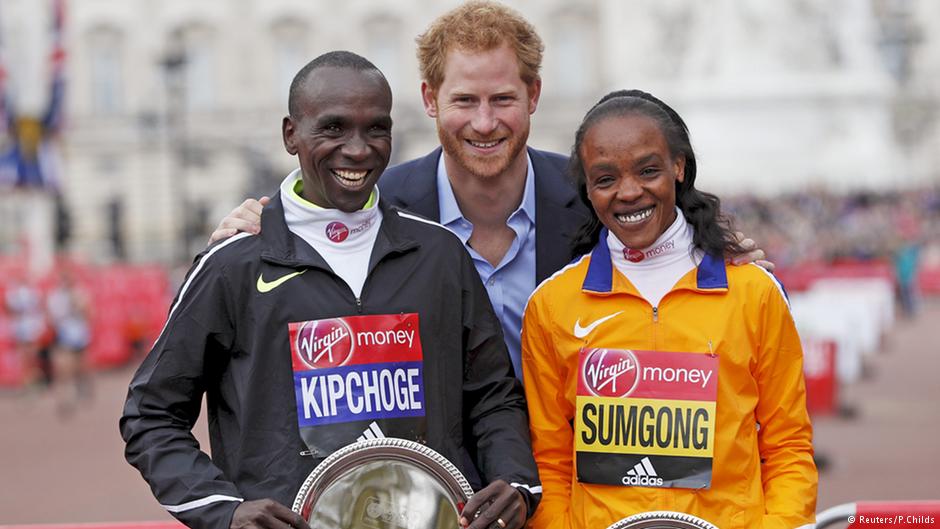 Kenya arrives at the 2016 Olympic in the aftermath of a superb performance at the 2015 World athletics championships where they topped the standings with 7 gold medals. However Kenya will be hard pressed to repeat that superlative performance.
Men's events
Men's 800m: Gold for Rudisha, bronze for Kipketer
David Rudisha is the defending World and Olympic champion. He is not as dominant as he was when he won the gold medal at the 2012 London games and in the process set a new world record. He survived the Olympic trials barely finishing third in a race that was won by upstart Alfred Kipketer. However he as run the fastest 800m of the season at 1:43.35 which he ran at a meet in Hungary on July 18. With his experience, ability to run the rounds intelligently and big race temperament, he is the favourite for the gold medal. Alfred Kipketer who has run the 5th fastest time of the season should win bronze.
1500m: Gold for Asbel Kiprop, Silver for Manangoi
Asbel Kiprop won the gold medal at the 2008 Olympics after the original winner, Ramzi of Bahrain was disqualified for doping. Injuries doomed his chances at the 2012 games but he came back strongly to win gold medal at the 2015 world championships. When he means business and gets his tactics right, Kiprop has been peerless, often winning all the big races by significant margins But of late he has had some lapses of judgment in Diamond League races. Still he ran the fastest time of the season at 3:29.33 and should win. Elijah Manangoi and Ronald Kwemoi have run the second and third fastest times of the season and could finish 2nd and 3rd if they can run intelligently in what is sure to be a tactical race. If anyone can ruin Kenya's party it is Tareq Makhloufi, the defending Olympic champion.
3000m Steepelchase: Gold for Kipruto and clean sweep
This is an event that Kenya has thoroughly dominated. In fact a Kenyan has won this race at every Olympics that Kenya has participated in since 1968. The 2016 games should not be any different. Conseslus Kipruto who won the silver medal at the 2015 world championships behind Ezekiel Kemboi, is the favourite having run the three fastest times of the season.
The seasoned Ezekiel Kemboi, who has been representing Kenya for fourteen years and who has two Olympic gold medals to his name, has not run much this year. But with his experience and tactical nous, he can never be counted out. He is a master at timing his his surges so perfectly, shifting gears suddenly and producing a burst of speed in the last 200 metres that he leaves opponents befuddled.
The third Kenyan in the race is another experienced runner in Brimin Kipruto who won the silver in 2004 and gold in 2008. He too has run very sparingly this season and is saving himself for the Olympics.
5000m : bronze for Caleb Ndiku
Caleb Mwangangi Ndiku and Isaiah Koech will be representing Kenya. It will be a tall order for Kenya to gather a medal. Neither Ndiku nor Koech are among the fastest runners in the season. Mo Farah is the defending Olympic and world champion is still the favourite. The Ethiopian duo of Gebremeskel and Muktar Edris should be the closest challengers to Farah
10,000m: Silver for Kamworor, bronze for Bedan Kaloki
Defending world cross country and half marathon champion Geoffrey Kamworor will be Kenya's best hope. But this is based solely on his form in 2015 where he won the silver medal at the world championships. In 2016 he has not run the 10,000m. He dropped out of the race at the trials. But he did win the world half marathon championships where he and Bedan Kaloki set such a torrid pace that Mo Farah could not keep up. However achieving the same result against Farah on the track has proven unsuccessful. Mo Farah is still the favourite.
Marathon: Gold for Kipchoge
Eliud Kipchoge ran the fastest marathon of the season when he clocked 2:03:05 in London and could have broken the world record had he known he was on world record pace. He will be the race favourite along with Stanley Biwott who has run the second fastest time of the season. However the Olympic marathon is always difficult to predict because runners who do well in City marathons often perform poorly at the Olympics.
Other races
Julius Yego may have won the world championship in 2015, but his form in 2016 has been below par. It will come as a shock if he ends up on the podium. Though he has a better chance at medaling than fellow world champion Nicholas Bett who has been far below par in the 400m hurdles this season.
Women's events
Women's 800m: Bronze for Wambui
Wambui Nyairera who has emerged as a contender in 2016 is likely to end up with bronze behind Caster Semenya of South Africa and Francine Niyonsaba of Burundi. Eunice Sum, who was world champion in 2013, will likely finish as the first person behind the hyper-Androgenic athletes. In the end this is the most predictable race of the entire Olympics. Caster Semenya will win by a significant distance and possible threaten the 33 year old world record held by Jarmila Kratochilova of Czechoslovakia.
Women's 1500m: Silver for Faith Kipyegon
This season, Faith Kipyegon has taken advantage of the absence of Genzebe Dibaba to dominate the races she has entered. She ran the fastest time of the world at 3:56.41 in Eugene on May 16. But that was three months ago and the hope is that she did not peak too early.
Her arch-rival Genzebe Dibaba of Ethiopia who thoroughly dominated this event in 2015, has been silent in 2016, mostly citing injury. There is also the fact that her coach Jama Aden was arrested in Spain with bags of performance enhancing drugs. Nevertheless Dibaba ran a respectable time of 3:59.83 in July in Barcelona. Despite her relatively low form, she will be difficult to beat.
Given her early season form, Kipyegon is a strong contender for gold but the pedigree of Genzebe Dibaba is difficult to overcome.
3000m Steeplechase: Silver for Kiyeng
Hyvin Kiyeng Jepkemoi won the gold medal at the 2015 world championships. She is in superb form again in 2015 having set a new Kenya record at 9:00.01 . However the race favourite will be Ruth Jebet, a Kenyan who has defected to Bahrain. The youthful Jebet ran a season's best of 8:59.97 in beating Kiyeng at Hayward Field in Oregon. Knowing she could not beat Kiyeng in a sprint, Jebet set a torrid pace and created a huge gap. Kiyeng clawed her way back but could not catch Jebet who ran the fastest time in the world since 2008 and the second fastest ever at 8:59.97
Kiyeng's best bet is to trail Jebet close enough but not too close to suffer burnout since Jebet will be intent on setting a torrid pace of this race.
5000m: Bronze for Vivian Cheruiyot
Veteran runner Vivian Cheruiyot will be Kenya's best hope. She comfortably won this race at the national trials. However the Ethiopian Almaz Ayana has the fastest time in the world at 14:12.59 which is 25 seconds faster then the next runner. As she did at the 2015 world championships, Ayana will set a torrid pace and maintain that pace to the end and no one will be able to respond. The other Kenyans in the race are Hellen Obiri whose season's best is 14:32.02 and Mercy Cherono.
10,000m: Silver for Alice Aprot, Bronze for Vivian Cheruiyot.
Vivian Cheruiyot won this race at the 2015 world championships. However in 2016, she will have to contend with Almaz Ayana who debuted at this race un 2016 and ran a spectacular time of 30:07.00 at the Ethiopian trials. . Alice Aprot, the runner from Turkana county, has taken the event by storm, winning at the 2015 All African games and 2016 African championships with a time of 30:26.94 . Aprot however talented, will be hard pressed to keep up with Ayana whose personal best is 20 seconds faster.
Marathon: Bronze for Jemima Sumgong
31 year of Jemima Sumgong won the 2016 London marathon in 2:22:58 which is the 10th fastest time in the world. The women's marathon is notoriously difficult to predict. There is often a woman from Eastern Europe who emerges from nowehere and wins with an unnatural performance then disspears back into obscurity. And city marathon champions often do not do well. Sumgong or her compatriots Helah Kiprop and Visline Jepkesho will have done well if they win a medal.
Overall Projection for Kenya
4 gold medals
6 silver medals
7 Bronze Medals
Kenyan team for Rio
MEN
200m: Carvin Nkanata, Mike Mokamba
800m: Alfred Kipketer, Ferguson Rotich, David Rudisha
1500m: Asbel Kiprop, Elijah Manangoi, Ronald Kwemoi
5000m: Caleb Mwangangi Ndiku, Isaiah Kiplangat Koech
10,000m: Paul Tanui, Charles Yosei, Geoffrey Kamworor, Bedan Karoki
Marathon: Eliud Kipchoge, Stanley Biwott, Wesley Korir
3000m steeplechase: Brimin Kipruto, Conceslus Kipruto, Ezekiel Kemboi
400m hurdles: Nicholas Bett, Boniface Mucheru, Haron Koech
Javelin: Julius Yego
20km race walk: Samuel Gathimba, Simon Wachira

WOMEN
400m: Maureen Jelagat, Margaret Wambui
800m: Margaret Wambui, Eunice Sum, Winnie Chebet
1500m: Faith Kipyegon, Nancy Chepkwemoi, Viola Lagat
5000m: Vivian Cheruiyot, Hellen Obiri, Mercy Cherono
10,000m: Vivian Cheruiyot, Betsy Saina, Alice Aprot
Marathon: Jemima Sumgong, Helah Kiprop, Visline Jepkesho
3000m steeplechase: Hyvin Kiyeng, Beatrice Chepkoech, Lydia Rotich
400m hurdles: Maureen Jelagat
20km race walk: Grace Wanjiru