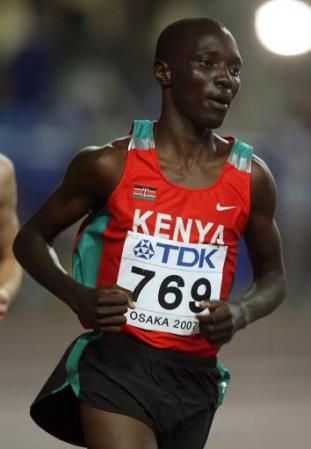 Eunice Sum, Mercy Cherono, Conselus Kipruto and Asbel Kiprop were all in imperious form as they won their respective races at the Sainsbury's Anniversary Games Diamond League meet held at the London Olympic stadium.
Kiprop wins mile in unorthodox fashion
Fresh from his superb performance at the Monaco Grand Prix that made him the 3rd fastest 1500m runner ever, Asbel Kiprop was once again looking unbeatable. Kiprop led the chase pack until just before 800 meters, when he suddenly dropped back and allowed the entire 15-man field to pass him. Instead of dropping out, however, Kiprop hung back there for the next lap before rejoining the leaders with 300 meters to go and pulling away to win the race handily in the homestretch thanks to a 54.6-second last lap. It was a truly bizarre sight to behold; it was almost as if Kiprop was so confident in his fitness that he decided he needed to give himself an extra challenge.
What made it incredible is that Kiprop seemingly toyed with a field that included Ayanleh Suleiman of Djibouti, a man who has challenged Kiprop and beaten him several times in the past year.
Video
Results
POS
ATHLETE
COUNTRY
MARK
Points
1
Asbel

Kiprop

KEN
3:54.87
4
2
Matthew

Centrowitz

USA
3:55.03
2
3
Ayanleh

Souleiman

DJI
3:55.06
1
4
Charlie

Grice

GBR
3:55.27
5
Ben

Blankenship

USA
3:55.48
6
Henrik

Ingebrigtsen

NOR
3:55.51
7
Jakub

Holuša

CZE
3:55.66
8
Leonel

Manzano

USA
3:55.67
9
Ross

Murray

GBR
3:55.71
10
Chris

O'Hare

GBR
3:56.35
11
Thomas

Lancashire

GBR
3:56.87
Mercy Cherono wins with spectacular final lap
Mercy Cherono ran an amazing 63 second final lap to win the women's 5000m. American Molly Huddle had an incredible 10 second gap on the rest of the field at the 2000m mark. It looked improbable that the rest of the field woild catch up. Cherono started to close the gap gradually and by the bell was already close to Huddle. She passed Huddle at the back-stretch but Huddle was not done and continued to battle. She tried to rally back in the final bend but Cherono had an extra gear.
Results
POS
ATHLETE
COUNTRY
MARK
Points
1
Mercy

Cherono

KEN
14:54.81
4
2
Molly

Huddle

USA
14:57.42
2
3
Janet

Kisa

KEN
15:10.66
1
4
Marielle

Hall

USA
15:19.96
5
Haftamnesh

Tesfay

ETH
15:20.52
6
Emily

Sisson

USA
15:27.30
7
Rhona

Auckland

GBR
15:27.60
8
Kate

Avery

GBR
15:27.94
9
Liv

Westphal

FRA
15:28.71
10
Jessica

Coulson

GBR
15:29.50
Conselus Kipruto finally takes down Birech as Kenyans dominate
At the 2013 world championships, Conselus Kipruto looked set to take over as king of steeplechase from Ezekiel Kemboi. However Jairus Birech emerged from nowhere and thoroughly dominated this event in 2014. Kipruto has had to live in the shadow of Birech for the past year.  Kipruto had not won a diamond league race since 2013.
This Sunday however he battled gamely against Birech who had earlier withdrawn due to malaria only to make a comeback.
With two laps to go Birech led but Kipruto and Koech were rclose. Hillary Yego, who had been trailing the top three by a few meters, joined them with 600 to go, setting the stage for an exciting final lap.
In the last lap , Birech, Kipruto and Koech continued to battle. With 200m to go, it was down to Birech and Kipruto neck and neck. Birech's superior hurdling technique putting him slightly ahead at the final barrier but Kipruto dug deep for his first Diamond League win since June 2013, running 8:09.47, while Birech had to settle for second in 8:09.81.
Paul Kipsiele Koech who has been running at the top level for over a decade, proved he is still going strong by finishing 3rd.
Video
POS
ATHLETE
COUNTRY
MARK
Points
1
Conseslus

Kipruto

KEN
8:09.47
4
2
Jairus Kipchoge

Birech

KEN
8:09.81
2
3
Paul Kipsiele

Koech

KEN
8:12.13
1
4
Hillary Kipsang

Yego

KEN
8:13.10
5
Clement Kemboi

Kimutai

KEN
8:16.11
6
Andrew

Bayer

USA
8:18.08
7
Abel Kiprop

Mutai

KEN
8:21.46
8
Abraham

Kibiwott

KEN
8:22.10
9
Víctor

García

ESP
8:22.46
10
Stanley Kipkoech

Kebenei

USA
8:24.58
Eunice Sum Stays perfect in 2015
No one in the world has beaten Eunice Sum in 2015. On Sunday she proved that she is still the hot favourite to defend the world championship she won in 2013 by shocking the Russians. This Sunday she once again looked imperious. As usual she took her place right behind the rabbit .
1500m specialist Sifan Hassan tried to make a move down the back stretch, passing Sum with 250m to go. But Sum had too much left in reserve. She easily took the lead and glided effortlessly to win in 1:58.44.
Video
POS
ATHLETE
COUNTRY
MARK
Points
1
Eunice Jepkoech

Sum

KEN
1:58.44
4
2
Sifan

Hassan

NED
1:59.46
2
3
Lynsey

Sharp

GBR
1:59.57
1
4
Molly

Beckwith-Ludlow

USA
1:59.58
5
Chanelle

Price

USA
1:59.99
6
Angelika

Cichocka

POL
2:00.39
7
Shelayna

Oskan-Clarke

GBR
2:00.60
8
Selina

Büchel

SUI
2:01.70
9
Brenda

Martinez

USA
2:02.40
Adelle

Tracey

GBR
DNF
Rudisha narrowly loses to Amos
David Rudisha continued his comeback after missing the 2014 season with an injury. One person Rudisha has not beaten since he returned from injury is Nijel Amos. But he seems to be getting closer each time. This time he lost by only a tenth of a second. Rudisha normally takes off like a bullet and maintains the pace through two laps. This time he started slowly and built up speed as the race wore on.
Boris Berian took an early lead. With 250m to go Rudisha and Amos led the following pack in reeling in Berian. With 100m to go, Amos and Rudisha were neck and neck. The Botswanan had to dig deep to beat Rudisha.
"I am coming back nicely, and I know in the coming races, I will be there. I am really encouraged and motivated because I lost by very few meters." said Rudisha after the race.
POS
ATHLETE
COUNTRY
MARK
1
Nijel

Amos

BOT
1:44.57
2
David Lekuta

Rudisha

KEN
1:44.67
3
Adam

Kszczot

POL
1:44.85
4
Mark

English

IRL
1:45.49
5
Michael

Rimmer

GBR
1:45.67
6
Pierre-Ambroise

Bosse

FRA
1:45.73
7
Kyle

Langford

GBR
1:45.78
8
Erik

Sowinski

USA
1:45.82
9
Boris

Berian

USA
1:46.13
10
Casimir

Loxsom

USA
1:48.04
Sammy

Tangui

KEN
DNF