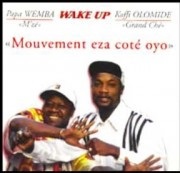 In 1996, Koffi Olomide and Papa Wemba, two stalwarts of Congolese music came together to create an album named "Wake Up". At this point in time, Koffi was at the pinnacle of his career and was no doubt the top Congolese artiste and perhaps the most popular musicians in Africa.
Papa Wemba had been one of the first to notice Koffi's talents. In the late 1970s, he recruited Koffi to sing for his band which at the time was called Viva La Musica. Koffi had therefter left to form his own band named Quartier Latin, thus starting a very public feud between them.
When they came together for the Wake Up album in 1996, many thought the feud had ended. But they would soon start feuding again. Even to the point of criticizing each other in their songs.