After a disastrous display at the Commonwealth games in Glasgow, Kenyan sprinters redeemed themselves with a solid performance at the 2014 Africa athletics championships held in Marrakesh Morocco.
Carvin Nkanata wins bronze in the 200m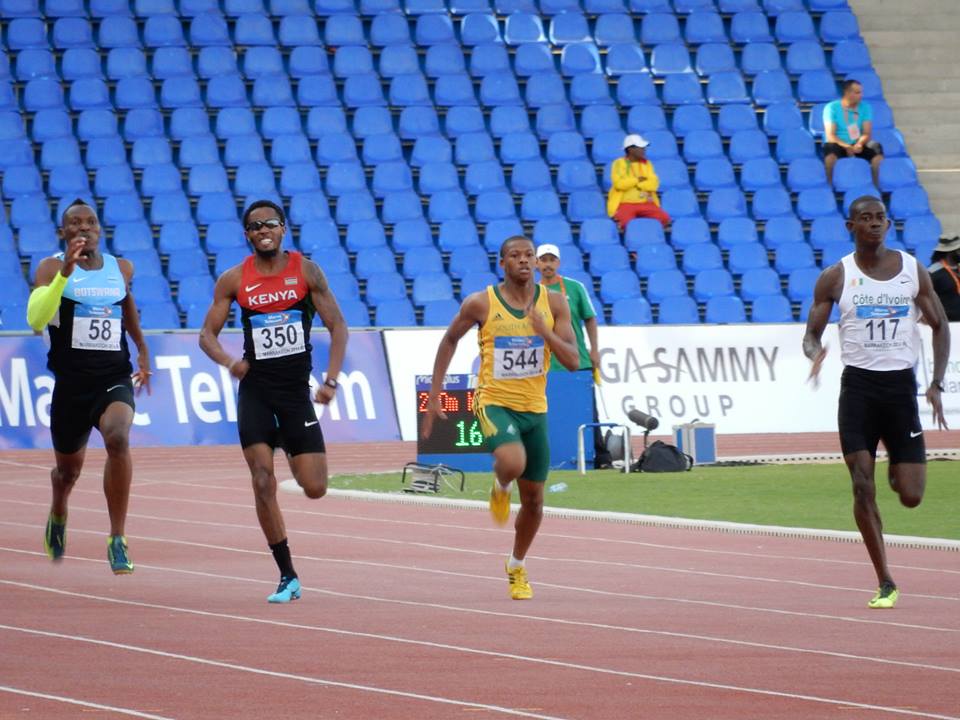 USA based Carvin Nkanata, who started competing for Kenya this year, powered his way to a bronze medal in the 200m behind Wilfried Koffi of the Ivory Coast and Isaac Makwala of Botswana. Nkanata who earlier this year set a new Kenyan record of 20.17, clocked 20.53.
Nkanata's achievement marked the first time Kenya has won a medal in this event since 1990 when Joseph Gikonyo clocked 20.43 to win gold and in the process set a new Kenya record. Gikonyo had also surprised everyone by winning the 100m while Samson Kitur completed a sweep in the sprints by winning the 400m. And in 1985, Sammy Kipkemboi also won a gold medal in this event with a time of 20.82
Boniface Mucheru takes bronze in the 400m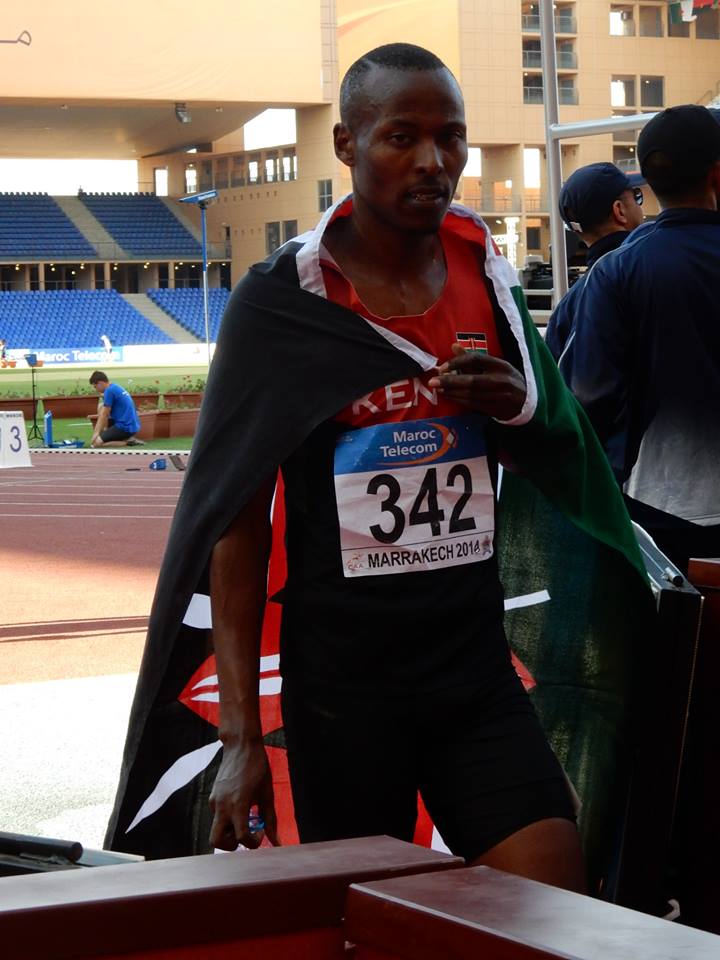 Boniface Mucheru managed a podium finish when he took bronze in the 400m with a time of 45.07. The winner was Isaac Makwala of Botwasana who clocked 44.23 while Wayde van Niekerk of South Africa took silver on 45.00.
It is a creditable performance by  Mucheru Tumuti and resulted in a personal best time. And at only 22 years of age, he has a bright future if he receives appropriate support. Two years ago, he won a bronze medal in the 400m hurdles.
It marked the first time that a Kenyan has won a medal in this event since 2004. Yet the 400m is an event that Kenya has done very well in the past :
Gold Medalists:
Samson Kitur (1990)
Kennedy Ochieng (1993)
Silver Medalists
David Kitur (1990)
Kennedy Ochieng (1992)
James Atuti (1979 and 1982)
Sammy Kipkemboi (1989)
Simeon Kemboi (1993)
Ezra Sambu (2004)
Bronze Medalists
Billy Konchellah (1979): He was only 18 years old at the time
David Kitur (1985)
Abednego Matilu (1992)
Simeon Kemboi (1993)
Samson Yego (1996)
Francisca Koki sets new Kenya record and takes bronze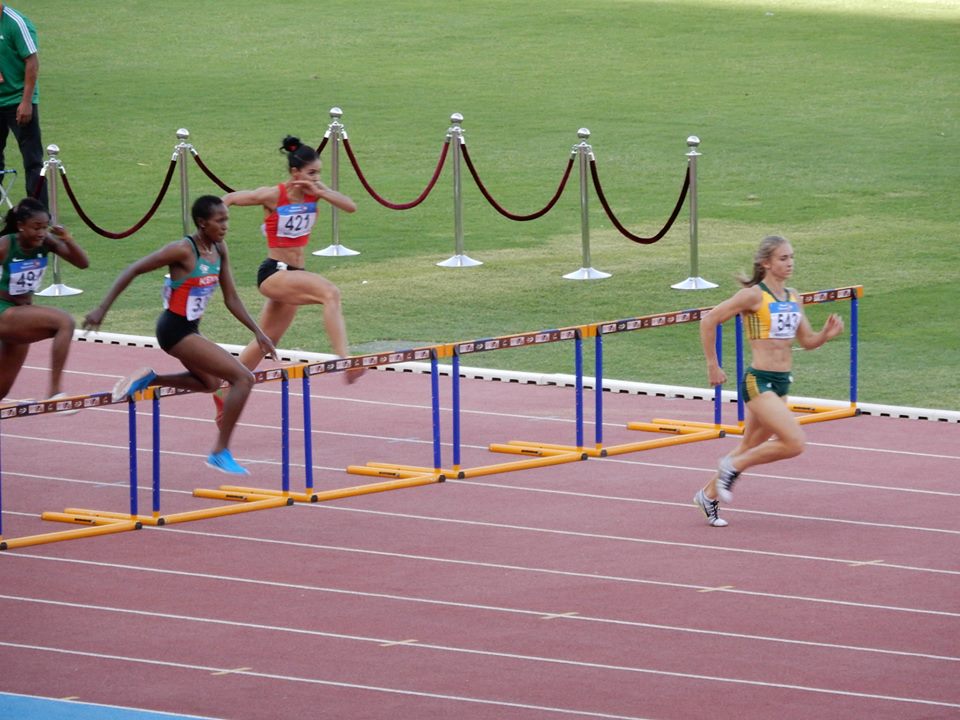 Francisca Koki with her interesting hurdling style, won the bronze medal in the 400m hurdles with a time of 55.84. In the process she eclipsed the previous record of 55.94 set by track legend Rose Tata Muya in 1987. Like most Kenyan women's sprint records, this one had lasted almost 3 decades since the 1980s was the golden era for Kenyan female sprinters.
And at 22 years of age. Francisca Koki also has a bright future in this event should she receive the appropriate levels of support from AK and the government.
Nicholas Bett takes 400m hurdles bronze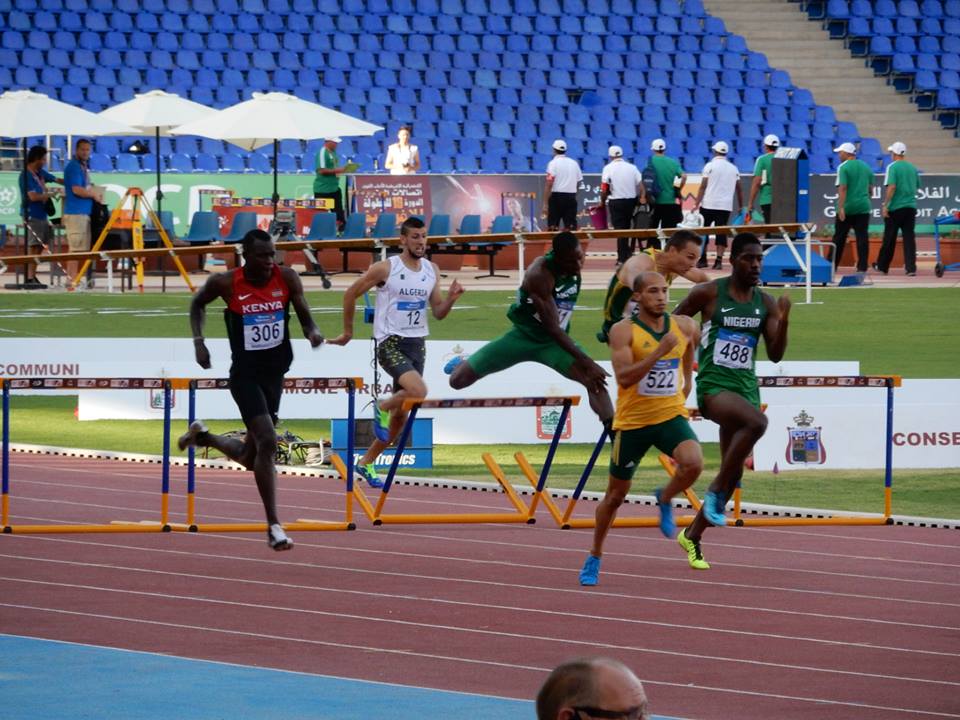 In the 400m hurdles, another newcomer, Nicholas Bett took the bronze medal with a time of 49.03 which was a personal best. South African Cornel Fredericks won in 48.78. Amaechi Morton of Nigeria was second.
Kenya has produced some brilliant performances in this event in past years. Foremost among these was Daniel Kimaiyo who won gold in the 1979 event and Eric Keter who won gold in the 1993 event.
A silver medal in this event came via Julius Bungei in 2004.
Kenya's bronze medalists in this event include Meshack Munyoro (1982) and Boniface Mucheru (2012).
Kenya Women's 4 X 400m relay takes silver
Kenya's 800m legend, Janeth Jepksogei who is an excellent relay runner, teamed up with Francesca Koki , Maureen Jelagat and Jacinta Shikanda to win silver in women's 4x400m relay in 3:32.26. The Nigerian team won the race in 3:28.87.
Kenya had also won this event in 2010 when Jepkosgei ran a storming anchor leg to pass Senegalese legend Amy Mbacke Thiam.
Kenya Men's 4 X 400m relay takes bronze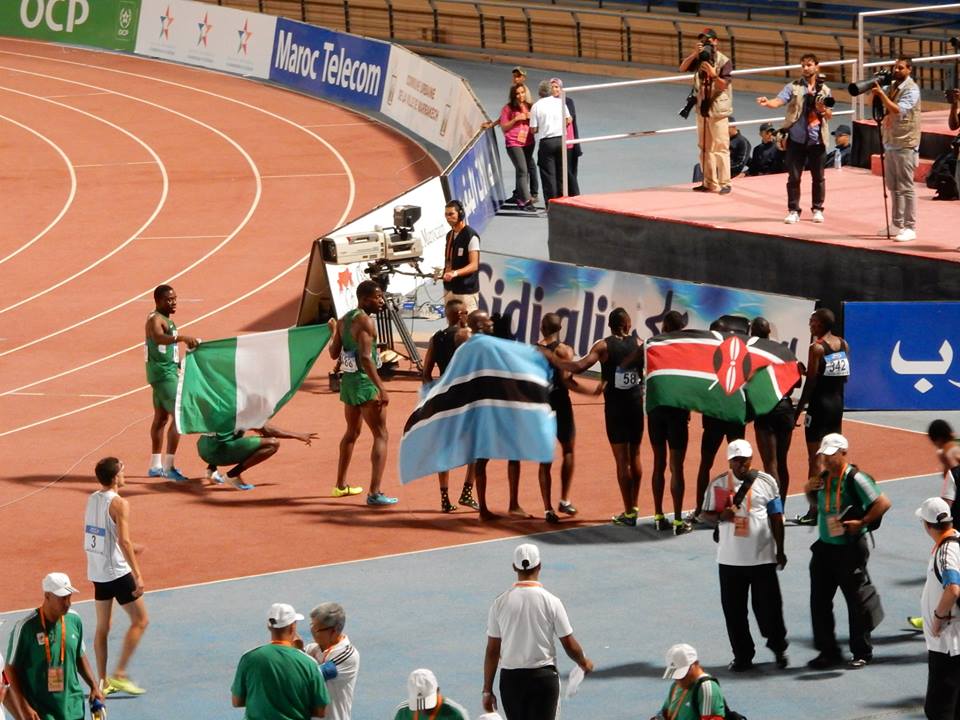 The 400m hurdles bronze medallist Nicholas Bett teamed up with Mark Mutai, Solomon Buoga and Boniface Mucheru for bronze in men's 4x400m in 3:07.35. Botswana won with Nigeria taking silver.
4 X 100m relay
The Kenya 4 X 100m relay team comprised of  Stephen Barasa Solomon Alando Buoga,  TonnyChirchir and  Walter Moenga came within a whisker of winning a medal but finished 4th.
Summary
Kenya has a young cadre of sprinters who are showing a lot of promise even with minimal support from the authorities. For Kenya to finish atop the medal standings in this event, they cannot continue to solely depend on the distance runners. The sprinters and field event athletes should be given the neccesary support.