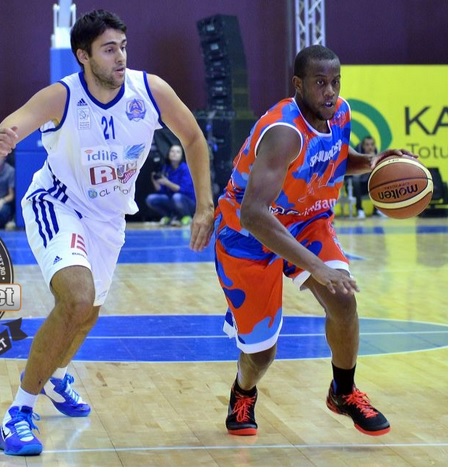 Sharp shooting guard Robert Nyakundi, who first came to fame for being one of the best three point shooters in NCAA basketball is thriving in the European leagues. In the 2013/2014 season, he played for a Romanian side Steaua EximBank Bucuresti
In Romania, he averaged. 14.3 Pts per game while shooting (52% from  2pts range and 40 % from 3pts range. He also shot  82.5% from the free throw line and averaged and 5.3 rebounds in his last season in Bucharest.
Nyakundi graduated from Southern Methodist University in 2012. In his last season at SMU, he was the team captain and led the team in scoring at 14.8 points per game with a field goal percetage of 46.8%. He finished his SMU career as the second best 3-point shooter ever at the school.
The versatile Nyakundi played at positions 2,3 and 4 while in Romania. His first season as a professional (2012-2013) was abbreviated by a injury which required surgery. As a result he missed the playoffs. Last season he also played 6 games in EuroChallenge where his averqged were 10.8ppg and 2.7rpg.
Besides Nyakundi, Liege also signed Boris Penninck, John Fields and , Jerime Anderson.
Liege are one of the top teams in Belgium. They were ranked 4th in Belgian last season. They have won the Belgian cup once and been losing finalist once. They have reached the Belgian championship final twice. They are coached by Italian Fulvio Bastianini
Vital statistics
Date of birth: 24/01/1989
Place of birth: Arlington, Texas (USA)
Height: 203 cm (6'8″)
Weight: 100 kg (220 lb)