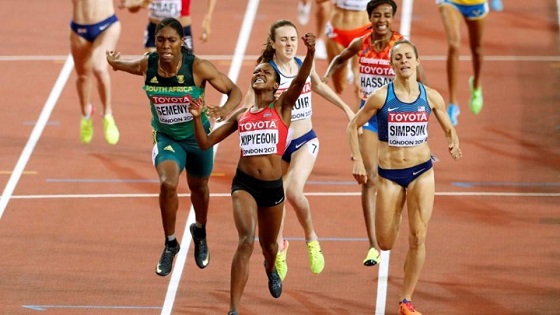 Background
The 2017 IAAF World Championships were held from 4 to 13 August at London Stadium in London, UK. Kenya finished second in the medal table with 11 medals: 5 gold, 2 silver and 4 bronze.
1500m: Managoi and Cheruiyot go 1-2
Kenya fielded a very strong team in this event. A medal sweep seemed possible. At the bell, Kenyans occupied the top three positions with Timothy Cheruiyot setting the pace, followed by Elijah Manangoi and defending champion Asbel Kiprop. With 150 metres left, Kiprop faded. Manangoi made his last move with 50 metres left to win.
Race Video
3000m Steeplechase: : Conseslus Kipruto dispels doubts
For the first time in decades, the threat of  Kenya losing this event appeared real. American Evan Jaeger had beaten the top Kenyans in epic fashion in the Diamond League. Moroccan Souffiane el Bakkali had also recorded surprise wins over the top Kenyans. And Kenya for the first time, did not have the depth it typically has in this event.  The veteran Ezekiel Kemboi who had won this event three times, was now in his final chapter. Jacob Birech was inconsistent throughout the season.. This left only defending Olympic champion Conseslus Kipruto.
Jaeger set a torrid pace as he had done in the Diamond League meets that he had won. It seemed that he might run away with the race again. But Kipruto and El Bakkali stayed with him. Kipruto, with a sudden shift of gears, passed Jager with 250 metres to go. Bakkali caught up with Kipruto with 100 metres to go. But Kipruto had an extra gear that carried him to an easy win.
Men's Marathon: Gold for Kirui
The 2015 edition of this event had been a disaster for Kenya. The country did not place a runner among the top 20 finishers despite its strong pedigree. The onus was therefore on the trio of Geoffrey Kirui, Gideon Kipketer and Daniel Wanjiru to restore Kenya's place at the top. At around the 25Km mark, Kirui was neck and neck with Ethiopia's Tamirat Tola. It was a slow pace and the runners were destined to finish in around 2:11.  It as then that Kirui made his surge for which Tola had no answer. He won in 2:08:27 having picked up the pace significantly in the second half of the race.
Race Video
Women's 1500m: Kipyegon finally becomes world champion
Faith Kipyegon had shown significant potential since her teen years when she won gold at the World youth championships and the world junior cross country championships. By age 19 in 2013, she had set a kenyan record in the 1500m. But senior level accolades were difficult to come by. By 2017, she still had not won the world championships. And this race was not going to be easy. She would have to contend with Genzebe Dibaba , the defending champion and world indoor record holder, Caster Semenya, the dominant 800m runner, Jenniffer Simpson, the gold medalist from 2011, Sifan Hassan who was the European cross country champion and Laura Muir, the European Indoor champion. A very strong field indeed.
At the bell, it was Sifan Hassan and Kipyegon who were tied for the lead. Hassan was determined to hold off Kipyegon at the curve to force her to run a longer route. She did. But the tactic cost her dearly because she spent a lot of energy fending off Kipyegon and finally ran out of steam. Kipyegon took the lead with 50 metres to go. Simpson and Semenya also ran a storming last 50 metres to take silver and bronze.
Race Video
Women's 5000m: Obiri shocks Ayana
Almaz Ayana was the clear favourite in this race. Just days earlier, she had won the 10,000m gold in convincing fashion. And in 2016, she had set the world record in the 10,000m and run the second fastest 5000m ever in 14:12.59. She typically won by setting a searing pace that would see her as much as 50 metres ahead of the field. So when she changed gears at the halfway mark, the familiar pattern appeared to be evolving. But Hellen Obiri was also in a confident mood because the 2017 season was her best yet. She had won 10 of 12 races that she participated in. After the halfway point, the race was reduced to a duel between Obiri and Ayana, with the former tracking Ayana's movements very closely. With 300m to go, Obiri suddenly accelerated, leaving Ayana flat footed. Obiri went on to win in 14:34.86 , nearly 40 seconds ahead of Ayana.
Race Video