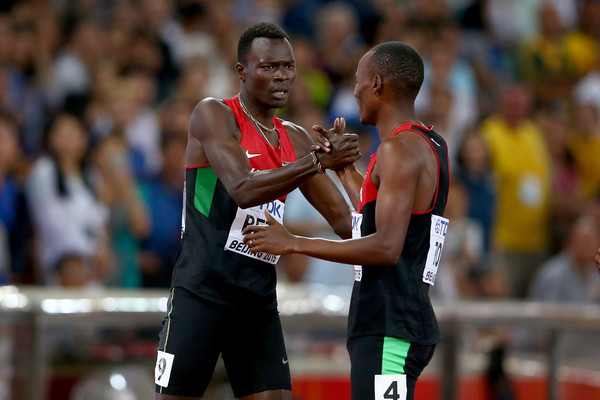 Background
The 2015 IAAF World Championships was the fifteenth edition of the IAAF World Championships. They were held from 22 to 30 August at the National Stadium in Beijing, China. The 2015 edition marked the first time that Kenya finished at atop the medal standings with a total haul of 16 medals, 7 gold, 6 silver and 3 bronze.
Nicholas Bett wins 400m hurdles from lane 9 !
Nicholas Bett became the first Kenyan ever to win the 400m hurdles in a major global event. In fact Bett became the first Kenyan ever to win gold at a major global event. The last time a Kenyan sprinter won gold at a global event was Seraphino Antao who won gold in the 100m at the Commonwealth games half a decade a ago. However the Commonwealth games are not considered a major global event.
Bett did this by clocking 47.79 which is the fastest time in the world this year and a new Kenyan record. And he did all this while having the disadvantage of running from lane 9 which is the worst lane to run from in any one lap event due to the incredible stagger.
Despite running from lane 9, Bett held on and did not allow any racer to make up the stagger. Not even the pressure of having two time world champion Kerron Clement of the USA could shake Bett. Throughout the race, the commentators only spoke of Michael Tinsley who was the favourite while not realizing that Bett was leading throughout.
The time makes Bett the 4th fastest African ever behind Matete of Zambia, Dia Ba of Senegal and Van Zyl of South Africa.  Both the second and third placed finisher set new national records. Boniface Mucheru, the other Kenyan in the race was 5th. There mere fact that Kenya had two runners in the final is in itself a phenomenal achievement.
Race Video
Race Results
POS
BIB
ATHLETE
COUNTRY
MARK
Reaction Time
1
679
Nicholas

Bett

 KEN
47.79
WL
0.162
2
870
Denis

Kudryavtsev

 RUS
48.05
NR
0.146
3
202
Jeffery

Gibson

 BAH
48.17
NR
0.184
4
1005
Kerron

Clement

 USA
48.18
SB
0.174
5
705
Boniface Mucheru

Tumuti

 KEN
48.33
0.164
6
956
Yasmani

Copello

 TUR
48.96
0.204
7
794
Patryk

Dobek

 POL
49.14
0.176
8
1063
Michael

Tinsley

 USA
50.02
0.134
Men's 800m: Rudisha back on top
The 2013 800m contest had been a disaster for Kenya. Rudisha was missing due to injury. Ferguson Rotich, who was Kenya's main hope, was disqualified in the semis. As a result, Kenya did not place any runner in the finals. In the 2015 edition however, Rudisha was back and Kenya placed three runners in the final.
Whereas in the past, Rudisha would lead from gun to tape, this time he ran a more tactical race, taking the leading from the gun and fending off any runner who tried to pass him. Adam Kszczot of Poland tried to upend Rudisha in the back straight but Rudisha anticipated his move and fended him off. Rudisha would extend his lead using his classic long stride, winning in a slowish time of 1:45.84. Ferguson Rotich narrowly missed out on a medal.
Race Video
1500m: Third succesive gold for Asbel Kiprop
Asbel Kiprop made it very difficult for himself but eventually came through to win the men's 1500m on the penultimate day of the 2015 world athletics championships. Kiprop placed himself at the back of the pack for the first half of the race. At the start of the final lap, Kiprop was still boxed in at the very back. He only started to make his move with 250m to go. Algerian Tariq Makhloufi had what looked like a strong lead just as he did at the 2012 Olympics. But Kiprop utilized his long legs to close the gap and managed to pass both Maklhloufi and Moroccan Abdilaati Iguider with 50m to go. Newcomer Elijah Manangoi also had a strong finish coming from way back to finish second barely beating Iguider to complete a Kenya 1-2 finish. In 2011, this race also ended in a Kenya 1-2 finish with Kiprop and Silas Kiplagat winning gold and silver.
The win by Kiprop clinched Kenya's place at the top of the medal table, marking the first time Kenya has accomplished this feat.
It was a fitting win for Kiprop who has dominated the 1500m in the Diamond League circuit winning using a variety of tactics from front running, to staying behind the back and also suddenly changing pace. Kiprop has proven that he is unbeatable at this event in 2015. In fact coming into the 2015 world championships, Kiprop was Kenya's best bet for a medal.
Kiprop becomes the third runner to win this event three times following Nourredine Morceli of Algeria and Hicham El Guerrouj of Morocco. Kiprop is easily the most succesful 1500m runner in Kenya's history and has the second fastest time by a Kenyan after Bernard Lagat.
Race Video
Julius Yego with a historic gold medal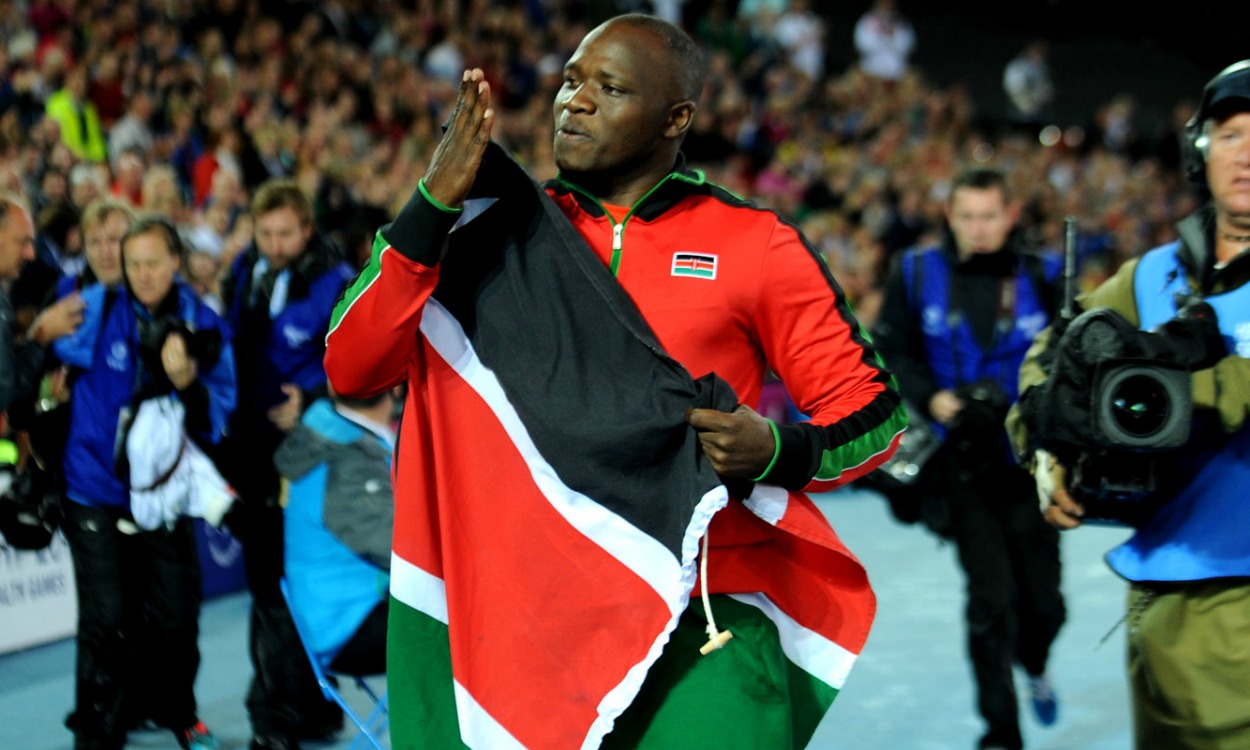 Javelin thrower Julius Yego became the first Kenyan ever to win a gold medal in a non-running event at a global competition. He accomplished this by winning the gold medal in the Javelin at the 2014 commonwealth games with a best throw of 83.87m.The win must have been very satisfying for Yego who came within a whisker of winning a medal at the 2013 world athletics championships.
He has been steadily improving since he emerged on the scene four years ago. The 2010 Commonwealth Games provided his first javelin contest outside of Africa and there he finished seventh. He went on to finish 12th at the London 2012 Olympic Games and a year later finished fourth at the IAAF World Championships in Moscow with a national record of 85.40m.
What makes Yego's accomplishment great is the sheer number of hurdles he had to overcome in order to reach this impressive milestone.
Lack of facilities, coaching and tradition
A javelin thrower in Kenya has no access to the kind of training facilities available in Europe. There are no coaches in Kenya who are qualified to coach world class Javelin throwers. This lack of coaches forced Yego to learn his craft by watching youtube videos, this earning himself the nickname "Youtube-Man".
Beating the Olympic Champion
Winning the gold medal at the Commonwealth games was never going to be easy given the presence of Keshorn Walcott of Trinidad who is the reigning Olympic champion. But Yego faced down the opposition and emerged victorious.
Overcoming Injury
Yego had hurt himself during the warmup and seriously considered quitting the competition.
"It was emotional," he said on claiming victory, "as I picked up a groin injury during the warm-up.
"I slipped on the warm-up track. I thought about pulling out, but I spoke to my coach and I decided I couldn't pull out of this championship."
Not only did Yego defy injury but also horrendous conditions as the competition was held in the pouring rain.
"The conditions were not favourable, but there was no head wind so that was OK," he said.
Video
Hyvin Kiyeng upsets formbook to win in epic finish
Coming into the 2015 world championships, Tunisian Habiba Ghribi was the favourite. She had the world best time and had won the silver medal at the 2011 world championships and the 2012 Olympics. Hyvin Kiyeng on the other hand did not have a major championship medal to her name. Her only honours so far had come at the All Africa games and the African championships. Still Kiyeng had one Diamond league win to her name in 2015 and had the second best time of the season.
It was an epic race in the final lap with numerous runners exchanging the lead. Virginia Nyambura stayed with the leading pack until 250 metres to go when she started to fade. In the final straight, three runners, Kiyeng, Ghribi and Gesa Krause of Germany were all literally neck and neck in a straight line. But Kiyeng had an extra gear which she utilized after the final hurdle to pass Ghribi and win by a hair.
Kiyeng had dimished 6th in the 2013 world championships in Moscow. Coming into the 2015 season, no one expected much from Kenyans in this event. Milcah Chemos who had been Kenya's stalwart at this event was fading due to injuries. In 2014, no Kenyans were among the top runners. The 2014 season had been dominated by the Ethiopian duo of Sofia Assefa and Hiwot Ayalew as well as the American Emma Coburn. However in 2015, Virginia Nyambura and Hyvib Kiyeng emerged as true contenders.
Race Video
Vivian Cheruiyot makes a grand comeback
Vivian Cheruiyot was back with a bang. After winning both the 5000m and 10,000m at the 2011 world championships, she experienced a mini-slump before taking time off on maternity leave. In 2015 she showed signs of a comeback when she won the 10,000m at the Bruxelles diamond league and at the Kenyan trials.
Much was expected from her and she did not disappoint, beating a strong challenge from Gelete Burka of Ethiopia to win in 31.41.31. The leading pack stayed together for 9600m. Cheruiyot took the lead with 250m to go and held off strong challenges from Burka who tried several times to pass her. It was her fourth world championship gold medal having also won gold at the 5000m in 2009.
Race Video
Race Results
POS
BIB
ATHLETE
COUNTRY
MARK
1
560
Vivian Jepkemoi

Cheruiyot

 KEN
31:41.31
2
338
Gelete

Burka

 ETH
31:41.77
3
891
Emily

Infeld

 USA
31:43.49
4
890
Molly

Huddle

 USA
31:43.58
5
566
Sally Jepkosgei

Kipyego

 KEN
31:44.42
SB
6
880
Shalane

Flanagan

 USA
31:46.23
7
348
Alemitu

Heroye

 ETH
31:49.73
8
573
Betsy

Saina

 KEN
31:51.35
SB
9
349
Belaynesh

Oljira

 ETH
31:53.01
10
618
Susan

Kuijken

 NED
31:54.32
11
626
Jip

Vastenburg

 NED
32:03.03
12
689
Sara

Moreira

 POR
32:06.14
Medal Table
Nation
Gold
Silver
Bronze
Total
1
 Kenya (KEN)
7
6
3
16
2
 Jamaica (JAM)
7
2
3
12
3
 United States (USA)
6
6
6
18
4
 Great Britain & N.I. (GBR)
4
1
2
7
5
 Ethiopia (ETH)
3
3
2
8
6
 Poland (POL)
3
1
4
8
7
 Canada (CAN)
2
3
3
8
 Germany (GER)
2
3
3
8
9
 Russia (RUS)
2
1
1
4
10
 Cuba (CUB)
2
1
0
3
11
 China (CHN)*
1
7
1
9
12
 Netherlands (NED)
1
1
1
3
13
 South Africa (RSA)
1
0
2
3
14
 Belarus (BLR)
1
0
1
2
15
 Colombia (COL)
1
0
0
1
 Czech Republic (CZE)
1
0
0
1
 Eritrea (ERI)
1
0
0
1
 Slovakia (SVK)
1
0
0
1
 Spain (ESP)
1
0
0
1
20
 Australia (AUS)
0
2
0
2
 Croatia (CRO)
0
2
0
2
22
 Bahamas (BAH)
0
1
1
2
 Trinidad and Tobago (TTO)
0
1
1
2
 Ukraine (UKR)
0
1
1
2
25
 Belgium (BEL)
0
1
0
1
 Brazil (BRA)
0
1
0
1
 Egypt (EGY)
0
1
0
1
 Israel (ISR)
0
1
0
1
 Tajikistan (TJK)
0
1
0
1
 Tunisia (TUN)
0
1
0
1
31
 France (FRA)
0
0
2
2
32
 Bahrain (BHR)
0
0
1
1
 Bosnia and Herzegovina (BIH)
0
0
1
1
 Finland (FIN)
0
0
1
1
 Greece (GRE)
0
0
1
1
 Grenada (GRN)
0
0
1
1
 Japan (JPN)
0
0
1
1
 Kazakhstan (KAZ)
0
0
1
1
 Latvia (LAT)
0
0
1
1
 Morocco (MAR)
0
0
1
1
 Portugal (POR)
0
0
1
1
 Serbia (SRB)
0
0
1
1
 Uganda (UGA)
0
0
1
1
Totals (43 nations)
47
48
49
144