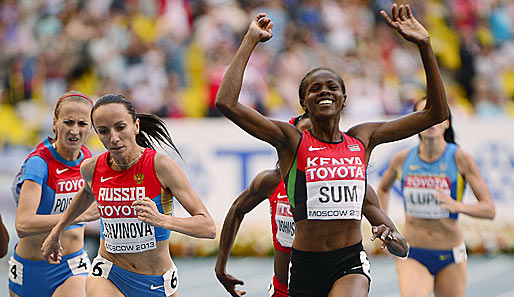 Background
The 14th IAAF World Championships in Athletics was held in Moscow, Russia, from August 10 to August 18 2013.  Kenya finished third overall in the standings with 12 medals: 5 gold, 4 silver and 3 bronze. The highlights included both Eunice Sum and Milcah Chemos fullfilling their potential by winning gold. Edna Kiplagat, Asbel Kiprop and Ezekiel Kemboi retaining their titles.
800m: Eunice Sum upsets Savinova
Coming into this race, Mariya Savinova or Russia was the overwhelming favourite. Not only was she running infront of her home crowd, but she was also the defending world champion and defending Olympic champion. Eunice Sum for her part had never won any international event. Her best performance thus far was a silver medal at the African Championships in 2012.
In the final, Sum ran a tactically astute race. Alysah Montano set a torrid pace in the first lap. Sum followed within striking distance. Savinova, who was then known as the chess player for her tactical prowess was further behind and started to make her move with 250m to go. As she started to surge past the field, a win seemed inevitable. But Sum held her off at the curve thus forcing her to take a longer route. With 100m to go, Sum and Savinova were even and had caught up with Montano. With 50 metres left, Sum shifted to a higher gear and Savinova had no answer. Sum had won her first ever international gold medal with a personal best of 1:57.38.
Savinova would eventually lose her silver medal after it was proven that she had been doping all long.
Race Video
Women's 3000m Steeplechase: Finally gold for Chemos, silver for Chepkurui
26 year old Milcah Chemos had only been a participant in athletics for four years. She only took up competitive running at the urging of her husband who was also an athlete. Prior to this event, she had won bronze medals at the 2009 and 2011 events. Both those events had been won by Russian women thus it was expected that a Russian woman would win again.
But as the race progressed, it became apparent that the Kenyans and Ethiopians would dominate this race. With a lap to go, the Kenyan duo of Chemos and Lydia Chepkurui were leading the field. The gap between them increased as the last lap progressed. With 200m to go, Chemos surged. Chepkurui gave chase. Chemos navigated the last two barriers then finished with a powerful kick to win comfortably. Chepkurui had to hold off Sofia Assefa for silver.
Race Video
Women's marathon: Edna Kiplagat retains title
Edna Kiplagat had led a Kenyan sweep of the medals in 2011. The only athletes who challenged her were fellow Kenyans.  However in 2013 things were different. At the 30km mark, the leading pack consisted of Kiplagat, Valeria Straneo of Italy, Meselech Melkamu of Ethiopia and Kayoko Fukushi of Japan. Melkamu soon found the pace too hot and dropped out. Straneo was leading with 1km to go before Kiplagat made her move and Straneo had no answer. Kiplagat won in 2:25:44 to retain her title.
Race Video
Men's 1500m: Asbel Kiprop retains his title
All three Kenyans made it to the final: Asbel Kiprop, Silas Kiplagat and Nixon Chepseba. Kiprop and Kiplagat had gone 1-2 in 2011 while Chepseba was in brilliant form, having won his first ever Diamond League race earlier. In the final, Chepseba set the early pace and held the lead until about 200m to go when the rest of the field closed him down. Kiprop surged ahead of the field, leaving the rest to compete for the rest of the medals. Chepseba finished fourth, just outside the medals while Kiplagat ran out of gas when he made his surge in the last 100m
Race Video
3000m Steeplechase: Third succesive gold for Kemboi
Kenya had four runners in the final: Ezekiel Kemboi, Abel Mutai, Paul Kipsiele Koech and 19 year old newcomer Conseslus Kipruto. The final was remarkable for the rivalry between Kemboi and Kipruto who threatened to end Kemboi's dominance of this race.
In the final lap, Kipruto held the lead with 250m to go. Then Kemboi made one of his tradeamark accelerations that left the rest of the field stunned. Nobody had any answer for Kemboi's surge. Kipruto tried to chase in the last 100m but despite closing the gap, he could not catch Kemboi who won gold with Kipruto taking silver. Koech finished fourth.
Race Video