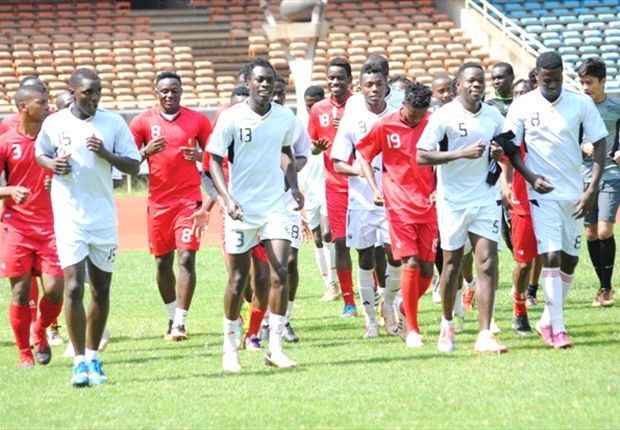 Many Harambee stars fans are elated and rightfully so after the recent spate of good results. In the last four matches, Kenya has beaten Congo-Brazzaville at home, registered two away draws against Tanzania and Zambia and beaten the Democratic Republic of Congo away in Kinshasa. The positive results are a relief for funs who for eight years during the Mohamed Hatimy era and the Sam Nyamweya era have had to endure mediocre performances by the national team. Finally the team is getting closer to fulfilling its potential.
On a positive note also, the team is playing several high quality friendly matches against good sides. This enables the team to gain cohesion and is something that was missing from the previous FKF regimes.
Excellent Defence
The one Harambee stars department that has stood out in recent matches is the backline and defensive midfield area. Congo DR thoroughly dominated possession and had much better buildups as did Zambia. But the defensive line with David Owino Calabar, Jockins Atudo, Aboud Omar, Eric Ouma, Brian Onyango as well as defensive midfielders Anthony Akumu, Victor Wanyama and Ismail Gonzalez all stood tall in the three matches. Though Congo had most of the possession, their moves were disrupted before they could threaten Boniface Oluoch in goal. As a result, Congo created no real scoring chances. It is fair to say that Kenya's defensive solidity is what has anchored the recent results.
Poor Buildup
Harambee stars have been unable  build moves by stringing several passes together. Some of this can be attributed to lack of cohesion. Some of it can be attributed to the technical staff. But a significant portion of it is due to lack of the calibre of players with excellent first touch, close ball control and the ability to string accurate one times passes as is demanded by modern football. This can only come with proper youth development.
The only Kenya player who fits this mould is Francis Kahata. To have an effective midfield, you need several players with Kahata's passing skills and close ball control. However Kahata though very good on the ball, contributes little on the defensive side of the ball. The ability to pressure opposing players is a necessity in modern football where players are measured based on how many kilometres they cover on the field.
Harambee stars look most dangerous on breakaways. Wingers like Ayub Timbe and Paul Were have been able to use their speed on the flanks to either score goals or create dangerous situations that result in goals. But the same players have more of a striker's mentality and are not known for being good passers or even good crossers.
Further to that, Kenya lacks players who can play themselves out of tight situations using their close ball control. All these aspects: accurate passing, crosses, ball control, vision etc are products of a sound youth development scheme. This is completely missing in Kenya today. Some clubs have a semblance of a youth team but it does not amount to structured youth development.
The attack
This author has been watching Kenya football for three decades now and can safely conclude that Michael Olunga  is the sharpest striker Kenya has produced in the last three decades. You would perhaps have to go back to the 1970s to find a sharper striker in William Ouma "Chege".
Olunga is not as talented as Dennis Oliech. But Olunga needs much fewer chances to score. Oliech in his prime was a superb dribbler and super-quick off the mark. He was a handful for defenders to deal with. He would create numerous chances but would miss too many. That is why in France, Oliech was mostly deployed as a winger where he could wreak real havoc on opposing defenders. Olunga often gets only one or two chances and scores. He has quick reflexes and a sixth sense for positioning himself in the right spot. Thats why he makes a good target man.
Against DR Congo, Olunga was starved of the ball. Hardly any passes came his way. But he was still able to score by positioning himself in the right place to pick up the rebound. And when the ball came his way, he reacted very rapidly, trapping the ball and firing with his trusty left foot. It was virtually the only real chance that came his way and he scored.
If Olunga were to play with an effective midfield that can get him the ball, he would score in every Harambee stars game. Ayub Timbe seems more interested in scoring rather than crossing the ball even when he is in an impossible angle. The same applies to Paul Were. Perhaps Olunga would be more effective playing with Clifford Miheso who is a good crosser as well as Kahata if he has players who can cover his defensive frailties.
Summary
That Kenya needs better player development cannot be gainsaid. The two best passers Kenya has produced in recent years are Peter Opiyo and Francis Kahata. Both are products of the Thika youth development scheme having joined Thika United as early as age 12. This kind of youth development is very rare in Kenya. Yet it is what the country needs.
Coach Okumbi is on the right track. But he needs to work harder on gaining cohesion, build up and supplying the attack with quality passes, something that is compleley missing right now.
As for the current FKF regime, they are a breath of fresh air compared to the Nyamweya and Hatimy eras. And they have recovered from the poor start when unproven players were fielded against Guinea Bissau perhaps costing Kenya a place at the next AFCON.