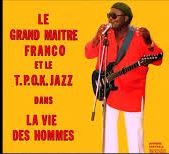 Introduction
This song was released in 1986 as part of an album celebrating the 30th anniversary of the formation of TPOK Jazz. The album was labeled 30 Ans du success and had two other songs: Ida and Celio. Franco is the lead singer / narrator while the backup vocals are provided by Madilu System.
In past years, Franco was known for composing songs that were largely critical of women. In the mid 1980s however he changed tact and sung songs from the perspective of women. La Vie des Hommes was one the second major composition of this genre.
Synopsis
La vie des hommes (The lives of men: Luambo-Makiadi) is a song in which Franco describes the life of a woman whose husband completely neglects his first wife and children to benefit a second wife. He refuses to eat food prepared by the first wife for fear of being poisoned. He deserts his home and no longer gives the household money to the first wife. Throughout the song, the first wife, known as Marie Louise, laments and asks God why such a fate has befallen her.
Song video
Lyrics and Translation