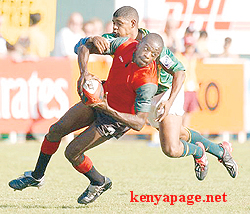 Oscar Osir was the first internationally reknown Kenya rugby sevens player. During the early part of the millenium, Osir was always amongst the leading scorers in the IRB sevens series. Blessed with lightning fast speed and sidesteps, he was the key performer for Kenya scoring several crucial tries. Most notable was his double against Samoa in 2002 that enabled Kenya to record what was then the biggest upset in Kenya rugby sevens history.
Osir spent his early years in Mombasa. He moved to Nairobi and attended Nairobi secondary school. It was here that his rugby career started to take shape. At Nairobi Secondary, then known as "Patch Fake", Osir started out as a footballer , then a hockey player. But he soon realized that his best hope at stardom lay in rugby.
By form 2 he was in the starting XV for the school, playing at hooker before moving to Scrum half. During his form four year, he helped steer Nairobi secondary to win the Damu Pevu shield. Damu Pevu was the second tier tournament for secondary schools in Nairobi after the Prescott cup.
On completing secondary school, he joined Mwamba, then moved to KCB in the space of a month in 1994. Seeing little chance of getting first team action,  he moved to Impala.  There, he switched to winger and made the first team and at just 18 years and got his first senior trophy when Impala made it to the final of the Impala Floodlit, losing to a star-studded Mean Machine side.
During the early millenium years, Impala was the dominant force in Kenya rugby. It was largely due to Osir along with other national team players like Benjamin Ayimba, Bill Odongo, Ian Simiyu, Philip Mwenesi and Steve Obondi. Impala's sevens team in particular was so good that they thoroughly dominated the local scene and were often invited to top tier sevens tournaments all over the globe.
He was first selected to the national team in 1998. The team was preparing for the commonwealth games to be held in Kuala Lumpur. To his dissapointment however, he never made the final squad and was named a non travelling reserve. The following year, he received a call-up to the Kenya team for the Tusker Safari sevens but picked up an ankle injury that heavily affected his tournament.  He was, however, selected for Kenya's maiden appearance in the International Rugby Board World Sevens series. But as fate would have it, a muscle strain saw him contribute little to the team.
It was in 2001 that Osir became the pivotal player in the Kenya sevens team. Paul "Pablo" Murunga had been the key performer for the Kenya sevens team until that point but was winding down his career. Murunga had a knack for try scoring and scored several crucial tries including the two the propelled Kenya into the 2001 sevens world cup. Kenya fans wondered who would step into Murunga's shoes. Osir was the answer. At the 2001 World cup he scored a memorable try against France as Kenya won 12-7. Aside from being the leading scorer for Kenya, Osir often doubled up as goal kicker with an excellent completion percentage.
At the 2002 Commonwealth games, Osir mesmerized opponents with his speed. Most memorable was his superb kick and chase try that gave Kenya a huge upset win over Samoa (28-20). His celebration was equally memorable as he screamed and slammed on the ground several times as if he could not believe what he had just done. So good was Osir's performance at the Commonwealth games that he was offered tryouts with English clubs along with team-mate Dennis Mwanja.
In 2005, Osir finally saw his dream of playing professional rugby come true when he was signed by English second tier side, Penzance and Newlyn. There he played alongside long time team-mate Benjamin Ayimba.
In 2005, Osir announced his retirement from the sevens game after the Sevens world cup which was held in Hong Kong. Many Kenya fans thought he had retired too early. He continued to play for the nation XV side. Most notable was his two try performance against Tunisia when Kenya beat them 37-15 in Nairobi.
In 2008, he was selected as team manger of the Kenya sevens team. He served in that position until 2011 when KRFU disbanded the team's technical bench.