Just when Kenyan football fans had started to think that Sam Nyamweya was a reformed man, he started to return to his true form
The much beloved annual Sakata ball tournament is in danger of becoming extinct because Nyamweya and FKF are demanding 20% of the sponsorship proceeds before they can sanction the event.
"In its letter to Safaricom dated May 30, the FKF demanded to be paid 20 percent of the total sponsorship cost of the tournament as administration fees half of which was to be paid prior to its launch, failing which it would disown the event
Safaricom as a responsible corporate entity have naturally balked at the demand. Nyamweya and his team like all their predecessors have not shown any inclination to account for the money that comes into FKF coffers. Whether it is the annual FIFA grant or the sponsorship money that comes from Coca Cola and East Africa Breweries, there has been no transparency. Should Safaricom accede to Nyamweya's demand, it is likely that money will simply line the pockets of FKF officials.
Should sakata ball be cancelled, it will be tragedy not just for football but for Kenyan society. Tournaments like Sakata ball play a key role in keeping the youth busy and away from crime. Kenya is facing acutely high youth unemployment. 60% of recent school leavers are idle and grassroots tournaments like these keep them engaged , less frustrated and less likely to resort to crime.
Sakata ball has been instrumental in developing the playing careers of many players. A few lucky ones after having shown their talents during sakata ball were able to move overseas. Johana Omollo for example, who currently plays in Belgium, was discovered at this tournament as was Jerry Santos who went on to play professionally in Tanzania.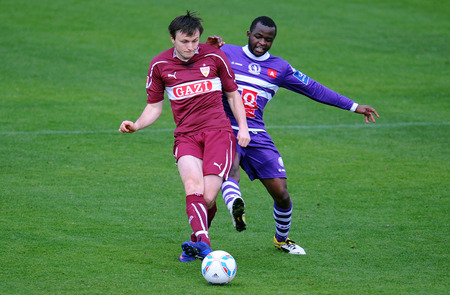 For the fans, sakata ball has been an opportunity to root for their local community teams, something they cannot do in the KPL as it is dominated by corporate teams. Sakata ball has also spawned crowd pulling community teams like Kariobangi sharks which is now on the verge of being promoted to the KPL. It is these crowd pullers who will eventually lead to the betterment of standards and increase attendance in the local leagues.
Responsible sponsors typically demand accountability. When this is not forthcoming, they take the initiative to organize the tournament and provide all logistics themselves. This is what Safaricom did. Should Nyamweya destroy sakata ball, other potential sponsors will simply shy away from football. This will inhibit professionalism. Yet professional sports has the potential to offer employment to many Kenyan youth. With a youth unemployment rate at 60%, Kenya cannot allow selfish officials like Nyamweya to destroy such a valuable tournament.
Minister Otuoma should therefore realize that this is a matter of national interest. Nyamweya and his team cannot be allowed to destroy this tournament or any other one. There is far too much that is wrong at FKF as has been outlined by current FKF vice chairman Sammy Sholei. The least Otuoma can do is seek an audience with Safaricom officials and include Mr. Sholei in the meeting.
Commentary by Aggrey Chabeda