Sevens players go on strike
The 2018-2019 season will be remembered as the  year when 15 Kenya sevens rugby players boycotted the national team due to disagreements over pay. A furious KRFU chairman Richard Omwela warned the players that they would never be allowed to don the national jersey again.
"We shall not allow a group of players to manipulate the Union. They shall play on our terms and not theirs,"
The player boycott was occasioned by the Union's decision to slash player salaries especially after a number pf sponsors pulled out. Player salaries went from around Ksh 170,000 per month to around Ksh 100,000.
"What message will we be sending to nation or the players, who have agreed to play on meagre pay…Are they playing for money or the nation? it's unacceptable for them to continue dictating to us when they know the situation.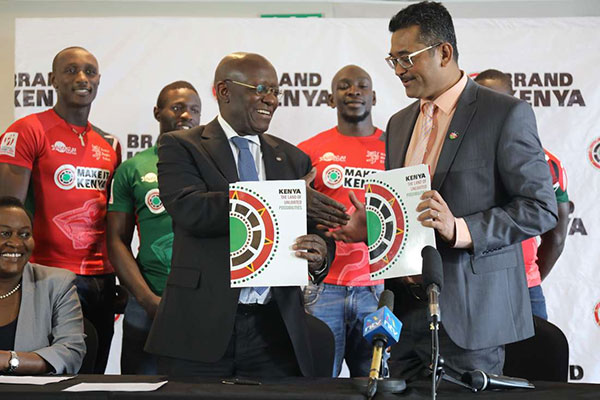 Problems started in 2018 at the Paris sevens when players covered the sponsor name to protest non-payment of salaries. It turned out that the sponsor had actually given KRFU the money but KRFU did not remit salaries to the players.
Under the agreement, tourism CS Balala says the KRU was to pocket Sh17.6 Million with Sh2.4 million going directly to the players with each player getting Sh100,000.
"It does not therefore make sense to me that KRU could not even use part of the Sh4 million we had advanced them to pay the players part of their share, while they await more funding from us", a visibly angry Balala, who also blamed the players for being unpatriotic said.
With issues unresolved, Andrew Amonde, William "Lomu" Ambaka, Samuel Oliech, Nelson Oyoo and Collins Injera opted out at the beginning of the season. Billy Odhiambo, Oscar Ouma and Oscar Ayodi trained with the team then left. Meanwhile Eden Agero, Dennis Ombachi and Jeff Oluoch played in the Dubai and Cape Town legs before leaving the team.
Kenya finishes 13th in the World Sevens series
The net result of the player boycott was that Kenya fielded a vastly inexperienced squad. Added to this fact was that the coach Paul "Pau" Murunga, a former Kenya sevens star, was also in his first season as head coach. Their inexperience showed as Kenya lost all their matches in the Dubai, Sydney and Vancouver legs and were staring at relegation.
Matters came to a head in the London leg when Kenya lost to fellow relegation candidates Japan in the 13th place playoff. A good performance was therefore required in the last leg (Paris) to stave off relegation. By this time, a number of the key players had returned to the team. Kenya finally produced their best performance of the season. Here they finished second in their group and 7th overall with 10 points, a result that helped Shujaa stave off relegation. The Paris leg marked the only leg in which Kenya qualified for the main cup quarter-finals.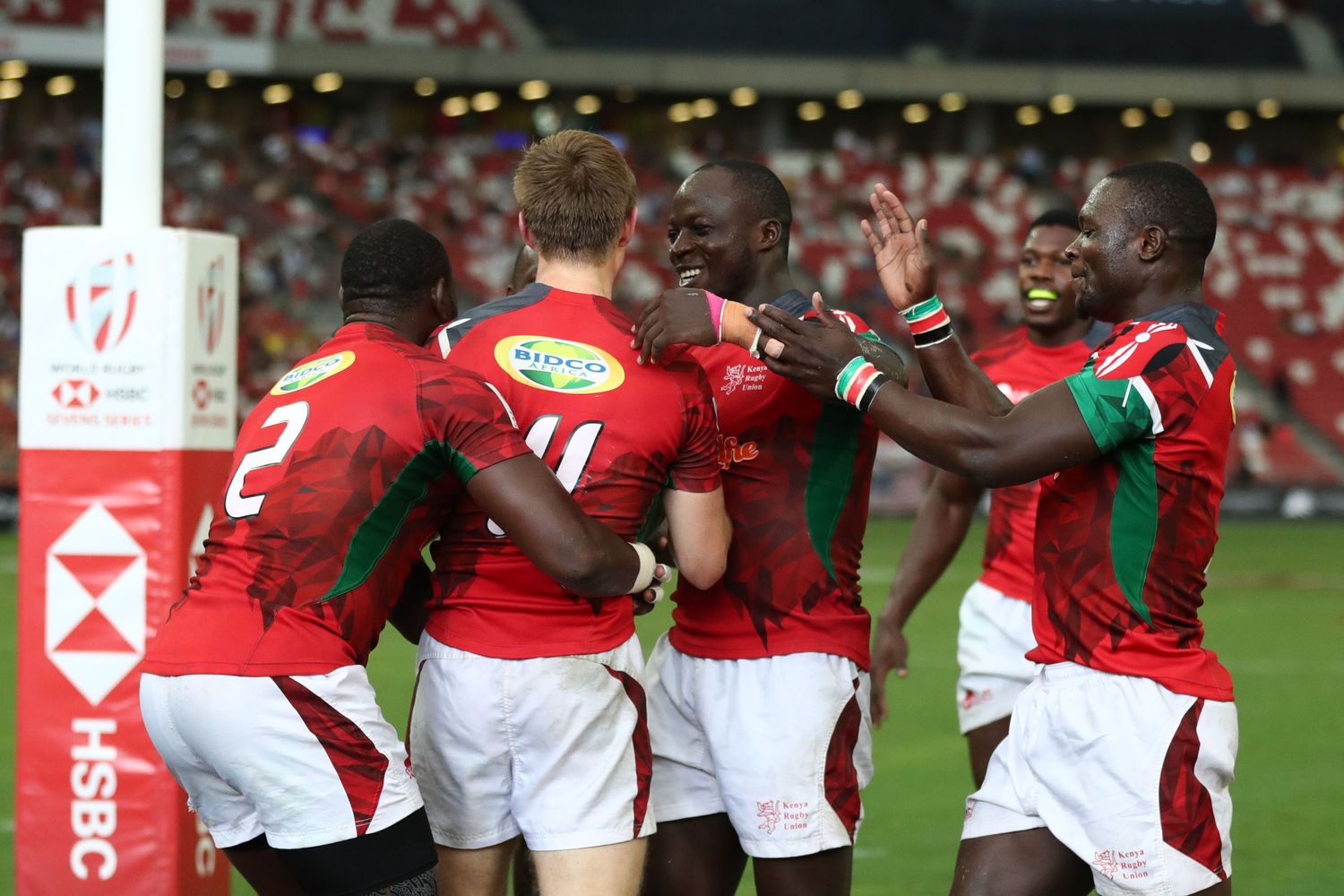 There was very little to celebrate in the 2018-2019 season. Unlike past seasons where some Kenya players were among the leading scorers, leading impact players and best players, no such thing happened. The only Kenyan who won any sort of award was Jeff Oluoch who was voted the most impactful player of the Hong Kong leg in which he scored 59 points.
Kenya qualify for the World Rugby Under 20 Trophy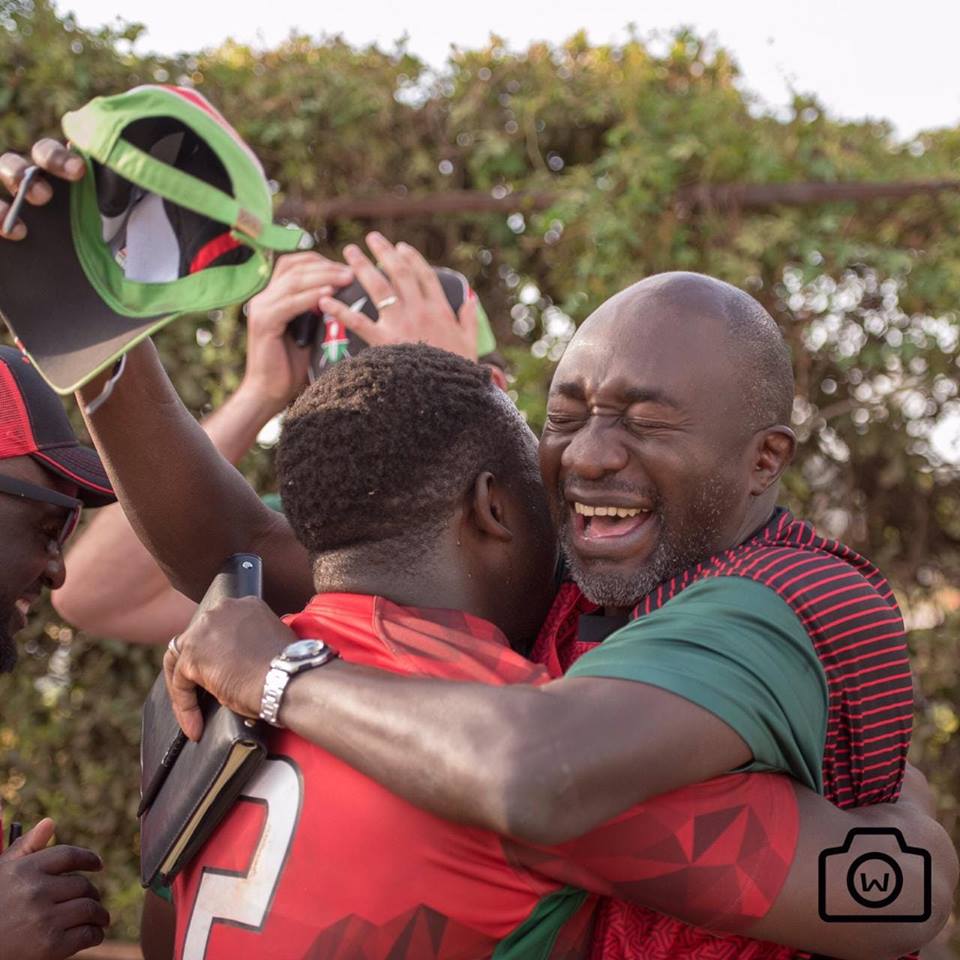 The Kenya U-20 team, popularly known as Chipu, qualified for the World Rugby Under 20 Trophy , which is the second tier U-20 global tournament. It had been 10 years since Kenya qualified for this event.
The qualifiers were held at KCB Sports club. Kenya qualified by beating Namibia 21-18 in an epic match in which the lead changed hands five times. What made this a momentous occassion was the fact that Namibia had eliminated Kenya on the previous four occasions. Kenya has suffered final losses to Namibia, falling in 2013 (51-8), 2014 (52-17), 2017 (66-24) and 2018 (37-18).  On their way to the final, Kenya destroyed Tunisia in the semi-finals by a score of 73-0
Kenya at the World Rugby Under 20 Trophy
Kenya were placed in tough Pool A with Japan, Uruguay and hosts Brazil. The opening match was a baptism of fire as Kenya went down 11-63 to Uruguay. Kenya then recovered to beat hosts Brazil 26-24. It was a see-saw battle that saw the lead change hands four times. Kenya then lost the last group match to eventual winners Japan 48-34. Against Japan, Kenya were trailing 19-3 at halftime. But a gallant second half display saw them cut the deficit to 31-29 at one point. This showed Kenya's potential.  In the 5th place playoff, Kenya lost 52-13 to Canada.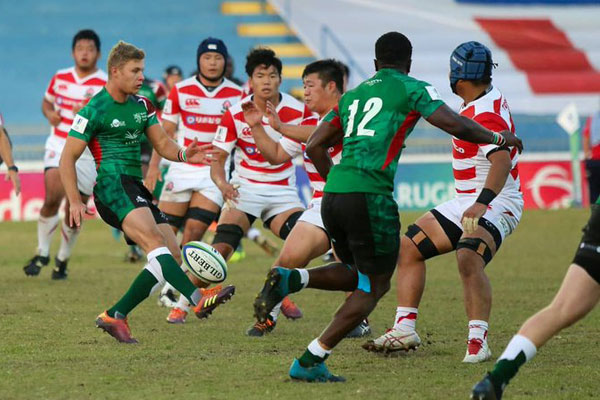 Coach Paul Odera was positive on Kenya's performance and also highlighted the areas that need work.
"I would say we performed beyond expectations. To finish sixth in our first time here in over 10 years is an excellent achievement. There's a lot to do to perform better next year," assessed Odera.
"Better preparation, playing teams ranked higher than us and training camps are crucial if we are to go far," he said before adding, "Our scrum and line-out need work. We also need to reduce our errors as we were punished for every mistake."
A successful year for Lioness
In April, Kenya Lioness reached the semi-finals of the Women Sevens Series Qualifiers . They won their opening four matches, beating Uganda 24-0, Hong Kong 36-5, Papua New Guinea 20-10, before recording a memorable win over Argentina by a score of 17-15. Their run came to an end when they lost 17-15 to Brazil in the semi-finals.
In August, The Kenya women's 15-a-side team played in the qualifiers for the 2021 women's rugby world cup. Four teams participated with the others being hosts South Africa, Uganda and Madagascar. Kenya beat Uganda 37-5 and beat Madagascar 37-5
In the final Kenya lost 39-0 to South Africa. The South Africans had beaten Uganda and Madagascar by scores of 73-0 and 89-5 respectively.
Kenya's hopes are not over after the 39-0 defeat, the Lionesses finished as runners-up and will contest a play-off against the winner of South American qualifier with the victor heading to the global repechage that will determine the final qualifier.
Kenya women's rugby team soared to its highest ever world rugby rankings. By improving their score to 46.71 points, Kenya moved above Jamaica, Denmark and Fiji and into the top 25 ranked nations for the first time.
In the Elgon cup, Kenya Lioness once again underlined their dominance over Uganda, winning the first leg 44-13 at Mamboleo grounds in Kisumu. They then won the second leg 35-5 at Kyadondo grounds in Kampala.
In the Safari sevens, Uganda once again had no answer for Kenya who won the tournament with a 47-0 win over Uganda.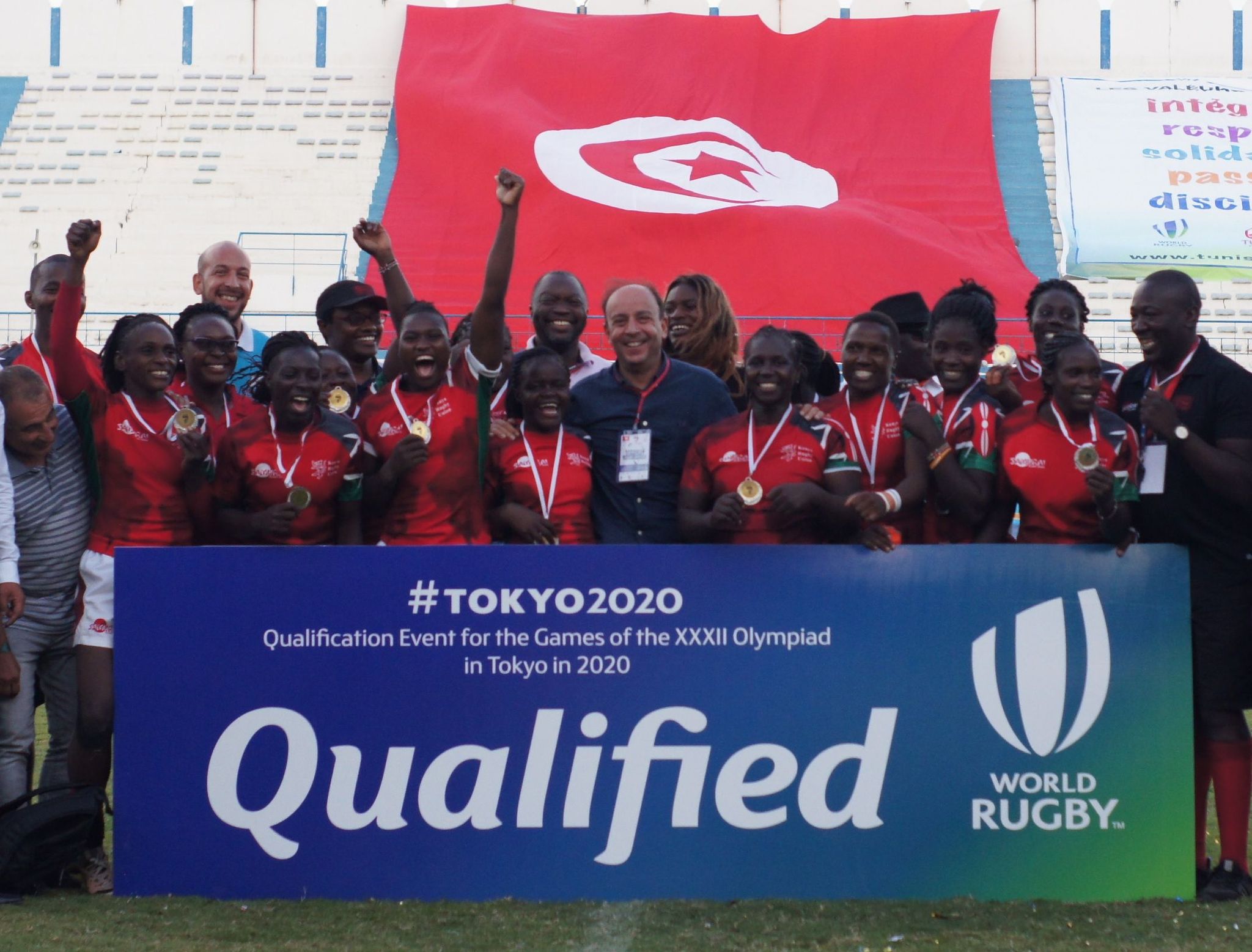 In October, Lioness played in the qualifiers for the 2020 Olympics that were held in Tunisia. Kenya beat Ghana 36-0, thrashed Botswana 49-0 and Senegal 36-0 in the pool fixtures. In the quarterfinals, the Lionesses edged Zimbabwe 36-5 and then defeated hosts Tunisia 19-0 in the semis. In the final, Kenya lost 15-14 to South Africa.  Kenya however qualified for the Olympics by virtue of the fact that the South Africa Olympic committee withdrew their team due to their low global ranking.
KCB Retain Kenya Cup
Kenya Commercial Bank RFC retained the Kenya cup with a 23-15 win over Kabras Sugar in the final. KCB did not lose any matches in 2019. Their last loss was in November against Nondies. It was Blak Blad who came closest to beating KCB, losing 20-15 in January. KCB also provided the highest number of players to the national team. As many as 8 KCB players featured for the national team in 2019 including prolific scorer Darwin Mukidza, Oliver Mangeni, Andrew Amonde and others.
Kisumu and Western Bulls prevailed in Kenya Rugby Union (KRU) Championships to get promoted to Kenya Cup for the 2019/2020 season.
Change at KRFU
Geoffrey Oduor Gangla was elected the new chairman after beating former vice chairman Sasha Mutai. Gangla replaced Richard Omwela who had been serving for his second term. The first Omwela era was an era where sponsorship money was scarce and Kenya routinely lost to Uganda in both men and women's competitions. The second Omwela era was notable for a strike by senior players that led to Kenya's worst performance in several years of the World sevens series. Can Gangla restore Kenya? He seems to be on the right track now.
No sooner had Gangla taken helm than Auctioneers descended on KRFU offices at RFUEA grounds to reposess property over a Ksh 4m debt that KRFU owed.
"It is an old debt. The incident is unfortunate but there is nothing we could do. We at times access some of these facilities on credit and when the government does not pay on time, we encounter such incidents," said Gangla.
Shujaa back on track
After being in the dodrums for two seasons, the Kenya national sevens team aka Shujaa, started to regain some of its lusture, First the appointment of New Zealander Paul Feeney brought a level of credibility, technical expertise and experience that is needed to compete at the highest levels. Local coaches are often unable to maneouvre the intrigues and politics that come with working for KRFU.
Secondly the return of over a dozen senior players who had given Shujaa a wide berth in the 2018-2019 season brought back much needed experience and ability.  Senior players like Willy Ambaka and Nelson Oyoo melded well with emerging players like Daniel Taabu and Johnstone Olindi.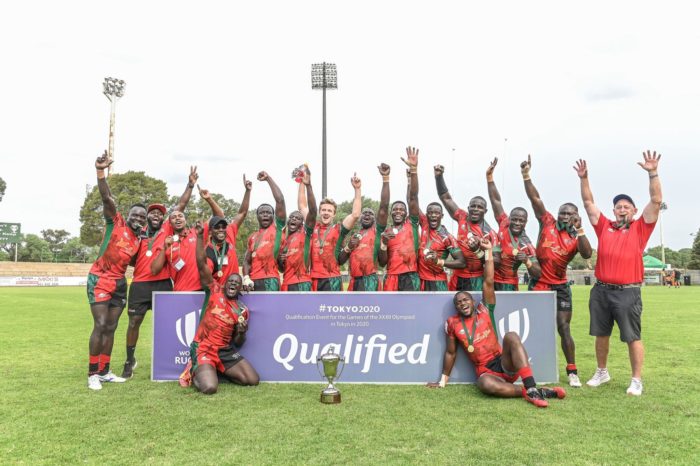 Shujaa announced their intentions with a ruthless demolition of all the competition at the 2020 Olympic qualifiers, beating Cote'd Ivoire 36-7, Senegal 50-0, Namibia 33-0 and Uganda 24-7. A starke contrast to the 2016 Olympics when Kenya almost did not qualify but for a memorable last gasp try by Dennis Ombachi.
This was followed by a much improved performance in the opening legs of the 2019-2020 World rugby sevens series. A number of new players emerged such as Daniel Taabu, Daniel Olindi and Alvin Otieno aka Buffa, showing that the future of Shujaa is in good hands. Kenya reached the quarter-finals of Cape Town leg, recording memorable wins over Australia and Samoa in contrast to the previous edition where Kenya lost all their group games including a 38-7 drubbing by Fiji and a loss in the 13th place playoff to Wales.
All things considered, Kenya looks set to have another goood season in 2020 for both men and women's rugby.