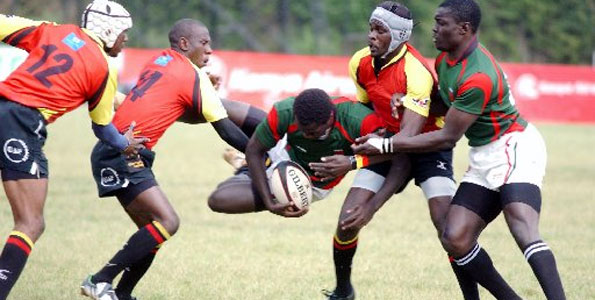 Kenya's squad for the first leg of the Elgon cup will include 8 new faces. The squad leaves for Kampala by road on Wednesday. The Kenyans could be in for a shock given that Uganda have been training seriously for 4 weeks unlike Kenya who have not trained together.
In fact Tank seems to be overlooking this fixture with a view towards next years world cup qualifiers. Next year's CAR Division will serve as qualifiers for the Rugby World Cup and this is part of the process of developing a competitive squad," said Otieno. "It is good that we get the young players on the team to have a feel of rugby at this level," he added.
Amongst the debutants is Eden Agero, the sensation Quins fly half. "Agero's qualities are rare and it's not easy to find a player who can play in both positions with ease and precision. His passes are the best and something I haven't seen in this country in a long time. It was so exciting to watch him play for his club," said "Tank".
Another intriguing debutant is Daniel Sikuta who was the MVP at last year's secondary schools competition.
No Sevens player has been drafted in the squad as the team is still remaining with two legs of the HSBC World Sevens Circuit.
"Tank" observed that Uganda's aggressive forwards will be the primary threat and he is preparing the pack for a bruising battle
Squad
Joel Ng'ang'a (Lunch Bar Quins, Captain),2. Sammy Warui (Menengai Oil Nakuru),3. Dennis Karani (Lunch Bar Quins), 4. Wilson K'Opondo (Lunch Bar Quins) 5. Ronnie Mwenesi (Nondescript RUFC),        6. Duncan Ekasi (Impala RFC),7.Brian Nyikuli (Lunch Bar Quins),8.Lawrence Buyachi (Impala RFC),9.Eden Agero (Lunch Bar Quins),10. Kenny Andola (Strathmore Leos),11. Kelvin Omiyo (Homeboyz RFC),12. Maurice Mbai (Strathmore Leos),13. Nick Barasa (Lunch Bar Quins),14. Vincent Mose (Impala RFC),15. Chris Oduor (Lunch Bar Quins),16. Curtis Lilako (KCB),17. Duncan Mwangi (Menengai Oil Nakuru),18. Daniel Sikuta (Mwamba RFC),19. Leslie Libasia (Lunch Bar Quins),20.Steve Sakwa (Homeboyz),21. Matthew Musita (KCB),22. Calvins Biko (Nondescript RUFC),oel Ng'ang'a (Lunch Bar Quins, Captain),2. Sammy Warui (Menengai Oil Nakuru),3. Dennis Karani (Lunch Bar Quins), 4. Wilson K'Opondo (Lunch Bar Quins) 5. Ronnie Mwenesi (Nondescript RUFC),        6. Duncan Ekasi (Impala RFC),7.Brian Nyikuli (Lunch Bar Quins),8.Lawrence Buyachi (Impala RFC),9.Eden Agero (Lunch Bar Quins),10. Kenny Andola (Strathmore Leos),11. Kelvin Omiyo (Homeboyz RFC),12. Maurice Mbai (Strathmore Leos),13. Nick Barasa (Lunch Bar Quins),14. Vincent Mose (Impala RFC),15. Chris Oduor (Lunch Bar Quins),16. Curtis Lilako (KCB),17. Duncan Mwangi (Menengai Oil Nakuru),18. Daniel Sikuta (Mwamba RFC),19. Leslie Libasia (Lunch Bar Quins),20.Steve Sakwa (Homeboyz),21. Matthew Musita (KCB),22. Calvins Biko (Nondescript RUFC),