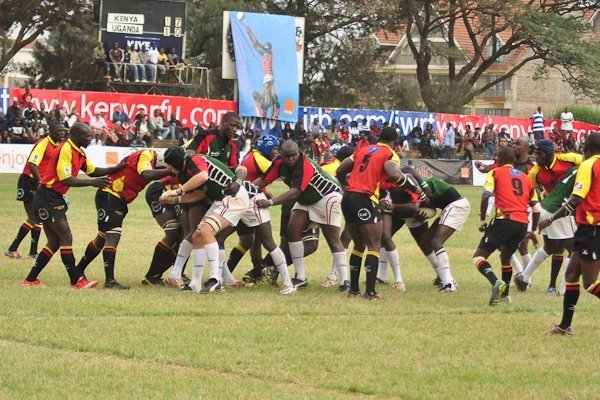 Having lost the Elgon Cup 5 times in a row to arch rivals Kenya, Uganda are leaving no stone unturned in their quest to wrest the title from Kenya. Uganda has not won the Elgon cup since 2006. They Rugby Cranes have been preparing for the cup since March 21. Meanwhile there is no sign at all that their Kenyan counterparts have selected a team much less started training. Which is rather surprising because the first leg will be played on April 21.
THE Rugby Cranes' coach will concentrate on building the teams' psychological capacity to handle the pressure during away fixtures in a bid to reclaim the Elgon Cup Uganda last won in 2006 in Nairobi.
"Enough is enough; we to arrest slide and restore a competitive edge. We have recorded some impressive score-lines at home but lost the title on a 2-4 point margin and that is why we have to put on a respectable show away," Kasasa told the New Vision newspaper.
"We are to rectify our problems which have been giving away easy penalties due to indiscipline of players that don't respect the team's discussions on how to react to situations and decision taking which this time we are acting tough on it," Kasasa stressed.
Coach Yayiro Kasasa opted to pick a team of 26, instead of the usual 24, citing home advantage and not the lack of indecisiveness on the part of the technical team. "Being home, we can summon more players that many of you are used to," Kasasa told Daily Monitor yesterday.
From this group, Kasasa has momentarily ruled out MTN Heathens' prop Denis Mugambe who suffered a knock when his team won the Nile Special Premier League over the weekend.
Last year Kenya won the Elgon cup but in less than convincing fashion, loosing the second leg by 14 points to the Cranes and eking out a 3 point aggregate win. Given this year's haphazard preparations, the situation does not look promising. This comes hot on the heels of a forgettable Kenya cup season which has been marred by boycotts and walkovers.