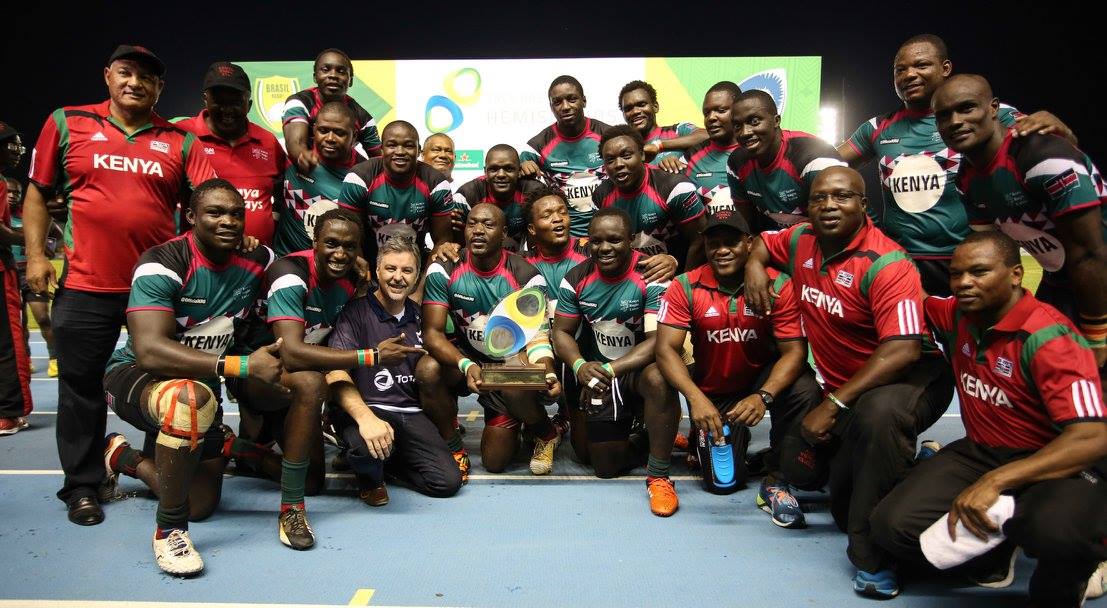 On Saturday July 9 2016, The Kenya XV rugby side made history when  they beat their Zimbabwean counterparts aka the Sables by a score of 61-15. One would not expect Kenya to beat Zim by such a scoreline even in Nairobi After all it was only two years ago that the Sables wrecked Kenya's hopes of qualifying for the world cup by beating them m 28-10 in Madagascar. Zim beat Kenya again 28-20 in the 2015 Africa cup.
Aside from the scoreline, What makes Kenya's performance even more impressive is the fact that the match was played in Harare. Yet Kenya won by a massive 48 points !
The win will bring back memories of what was a low period of Kenya rugby which co-incided with what was a good era for Zimbabwe rugby. During this period, Zimbabwe went to the rugby world cup twice (1987 and 1991).
In 1987, Kenya played Zimbabwe in the All Africa games. It is the one and only time that rugfby was contested at the All Africa games and it was the fifteen a side version not sevens. On that occassion, Zimbabwe comprehensively  outplayed Kenya winning 44-12. During this period, the entire Zim side was composed entirely of white players and they were much bigger than their Kenyan counterparts. One unforgettable moment that was relayed in new highlights on the Kenya Broadcasting corporation was of a Kenya player attempting to tackle a massive Zimbabwean player, only for the Zimbabwean to drag him several meters and across the try line.
In 1989, Kenya played Zimbabwe in Nairobi again and the gap had increased even further as Zimbabwe won 56-9.  Then in 1993, the two sides met again in Nairobi for a world cup qualifier and again Zimbabwe were a class above Kenya, winning 42-7.
The 61-15 win for Kenya in Harare has reversed what was essentially Kenya's darkest rugby period when measured against Zimbabwe. When Kenya was pummelled by Zim in 1987, Mad Max Muniafu was in the Kenya national team setup for both fifteens and sevens and may have indeed played against Zimbabwe. When Kenya beat Zimbabwe 61-15 , his son Moses Muniafu was on the field playing lock for Kenya. Rugby has indeed come full circle.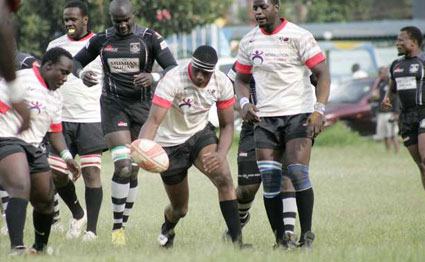 Match Report
Additional reporting courtesy of the Daily Nation
Mwamba lock Dan Sikuta touched down a hat-trick of tries as Kenya Simbas mauled hosts Zimbabwe Sables 61-15 in their opening match of the Africa Cup Division 1A at Police Grounds in Harare on Saturday.
Kenya Harlequin winger David Ambunya and his club-mate Dennis Muhanji crossed the try-line twice each as the 10-try Simbas beat the Sables for the first time at their home turf.
Hooker Max Adaka and Ediwn Achayo all from Kabras Sugar and Strathmore Leos' Tony Onyango went for one try each as a pushover try in the last minute was given to skipper Brian Nyikuli with no clear scorer.
Kenya Commercial Bank winger Darwin Mukidza completed the rout with four conversions and a penalty as Kenya edged out Zimbabwe for the first time since 2013.
"We asked Lord and you gave us, we are humble and to our fans, no words can express how grateful we are for your continued support and prayers," skipper Brian Nyikuli told Sunday Nation Sport after the match.
"Our next stop is Namibia and we are confident of another victory."
;