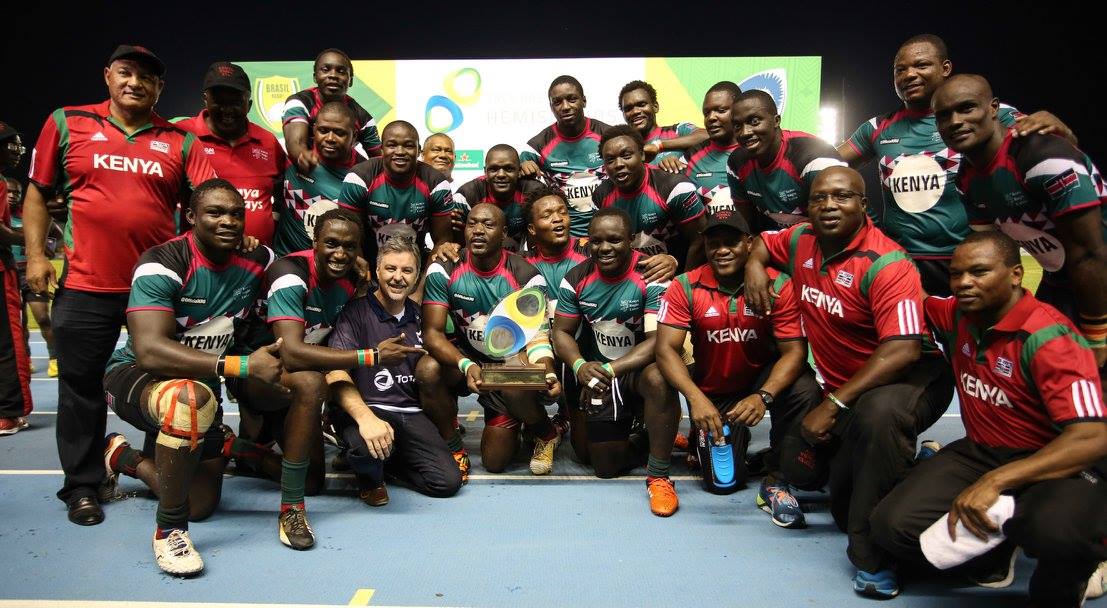 The Kenya rugby fifteens side continued with their march up the IRB rankings when they edged Brazil 18-17 in the first edition of the Cup of the Hemispheres' match at Estádio Olímpico Zerão in Amapa on Friday.
The State of Amapa in which the city of Amapa is found, is in Northeastern Brazil near the border with French Guiana. It was here that Kenya staged a dramatic comeback, coming back from a 14-0 deficit to take the lead at 15-14 thanks to a tries by David Ambunya and lock Simon Muniafu who is the son of 1980s rugby legend "Mad" Max Muniafu. Just when they thought they were home safe, Brazil took the lead again at 17-15 before a Darwin Mukidza penalty snatched a late victory for Kenya.
The last time Kenya played Brazil in fifteen-a-side rugby was in 2011 in Dubai. That was also a nail-biting encounter which Kenya won 27-25. Then like now, Kenya was able to use their pace to overcome the bigger Brazilians.
The win is important for a number of reasons. Kenya is currently ranked number 27 in the IRB rankings, 8 places above Brazil. Therefore a loss to Brazil would have resulted in a precipitous drop in the rankings. Instead Kenya will get a slight boost in the rankings. If they continue to rise, they will attract more high profile matches where they can measure their strength against teams from Europe and the Americas. It is also a morale booster and a confidence builder as Kenya continues to work towards qualifying for the 2019 world cup.
BRAZIL
1 Lucas Abud, 2 Wilton Rebolo, 3 Caique Silva, 4 Cléber Dias, 5 Luiz Vieira, 6 André Arruda, 7 João Luiz da Ros (capt.), 8 Nick Smith, 9 Beukes Cremer, 10 Leonardo Ceccarelli, 11 Guilherme Coghetto, 12 Laurent Bourda-Couhet, 13 Felipe Sancery, 14 Robert Tenório, 15 Daniel Sancery
Replacements: 16 Luan Almeida, 17 Jonatas Paulo, 18 Alexandre Alves, 19 Matheus Wolf, 20 Mark Jackson, 21 Matheus Cruz, 22 Luan Soares, 23 Matheus Estrela
KENYA
1 Mosese Amusala, 2 Sammy Warui, 3 Curtis Lilako, 4 Simeon Muniafu, 5 Oliver Mang'eni, 6 Mike Okombe, 7 Tonny Owuor, 8 Brian Nyikuli (capt.), 9 Edwin Achayo, 10 Isaac Adimo, 11 Dennis Muhanji, 12 Nick Barasa, 13 David Ambunya, 14 Darwin Mukidza, 15 Vincent Mose