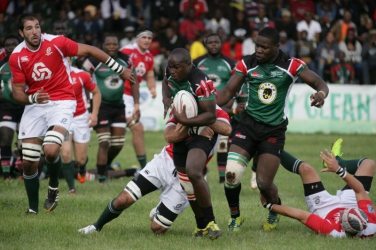 Saturday May 30 2015 is one of the days that will be remembered in the annals of Kenya rugby history. On this day, Kenya beat Portugal. But they did not just beat them, they demolished them by a score of 41-15.
Its a momentous win because Portugal is a European team that is ranked 10 places ahead of Kenya at number 23 in the IRB standings. Portugal has better rugby structures and better rugby infrastructure. For Kenya to dispatch them rather easily is an enormous achievement.
Match Video
Beating a team of higher pedigree
"Beating Portugal who are ranked 23rd in the world, nine positions in front of Kenya, is a good achievement that Kenya must build on going forward." said Jerome Paarwater, Kenya's South African coach.
Kenya rugby has indeed come of age. Whereas in the past they would succumb to bigger more aggressive packs, Kenya is now able to hold their own against bigger packs such as the one presented by Portugal.
"The Portuguese were bigger but my charges were stronger and fast. But that came at a price since the players and the technical bench have sacrificed to work hard on it," continued Paarwater.
Kenya was also playing against a Portuguese side that beat Namibia 20-14 last year in Windhoek. They were likely expecting a similar result or better against Kenya. It is a Portuguese side that this season has had a chance to measure their strength against strong European sides in the European six nations B such as Georgia, Russia, Spain and Romania. Portugal also qualified for the world cup in 2007, something Kenya has yet to accomplish.
What this shows is that Kenya rugby is growing and has made significant strides. For Kenya fans, it is a welcome win for a fan base that was despondent after narrowly failing to qualify for the world cup and not playing in the 2015 Vodacom cup.