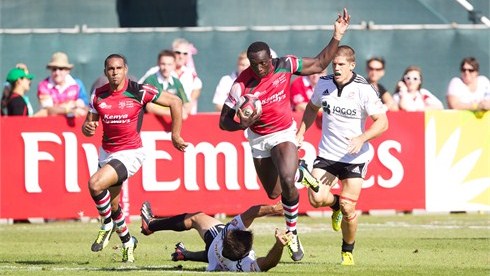 Against South Africa, Kenya were 14-0 down before they even touched the ball. In fact South Africa had completed 16 passes before Kenya completed any. The culprit was Kenya's inability to gain possession in line-outs. Nevertheless Kenya found their footing and scored two tries in the second half including a try by debutant Oscar Ayodi, Kenya's new speedster on the wing who picked up an overlap and ran 50 metres for Kenya's second try. Kenya tackled well sometimes but were undone by defensive lapses. Al three South Africa tries could have been prevented by better tackling. On one occasion, the burly South Africam forward sold three Kenya players with a basic dummy. Kenya players followed the ball instead of the player thus providing him with a clear path to the tryline.
Against Wales, once again Kenya tackled well in spades but succumbed to defensive lapses. And once again Kenya was sold a basic dummy that led to an east Welsh try. Kenya once again came back storming, first with a 40m run by Injera then a long range try from Oscar Ayodi. Ayodi's just when it looked like the Kenyans were backpedaling and had lost almost 40 metres of ground by passing the ball backwards. Then came Kenya's 3rd try : Biko Adema noticed that Wales had no sweeper so he executed a kick and chase which he collected brilliantly 10 metres from the Welsh try line and recycled for Andrew Amonde to score. At that point it looked like Kenya was in the driving seat.

Giving away possession.
On at least two occassions, Kenya won the ball from a scrumdown, the hooker got the ball but inexplicably the scrum half was missing and did not collect the ball. This is precisely what happened when Wales looked dead and buried. The hooter had gone. All Kenya needed to do was kick the ball out of touch. But when Kenya won the ball, the scrum half was not in position, so Wales grabbed the ball and methodically took the ball to the Kenya try line to level the scores at 19.
In extra time, Kenya once again gave possession away. After Horace Otieno had brilliantly won the kick-off, Kenya had possession and somehow gave Wales free possesion of the ball in a ruck. A Welsh player simply picked up the ball and ran for the try line.
What is clear from Kenya's performance in Dubai is that the players are still not in sync with each other or in sync with the new tactics being instituted by the new coaching staff. Barring elementary errors, give-aways and miscommunications, Kenya would have beaten both South Africa and Wales on day two.
The good news is that these are basic errors that can fixed and when Kenya finally gets it together, they will have a podium finish as coach Treu has promised.