John Ngugi won the world cross country championships 5 times and is considered one of the best cross country runners ever. He also won gold in the 5000m at the 1988 Olympics.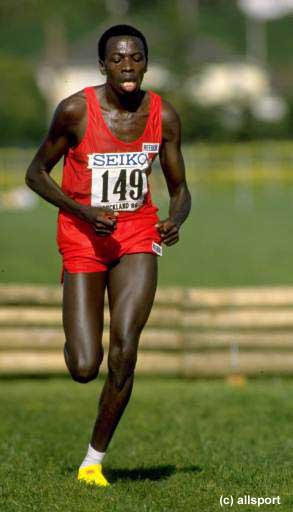 John Ngugi Kamau was born in Kigumo Muranga district on May 10 1962.Later his family moved to Nyandaria district. It is there that his career started to take shape. Ngugi would run 10km a day to deliver milk from his parents farm. He was inspired to join the army by watching soldiers in Nyahururu train every day. In 1985 he joined the army where he joined team-mate Paul Kipkoech, a person with whom Ngugi;s career was intertwined as they often placed 1-2 in races all over the world.
When Ngugi won the first of his world cross country championships 1986. He went on to win 4 consecutive titles until 1989. At the 4th All African games he won the 5000m in front of an appreciative home crowd.
The most memorable race of Ngugi's career came at the 1988 Olympics. With several laps to go, Ngugi pushed the pace and opened a 40 metre lead. The rest of the pack stayed back expecting Ngugi to tire just as he did in 1987 when he opened a huge gap but could not keep the pace. This time however, Ngugi held his lead. By the time the rest of the pack realized that Ngugi was not tiring, it was too late and Ngugi went on to win by what is probably the largest gap in the history of the Olympics 5000m. Prior to the race, Domingos Castro of Portugal had taunted Ngugi by telling him "You only know how to run in the bush. I am going to beat you thoroughly on this track" In what turned out to be poetic justice, Castro tired himself out trying to chase Ngugi and ended up finishing fourth after being passed by the two Germans near the finish line.
Ngugi now had a reputation as fearsome front runner. He confirmed this reputation when he won the 1989 world cross country championships by 28 seconds. This is still to this date the largest margin of victory in that event.
By 1990, injuries had started to slow him down. However after 2 injury laden years, Ngugi won the world cross country championships for a record 5th time in 1992.
In many ways he is a pioneer because his World Cross country win in 1986 came at a time when Kenya was starved of international success. He showed other Kenya athletes of his generation what could be accomplished through sheer hard work.