During the 1970s and early 1980s, Kenya was ranked amongst the top 5 teams in men's field hockey. And they had no peers on the continent of Africa. It was a golden generation of players. In those days Kenyan field hockey players were national heroes. Names like Peter Akatsa, Simi Goyal, Michael Omondi became household names. Its is difficult to pick out any standouts from this group. But Chris Otambo deserves some special mention if only for his goal scoring exploits.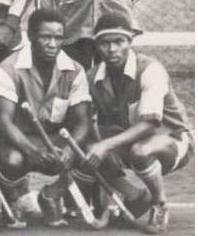 Peter Akatsa (left) and Chris Otambo (right)
At the height of his career, Otambo was the best player in the world at his position and was selected to play in world XI. When Kenya won the gold medal at the 1987 All African games, Otambo was the leading scorer.
His hockey career started to take shape when he attended Nairobi school better known as "Patch". There he excelled as an all round sportsman. But it was on the hockey field that he became a Patch legend when he led the school to win the national schools championships in 1978 beating the mighty Kisumu boys, then the most feared team in field hockey.
Otambo then made his move to club hockey and was soon selected to play for the national team. In 1981 he was part of the Kenya team that won the Africa Under 23 hockey championships. He was part of the Kenya teams that qualified for the 1984 and 1988 Olympic games.
Its worth noting that his younger brother, Richard Otambo was a standout footballer and was one of the leading scorers in the Kenya national football league in the late 80s while playing for Shabana of Kisii.