Edward Rombo is no doubt the most talented rugby player Kenya has ever produced and the only Kenyan to play top tier rugby in Europe.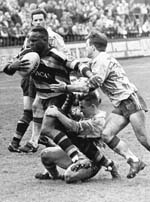 He was born on March 19 1967. He first gained fame when he played rugby at Nairobi School whom he captained in 1986. Rombo was already a standout performer for Nairobi school by the time he was in form 3. That is quite an achievement considering that there were 3 classes above him. He is remembered for a memoable performance against rivals Lenana when he scored two late tries to seal the victory while in form 3. By the time he completed form six at Nairobi school, Rombo was already playing in the national league for Barclays RFC. That same year he played for the national team in a match against Zimbabwe.
But it was while playing for the University of Nairobi team better known as Mean Machine that his talents came to the fore. With a combination of lightning speed and an array of bedazzling moves, Rombo often left opponents bewildered. His trademark move came to be known as the "Rombo jig" among Rugby fans in Kenya. Mean Machine had not won the Kenya cup since the 1970s. But Rombo inspired the star studded team to two consecutive Kenya cup wins in 1989 and 1990.

In 1990 Rombo was voted the best player at the Singapore sevens in a tournament that included such talents as New Zealand legend, Zinzan Brooke. In 1991 He finished as the leading try scorer in the kenya cup and led Mean Machine to its first ever Kenya Cup win. His talents did not go unnoticed among British talent scouts. He was invited for trials at rugby league side Leeds Rhinos. He impressed during trials and Leeds were ready to sign him after 1 week of trials. While attending trials at Leeds, Rombo played in the Wigan sevens. His performance was so outstanding that suddenly there were multiple teams seeking his signature.

He landed a Professional contract to play with Leeds Rhinos where he played alongside some of the worlds best including legendary All Black full black John Gallagher. Besides playing for Leeds, he also played for Dewsbury RFC and Featherstone Rovers, both of whom he led in scoring. He was nicknamed "Rambo" by the British media. While playing in the UK, Rombo pursued a degree in Law. He later returned to Kenya and wound down his playing career with Mwamba RFC. Has has since held various positions in Kenya rugby including coach of the national