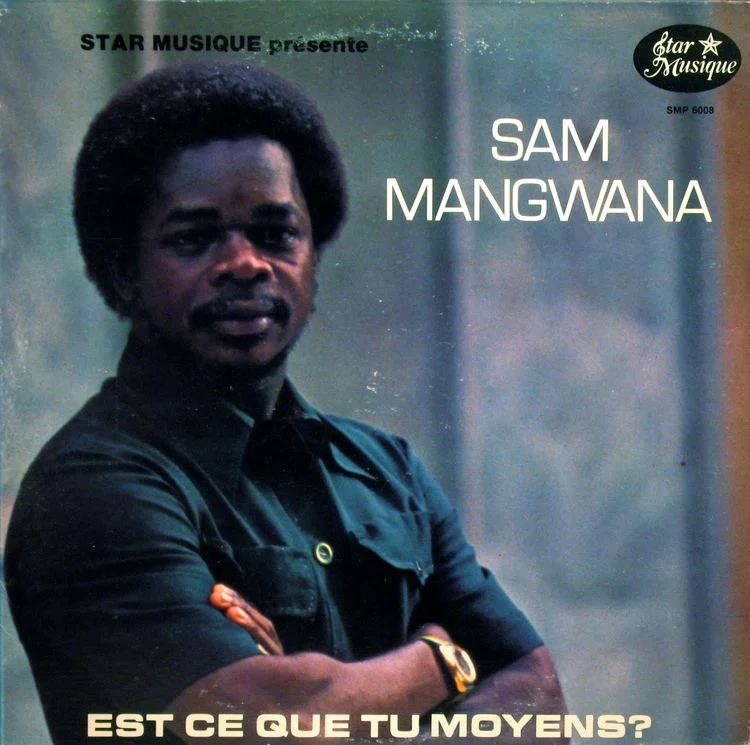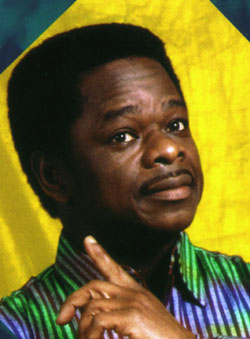 Sam Mangwana is one of the most innovative, inventive and versatile musicians in the history of Congolese music. He has succesfully experimented with several diverse musical genres such as rumba, soukous, salsa and afro-beat. Nicknamed La Pigeon Voyageur for his nomadic tendencies, Mangwana played for both TP OK Jazz and Afrisa International, the two greatest musical groups in the Congo.
He was born in Kinshasa in 1945 of Angolan parents. While still a 17 year old, He was able to impress Tabu Ley enough for Tabu Ley to ask him to join his band, then known as African Fiesta. There he played alongside Tabu Ley , Dr Nico Kasanda and Roger Izeidi, three of Zaire's most prominent musicians. When the band split, he joined Tabu Ley's faction called Africa Fiesta Nationale.
Following a disagreement with fellow band members, Sam mangwana left. In 1972 , he teamed up with singer Ntesa Dalienst and guitarists Dizzy Madjeku and Mavatiku Visi (Michelino) to form a band called Festival Des Maquisards. This band turned out to be one of Zaire's most popular bands in the early to mid seventies, giving TP OK Jazz a run for their money. In 1975 he joined Franco's TP OK Jazz. It was here that he produced some of his most memorable hits including Luka Mobali Moko. . He also provided superb vocals on some of Ok Jazz' s greatest hits including Simaro's Mabele and Ebale . In order to comply with President Mobutu's call for authenticity, He briefly changed his name to Mangwana Mayimona. He rejoined Tabu Ley's band now renamed Afrisa International before leaving for the Ivory Coast. That he was able to play for both Afrisa and OK jazz succefully is a testament to his versatility given that the two bands were from very different schools of music.
Upon arriving in the Ivory Coast in the late seventies, He joined with Lokassa Ya Mbongo,Theo Blaise Kounkou, Dizzy Madjeku and Ringo Moya to form a group they named African All stars and later Les Quatre Etoiles. Here he succsesfully experimented with West African rhythms such as Highlife and Afrobeat. The fusion of Congolese and West African beats was a big hit in West Africa and sales of the bands albums reached record levels, notably the album, Georgette Eckins , which officially launched Sam Mangwana a true Pan African star. Following hot on the heels of that album, was another Mangwana classic named Suzana Coulibaly. Mangwana dubbed his new beat ,Soukous Sophistique . By 1980 however, the band had come apart following disagreements among the members.
In 1982 , He collaborated with Franco on the albumCooperation which turned out to be one of the most popular albums of the early eighties. In the album , He joined Franco in singing lead vocals in all the songs , notably Odongo, a song about an East African trader, and Simaro's composition, Faute ya Commercante .But it was the setimental , romantic song , Zala Sportif , a composition of his that carried the album
Perhaps his most memorable album was the 1989 coopration with Franco labelled Forever which also turned out to be Franco's last album. The lead song in that album featured Kiswahili vocals from both franco and Sam Mangwana.
In 1991 , He toured the US with former compatriots at The African All stars. After a brief stint with the All stars, Sam Mangwana launched a solo career in Paris. He released several popular hits such as Maria Tebbo. He has toured the continent extensively. He was one of the star attractions at the Hommage du Franco concert held to commemorate the 10th anniversary of Franco's death.
Besides experimenting with various musical genres, Sam Mangwana has sung in several different languages including Lingala, Kiswahili, Kikongo, French, Poturguese and English. While focusing mainly on love songs , He has also sung songs that raise political and environmental awareness.