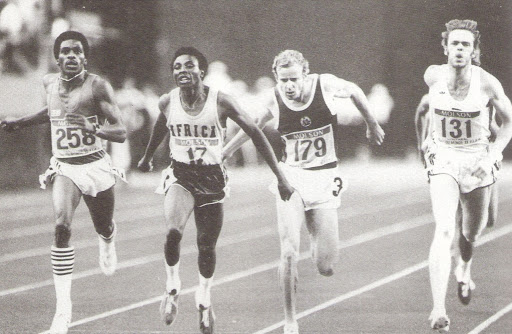 Background
Aside from the 3000m steeplechase, the 800m is the event where Kenya has produced a dizzying array of talents who have gone on to conquer the world. Among the athletes who brought fame to Kenya in this event is James Maina, popularly known as "Boi" due to his short stature. In those days small boys were referred to as "Boi".
Aside from dominating the 800m locally and winning countless races abroad, "Boi" is remembered for his self confidence, friendly demeanor and amiability. A key element of "Boi" was his amazing finishing kick which he deployed in the last 100m and left opponents gasping.
Maina "Boi" was born in 1954 to a peasant farmer in what is now Nakuru County. He never went to school because his parents could not afford school fees. Given that athletics talents are discovered at school, Maina would have been one of many whose talents were never discovered. But his determination and passion for running ensured that he was discovered.Starting in 1973, whenever he heard that there was a major athletics meet, he would show up uninvited, with borrowed running shoes and convince the organizers to let him compete. In 1974 he firmly established himself as a real contender.  It was at a provincial athletics meet at Afraha Stadium Nakuru that his running talent came to the fore.
Like many runners of that era, Maina's talents saw him recruited by the Kenya Army. There his talents blossomed. His first major international victory came at the 1978 All Africa games, in Algiers, Algeria  where he took the gold medal  ahead of second placed crowd favourite Amar Brahmia of Algeria. Peter Lemashon of Kenya was third.
At the 1978 Commonwealth games, "Boi" had the misfortune of being disqualified in the semi-finals. Compatriot MIke Boit who at the time was based in the USA, took the gold medal with Lemashon taking bronze.
The following year, 1979, "Boi" underlined his dominance on the African continent by taking the gold medal at the 1979 African championships.
His greatest victory came at the 1979 IAAF Athletics world cup. Representing Africa, Maina "Boi" took the gold medal in the 800m, beating American James Johnson and Willi Wullbeck of East Germany. It was here that Maina exhibited his well noted finishing kick which he often used to devastating effect in the final straight.
1979 IAAF Intercontinental Cup Video
"Boi" was at his peak in 1980. Unfortunately, Kenya was part of an ill-advised boycott of the 1980 Olympics. As a result, he missed an opportunity to challenge for Olympic gold against the likes of world record holder Sebastian Coe whom he had beaten as well as Steve Ovett who was the eventual gold medal winner,
What is special about "Boi" was that his success came at a time when Kenya was experiencing a significant dip in its athletics fortunes. After Kenya's boycott of the 1976 Olympics and the ill-advised boycott of the 1980 Olympics, Kenyan athletes were thoroughly demoralized. The net result was that Kenya performed rather poorly in subsequent events including the 1982 Commonwealth games and the 1983 world championships.
At the 1982 Commonwealth games for example, Kenyan athletes performed so poorly that the boxing team actually performed better, winning more gold medals. This despite the fact that Kenya sent their best athletes. On that occasion, Kenyan athletes won one gold, one silver and three bronze. The silver medal came via Maina "Boi" in the 800m.
1982 Commonwealth Games 800m
Kenya fielded a strong trio for this event including Sammy Koskei, who held the African record for over twenty years, Juma Ndiwa and Boi. It was Boi who proved the best of the trio, running a tactically astute race that saw him take second place behind Peter Bourke of Australia.
Indeed on the highly competitive local circuit, Maina underlined his dominance for much of the early 1980s, winning virtually every local 800m race, often against intense competition. In those days, athletics meets occurred all over the country during the athletics season and attracted the top talents.  According to the Daily Nation, his dominance extended internationally where he won 13 successive races.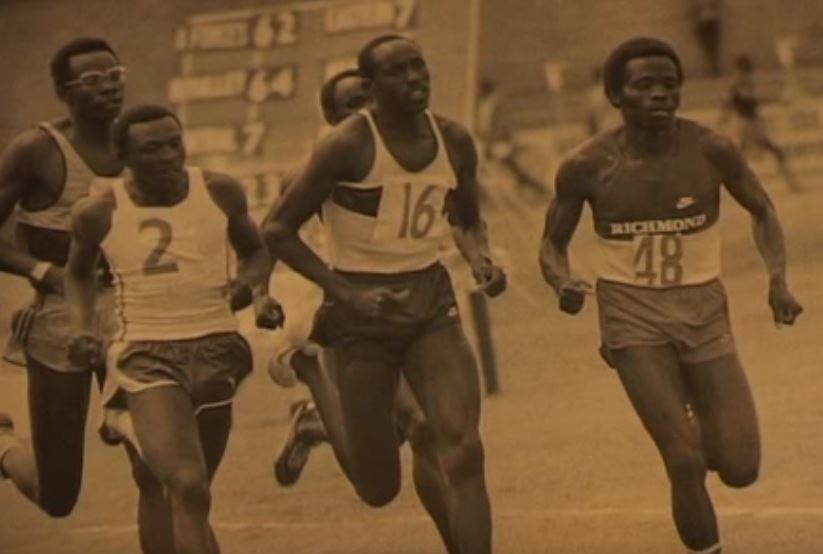 A decade of running finally started to take its toll. Maina qualified for the 1983 World Athletics championships but did not make it beyond the preliminaries. At the qualifiers for the 1984 Olympics, "Boi" was now facing intense competition from youthful upstarts especially the USA based duo of Billy Konchellah and Edwin Koech, both of whom took the qualifying spots for the Olympics along with Juma Ndiwa.
After the 1984 season, "Boi" started charting his post athletics career. With the money he had won in his athletics career, he purchased matatus. In his later years, he worked as a security officer with the Kenya Post Office saving bank. He passed on in July of 2004, leaving behind a widow Monica and eight children.