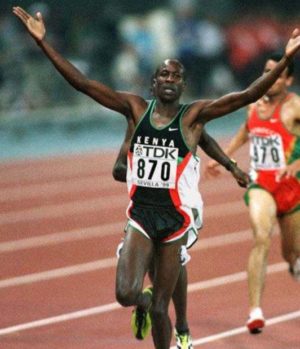 The 1999 World Athletics championships were held in Seville Spain between the August 20 and August 29. The games were held at the apex of the EPO era when athletes had free reign in using EPO with its attendant performance enhancing effects because there was no test for EPO.
Kenya ended 13th in the standings with only 1 gold medal 4 silver and 1 bronze. As you might guess, Kenya's only gold medal came in the 3000m Steeplechase.
3000m Steeplechase: 1-2 Finish for Kenya
Kenya fielded a very strong side. Defending champion Wilson Boit Kipketer was joined by Chris Kosgei who had won silver in this event two years. Also present was the African champion and Commonwealth games silver medalist, Bernard Barmasai. The trio were joined by Paul Kosgei.
In typical fashion, Kenya did most of the front running but were challenged by Damian Kallabis of Germany and Ali Ezzine of Morocco. Kosgei and Kipketer pulled away at the last waterjump to finish 1-2. It marked the 5th consecutive time that Kenya had occupied the top two positions in this event.
Race Video
Other Medalists
Kenya won 3 additional silver medals: Noah Ngeny took silver behind Hicham El Guerrouj. In the process, Ngeny set a new national record at 3:28.73. Bejamin Limo took silver behind Salah Hissou of Morocco. Paul Tergat took silver behind Haile Gebreselassie of Morocco. Kenya's only bronze medal came from Tegla Lorupe in the women's 10,000m. It was her second bronze medal in this event having also won bronze in 1995.