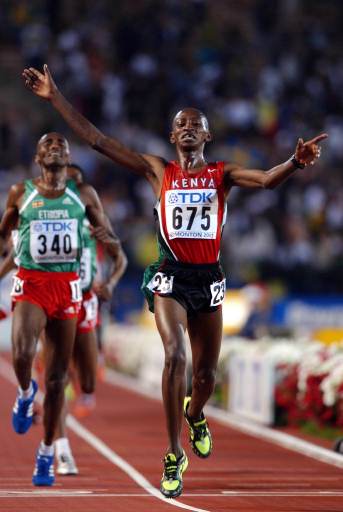 The 2001 World Athletics Championships were held in Edmonton Alberta between 3 August and 12 August. Kenya's performance was much better than in the 1999 edition. Whereas Kenya finished 13th with 1 gold medal, in 2001 Kenya finished in 3rd place with 3 gold, 3 silver and 2 bronze.
The gold medal's in the men's 5000m and 10,000m were unexpected since Kenya had in recent years performed poorly in this event. Disappointing however was the performance of the Kenyan women who did not continue with the progress they had made in the previous three editions. Kenya women did not win any medals.
5000m: Surprise Gold Medal for Richard Limo
The Kenyan team for the 5000m consisted of two twenty year olds: Sammy Kipketer and Richard Limo, who teamed up with veteran John Kibowen who had been world cross county champion (short race) in 1998.
The race favourite was Ethiopian Million Wolde who had won the gold medal at the 2000 Olympics. Algerian Ali Saidi Sief who had won the silver medal at the Olympics was also a favourite. Hailu Mekonnen of Ethiopia was also a strong favourite having set  the fastest time of the year
Kipketer set off on a torrid pace, setting up a 20 metre lead. But he faded and the rest of the field caught up with him with two laps to go. At this point, Algerian Ali Saidi Sief took the lead. He led until 150m were left. That was when Limo shifted gears and passed Sief who finished second. Wolde was third. Kibowen finished 4th. After the race, Sief failed a drug test and was disqualified. Kibowen was thus promoted to bronze.
Limo was only 20 and his career looked promising. But injuries stifled his dreams and he never scaled these heights again. He switched to the marathon in 2004 and had some success, winning the San Diego Marathon.
Race Video

10,000m: Kamathi shocks Gebreselassie
Coming into this race, Haile Gebreselassie was the firm favourite. He had won this event four times: 1993, 1995, 1997 and 1999. He had also won at the Olympics in 1996 and 2000. Kenyan Paul Tergat who had been his main challenger was not in the race as by this time he had switched to the marathon.
When the bell for the last lap sounded, it seemed like it would be another coronation for Geb and the Ethiopians looked like they would sweep the podium as they looked the strongest. Geb took the lead with 250m to go, followe dby compatriot Assefa Mezegbu.  But the unknown Kamathi was undaunted. He took on the Ethiopians and went into the lead at the final bend. The Ethiopian trio did not have an answer for Kamathis sudden burst of pace. Kamathi won in 27:53.25, followed by the Ethiopian trio.
Race Video

3000m Steeplechase: Reuben Kosgei confirms favourite status
Coming into this race, Reuben Kosgei was a firm favourite. He had won the gold medal at the 2000 Olympics. But a strong challenge was expected from the Moroccans with Brahim Boulami and Ali Ezzine.
Kosgei lived up to his reputation, winning comfortably. Barmasai was passed by Ezzine in the last 50 metres and settled for bronze.
Boulami would later set a world record in this event with a time of 7:55.28 which he would lower by another two seconds. Later he failed a dope test after EPO was found in his sample.
Other Medals
Simon Biwott won the silver medal in the men's marathon. This was Kenya's best performance since Douglas Wakihuuri won gold in 1987.  Wilfred Bungei and Bernard Lagat settled for silver medals in the 800m and 1500m respectively.