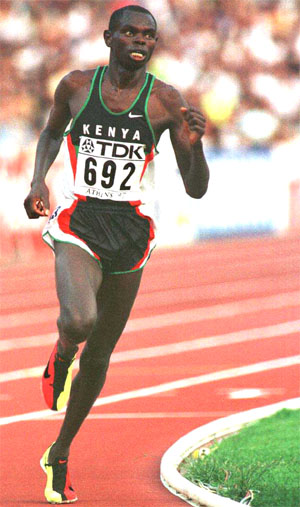 The 1997 World Athletics championships were held in Athens Greece from August 1 and August 10. Kenya ended up with three gold medals. The most notable of these was the gold medal by Sally Barsosio. She became the first Kenyan woman to be a world champion in any event in any sport. Kenya finished with 3 gold 2 silver and 2 bronze medals.
Women's 10,000m: Barsosio shocks the world
Going into this race, not much was expected from the 19 year old Sally Barsosio. After winning a bronze medal as a 15 year old at the 1993 World championships, she had faded badly, finishing 10th at the 1996 Olympics and failing to qualify for the 1995 World championships.
Instead, the hot favourite was Fernanda Ribeiro of Portugal. She was the defending World and Olympic champion and had beaten Barsosio everytime they raced in the 5000m or the 10,000m.
But on race day, Barsosio executed a tactical masterclass. Knowing that she could not beat Ribeiro in a sprint finish, Barsosio set off on a torrid pace. She at one point was at least 50 metres ahead of the field. It looked like a suicidal pace and everyone thought that she would eventually fade. But Barsosio held her lead throughout and won in 31:32.92 which was 7 seconds ahead of Ribeiro and a new world junior
5000m: Daniel Komen leaves the field gasping
During the period between 1996 and 1998, Daniel Komen was peerless. He did not just win races. He won by significant margins. This race was no different. Komen ran unchallenged and led by as many as 40 metres at one point before winning at a canter. It was a satisfying win for Komen. He had missed the 1996 Olympics after he developed malaria during the trials.
Komen was 22 years old at this time and it looked like he had a bright career ahead of him. Unfortunately however, Komen, like many Kenyan runners of this era, ran in too many races. This resulted in numerous injuries which ended his career. Komen would win one more major event, the 1998 Commonwealth games. By 1999 at age 24 he was finished.
Race Video

3000m Steeplechase: Clean Sweep for Kenya
Kenya fielded an incredibly strong team for this event. One of the strongest the country has ever fielded: Moses Kiptanui, Bernard Barmasai and Wilson Boit Kipketer. All 3 are among the all time greats in this event. It came as no surprise therefore when the Kenyan trio left all athletes in their wake. By the last lap, only Al Asmari was able to stay with the Kenyans. But with 200m to go, the Kenya trio shifted gears and left Asmari behind. In the end Kipketer had the most petrol left in the tank. He took gold followed by Kiptanui and Barmasai.
Race Video